Leaving New York felt so good. We were exhausted by all the stuff we had to do prior to leaving, but having our bags ready to go and walking toward the subway was so exciting!
Travel to Fiji was somewhat bumpy, but screw the airplane. Let's talk about the sweet-ass Korean Air lounge we got to stay in as we waited at LAX! Before leaving for our trip we got Chase's new Sapphire Reserve card and let me tell you, folks: it is a beauty, it gives the cardholder a chance to use airport lounges all over the world (among other perks!). The lounge was awesome! Free food and drinks (alcoholic!) and comfy chairs to sit in! There was Wifi and plugs everywhere! It was my first time in an airport lounge and I could get used to this.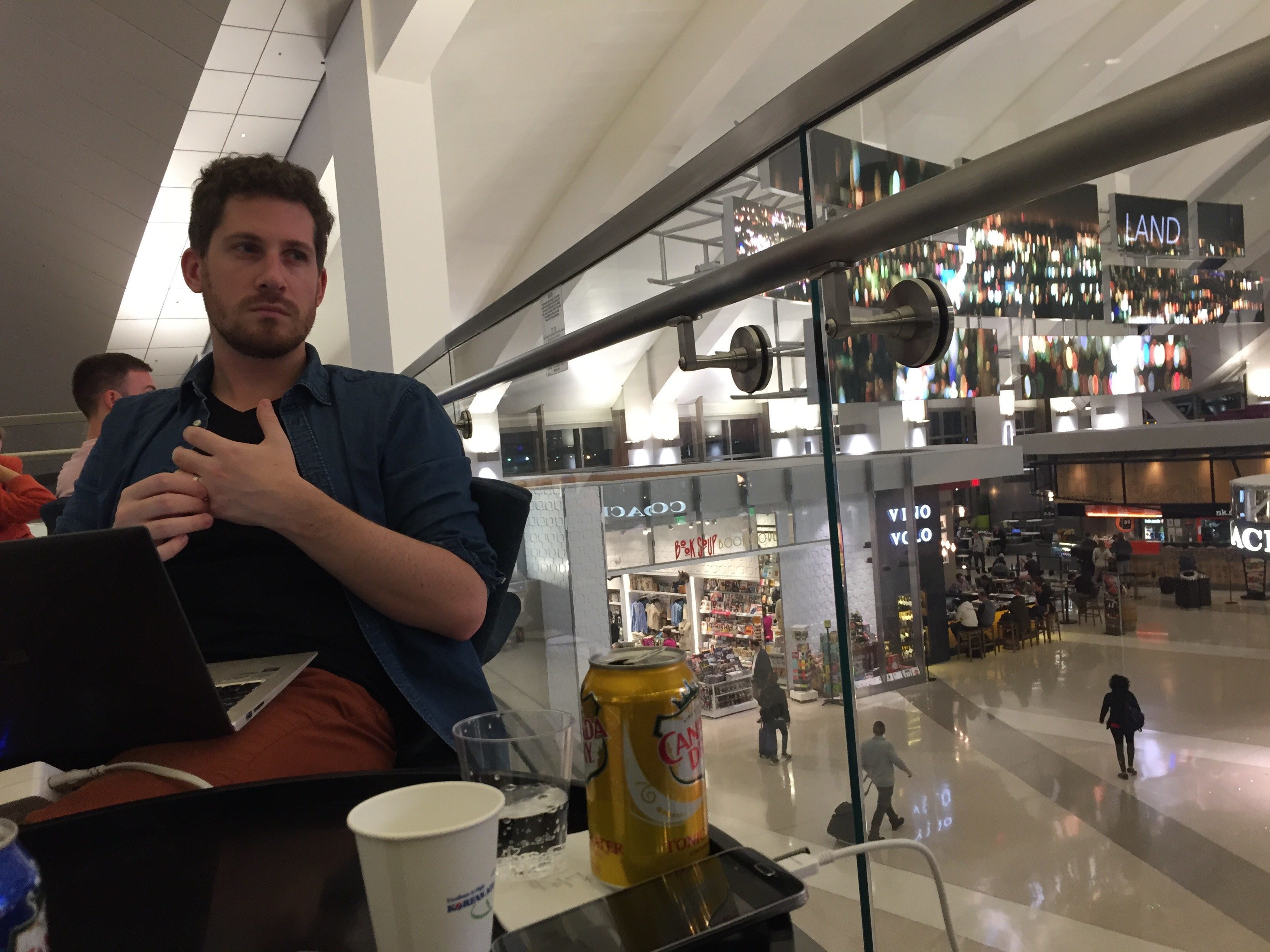 Arriving in Fiji consisted of a lot of waiting at first. The baggage was delayed by 2 hours because it was thunder storming and the baggage retrievers couldn't go onto the tarmac for fear of being hit by lightning. (Yikes!)
Getting our bags then meant waiting for the bus for Suva which runs on the only road on Viti Levu that follows the edge of the island and connects the two main cities of Fiji: Nadi (pronounced NAN-di) and Suva. Online reports told us it would take about 3 hours to get from the airport to The Beachouse, where we were staying. I noticed as we drove that everything here had a lot of -vu sounds in it. So, getting names like Savusavu is quite common.
The bus was nice and arrived promptly! It was air conditioned (phew!) because despite being 9am it was getting hot and humid. It was busy, too. Lots of locals moving around the island.
The bus trip was easy and cost about $9/each (or $9USD for the two of us as the Fijian currency is about 2:1). We had exchanged some money at the airport, but quickly realized that the $100 notes the counter gave us marked us as tourists (well, as if the raybans and sneakers didn't already) because no one has change for a bill that large (make sure to ask for smaller notes if possible!).
The locals were so nice. Everyone was smiling and said "Bula!" (hello). The bus driver knew exactly where our resort was and dropped us there easily. The road was smooth and despite the bus driver driving like a maniac on the curves (Note: In my travels I've realized that places where bus drivers don't drive like maniacs is quite rare and in fact to expect the opposite is setting yourself up for disappointment) we got there easily.
The Beachouse bills itself as a budget resort. It's lovely. Full of a variety of different people: locals on holiday, Aussies, Germans, Brits, Families, singles and couples (and the list goes on). The beach is beautiful and there are very few people sharing it. There is always some kind of reggae playing in the background. The food is pretty good (they offer complementary breakfast and dinner every day, you pay for lunch) and the room we are staying in is nice, we even have an outdoor bathroom!
The weather is gorgeous: sunny and warm. It can get brutally hot in the sun during the day, but it will rain and cool everything off again. The water is warm, but refreshing. The beach consists of a bay that is quite shallow until you get farther out to the real surf. There are green plants everywhere and colorful flowers bursting all over the place.
So far: Fiji is beautiful.