Our American friends and family: Jen, Dan and Caitie, arrived over the weekend all bright-eyed and bushy-tailed. It was everyone's first time in New Zealand (and Jen's first time out of the USA)! We piled into Jackson's dad's van to start our multi-day drive around the South Island.
Our first stop was Lake Tekapo, about a 2 hour drive from Christchurch. The lake was formed by glaciers and boasts a very bright turquoise color which is quite the contrast to the brown hills that surround it. Jackson and I went there the last time we came to NZ and thought that would be a good place to revisit. The area is also renowned for its star gazing. I was really hoping to see some epic stars (didn't really see any last time we were here) but the moon was really bright and drowned out most of the night sky.
While at Tekapo we went on a short but steep hike up to the observatory (about 1.5 hours round trip) where the views of the area were stunning.
For dinner we met up with Lacey and her husband, Alex. They've been living in NZ for the last 7 months and it was nice to talk about our experiences and lives over a BBQ that Jackson whipped up. Delicious. We watched the sun set on the mountains and occasionally fell silent at the beauty of the clouds drooping over the peaks turning pink and purple.
The next day we set off for Dunedin with a stop in Oamaru. Dunedin is a large college town along the coast and is very hilly- similar to San Francisco. Oamaru is a really cool stop on the way because it has a lot of steam-punk sculptures and incredibly good CHEESE!! There is a cheese maker called Whitestone which has a blue cheese that blew our minds apart. We went to the dispensary and bought 3 cheeses for lunch: the young blue, the Havarti, and the Camembert. Pairing that selection with fresh crispy bread was a combination that left us speechless as we watched the seagulls beg us for a crumb or two.
We made our way into Dunedin and went straight to Baldwin street: the steepest street in the world. It is no kidding around. There were also a ton of Asian tourists there.
We stayed on top of Dunedin in a charming AirBnB house that had a lovely backyard filled with herbs and sunlight. After a walk around town and Indian food for dinner and Pavlova for dessert it really felt like home.
A quick note: a lot of people will spend longer in some of the locations I'm describing. For example, there's plenty to see in Dunedin, however this trip we didn't have enough time to spend several days there to explore, although if you have the time I recommend at least another day in the city. It's really lovely and there are museums and even a brewery to check out.
Leaving Dunedin after another walk around town we set off for the Catlins. The Catlins are a remote area in the way south of the South Island that is full of coastlines, sheep and rolling hills. Our first stop was Nugget Point Lighthouse: a tiny white lighthouse that is perched on the edge of NZ and looks out over these incredible rocks that are covered in sea lions. The drive there took a while as the road winds and stretched up and down steep hills and sharp corners. It's so worth the visit! It's free to see and the walk is stunning.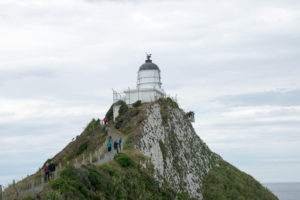 After Nugget we made our way toward Purakaunui Falls which was an underwhelming waterfall in the rain forest. If you are driving through, make a stop to see it (takes about 20 min round trip) but it isn't a heartbreak if you miss it. We all stared at it for a few minutes before heading off.
Getting a bit lost we wound up going to check out Cannibal Bay. The drive is rough as its a one lane road out to the coast that takes about 20 min. It's very remote, though and well worth the trip. The bay was empty when we got there and everything smelled like flowers. It was stunning. The 5 of us wandered up and down the coast marveling at how deserted and untouched everything was.
We checked into the Holiday park we had booked called New Haven Holiday Park which was just on the other side of the sand dunes from Cannibal Bay. New Haven is lovely and right on the beach which was patrolled by sea lions. The rates were reasonable and its so quiet and clean. The sea lions were really big and close! I've seen sea lions in the wild before, but the two we saw at the beach were very aggressive. Jackson and I got chased up the beach by the two who were roaring at us and following us wherever we went! I was glad to be out of sight of them.
The last day before the Milford Track, we set out for Cathedral Caves. The caves are only open at low tide so it's incredibly important to get the timing correct when visiting. The tickets were $5NZD each and there was a half hour hike to get there. It is SO WORTH A VISIT. The caves are incredible: the largest cave of its kind in the world. The beach was practically empty and we had the caves to ourselves when we got there. The clouds were whipping overhead plunging the beach in shadow and sunlight at different intervals. I felt like walking in a dream. I went to bed that night imagining myself back at that beach.