There are probably 100 sayings out there to describe how going through something that doesn't kill you will make you stronger. That theory was tested (and then some) on Day 3 of this trek.
At Mintaro Hut The Ranger gave us the speech about cabin safety and trek news at the end of Day 2. I knew something bad was up when she held up a sign that said "Do Not Leave The Hut!".
"We're expecting some heavy rain tomorrow." She began, holding the sign. "It should hit sometime in the afternoon, around 2pm. What we're hoping is for all of you to be over the ridge by that time. It will rain, however, and there will be strong winds up there. At 120 kph you can't stand up, at 80 kph (which is what is predicted) it'll be difficult, but you can do it." 80 kilometers per hour!? On a mountain top in the rain?! "I'm asking that you all wait for instructions from me in the morning about when you can leave the hut. Until I say it is okay to leave DO NOT LEAVE. However, be prepared to start the walk no later than 7:15am tomorrow in order to get ahead of the worst of the weather. Can you all agree to that?" The mess room nodded, 40 heads soberly calculating what time they'll need to rise in the morning.
There was a steady rain and a feeling of urgency the next morning.
Our group decided to leave individually, whenever we were ready, knowing we'd all meet at Dumpling Hut when we were finished. The "Do Not Leave" sign was gone. Jackson and I set off into the rain, the valley and mountains from yesterday shrouded in mist and white cloud.
I avoided the puddles, jumping over small trickles and streams vainly keeping my toes dry. My legs felt sore and my hips were chafed where the bag had rubbed the day before, but the pain subsided after a few minutes of walking. The path steadily sloped upward, zig-zagging back and forth as we climbed. The Ranger had described the vegetation changing as we went up and it did. The trees thinned and then were gone, leaving shrubs and beautiful mountain flowers. The rain kept coming and then the wind. I gave up jumping puddles.
Closer to the top the temperature dropped and I was glad for the heat my body had built up from the climb. The Ranger had warned of potential snow at the summit and a mantra began in my head: "don't stop moving."
There are no large mammals native to New Zealand, no predator ready to kill. No hiker need worry about bears, snakes, dangerous spiders, or mountain lions. What will kill you is exposure and hypothermia. I was petrified, as I got more and more soaked and kept climbing higher into the wind, of dying of hypothermia.
The Mackinnon Pass has a memorial to Quinton Mackinnon near the top. Mackinnon was a guide of the trek and one of the original trailblazers. He is presumed to have drowned on Lake Te Anau after the wreckage of his boat was found. On a nice day, I am told, the view from the memorial is really nice. On our trip, however, it felt like the Mouth of Hell. Pausing briefly to take a shot we kept moving, my mantra running in my mind over and over.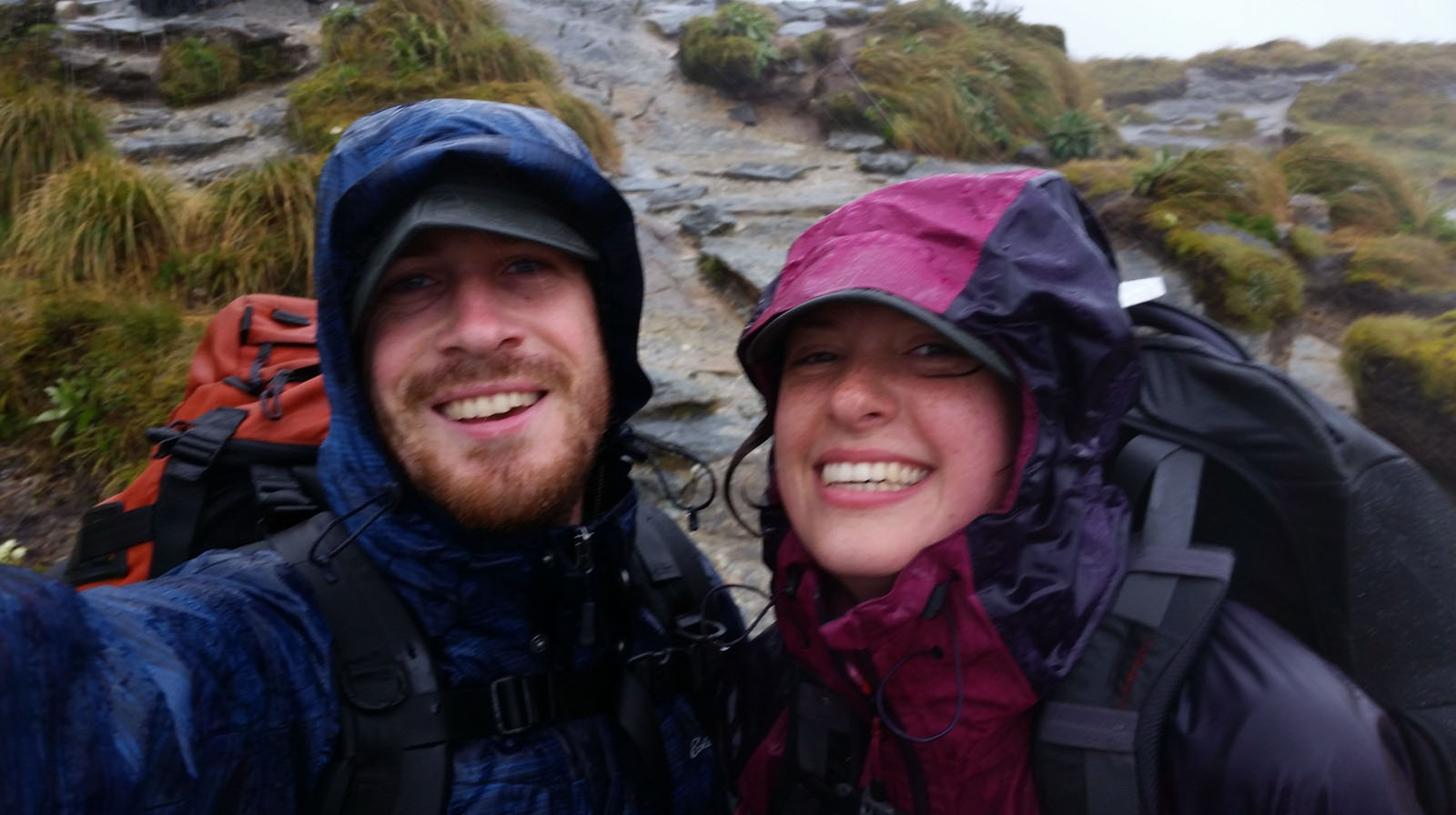 There is a hut at the top of the pass for hikers to stop and warm up. The wind at this point was whipping! I blew over as we made our way to the comfort of the hut. Huge gusts would blast up from the valley below flattening our bodies against the grass on the slopes of the pass. There was swirling mists and icy rain pelting my eyes as Jackson and I staggered forward. The visibility was not good and I dearly wished we could have seen the views from The Pass which I hear are breathtaking. But, given the strength of the wind, I didn't want to look down.
We stomped into the comfort hut and were literally steaming as we shrugged off our bags. I was shaking with exertion and adrenaline. There were about a dozen people in there huddled over cups of tea. Jackson and I split Jackson's lunch, munching absently while listening to the wind. I read an informational plaque on the wall that was describing how the hut had been blown down 5 times in the past (or 6? or 10 times!?) and that the park service has had to rebuild it due to the wind.
Ha. Ha. I glanced at the ceiling and wondered if today was our lucky day.
Pouring water out of my bag and praying that my plastic-wrapped belongings were still dry Jackson and I took off again into the wind and rain for the descent.
Going uphill is more a concentration of using muscles to climb. Falling forward is not a long fall and balance is not a big issue. Going downhill, however, is all about balance and concentrating on where to put your foot. In the best of circumstances, with a heavy backpack, it can be hard. On day 3 it was a nightmare for me. Rain poured down and what were picturesque waterfalls yesterday were now charging torrents of water. The path at some points was just straight-up waterfall and rapids with only small orange markers to highlight the way. I laughed at my foolishness earlier in the morning when I was prancing over small puddles, yesterday's "cold dip" in the pool was a dream. Here Jackson and I were wading ankle deep into ice melt that was charging down the hill. The path was steep and at times I needed to scoot down on my butt to avoid slipping on the wet rocks. The white foamy water made it hard to tell how deep the rivers we needed to wade through actually were and more than once I'd step in up to my knee.
The first time I fell it took a lot of will power to stand back up. My knee stung and like a dam burst I began sobbing wildly. "FUCK THIS FUCK THIS I HATE THIS!!" I screamed. Jackson patiently waited for my emotions to calm down. "You can do it, Natalie." He said, calmly urging me forward. I wildly thought about getting a helicopter to where we were to pick us up and knew that was impossible. I was being a baby and the only way was forward.
Waterfall after waterfall came pouring down. Leaping, jumping, running, slogging we scrambled down the slopes like drenched rats. The foliage came back and the air got warmer. We came across a really deadly looking waterfall that was swollen in the rains. There was a stair built next to the falls, leading us downward into another valley. I was exhausted. We hadn't paused: no break. Keep moving I told myself again and again. Don't stop. We needed to keep our heat up. My legs were beyond jelly and going down the stairs I leaded on the railing and allowed myself to fall/step down. At the bottom, Jackson fed me more trail mix. I perked up.
Rocks. Boulders. Remember the rock falls? Still there, only now everything was covered with water. I fell again, my legs giving out. Frustration and exhaustion bursting out of me in sobs again. Dimly, I imagined what misery Frodo and Sam must have felt when moving toward Mordor with the Ring. They were sure of death at the end. I was sure of a hot meal and dry underwear. The thought made me feel marginally better.
The Ranger had told us to look out for a new walkway made of wood. When we hit that, we'd be close to Dumpling Hut. I almost cried with relief when we saw it. The water was under the boards and we weren't actively wading, which by this point was almost all we did. Unfortunately, the boardwalk ended and the path became a full-on river, completely submerged in feet of water. Jackson and I laughed at this point. Wading up to our mid thighs we walked, praying that the orange makers to identify the path weren't leading us astray. I tried to remember what a warm, dry butt felt like.
Reaching Dumpling Hut felt like a holiday. Peeling off our sodden layers we hung up what we could to dry, smacking at the sand flies (Fiordland's mosquitoes) who were more than happy to chomp on our wrinkled toes and exposed legs. Pulling on our blessedly dry change of clothing (thank you garbage bags!!) we stalked up to the mess hall for food and sympathy. We met our crew who were happily recounting moments of misery and laughing at each other's stories of getting drenched. "Remember when the waterfalls were just falling right into the path and there was no way around except to just walk under??" "Yeah! It was really funny having to step into the rapids to get down the hill!" "Haha! I was like: I'm gonna die if I misstep!" "Seriously! If I'd twisted my ankle I'd be dead. I kept praying I wouldn't!" I found myself laughing too, although I would have fallen asleep into my food if I wasn't.
Caitlin burst in 30 minutes later, a smile on her face. "Wasn't today great!?" She asked. "I just came back from the Sutherland Falls' trek and it was incredible!" My jaw dropped. That extra excursion was an additional 1.5 hours. I guess it's all about perspective.
What a day. I never want to relive it, but that was one of my biggest achievements.