Mr. Magoo, the absent-minded professor, shared our room on the final night. Muttering to himself, he rose at 5:20am and began to shuffle and crumple everything he owned. He opened the door of the sleeping hut, letting in all the cold air and sand flies, thumping his way back and forth to collect all the millions of little bits that he needed to wrap in plastic before cramming into his backpack. Thanks for the wake-up-call, bro. Later, Jen and I made up an entire background story for the guy, right down to naming his imaginary cat "Myrtle" and deciding that he lived in a house full of books that smelled vaguely of cabbage. By creating a background story for this incredibly annoying human (that I wanted to have killed by a falling piano for waking me up early) I forgave him his noisy morning. Who could really hate a person with a cat named Myrtle?
Pulling on cold, damp clothing and wet shoes is about as fun as it sounds. Knowing that this was the last leg of the trek, however, got us moving with little complaint.
The Ranger had told us that the path became a "highway" after a certain point because it's pretty smooth and flat and slopes downward toward Sand Fly Point where the boat will pick us up and drop us off at Milford Sound.
The trek was, compared to day 2 and 3, largely uneventful. We walked fast, eager to get to the end. We stopped at "Bell Rock" which was a really cool formation made by water. It's a huge boulder that was concaved by drops of water over a very long time and then (maybe through an avalanche? earthquake?) it was flipped upside down. You can crawl under the rock and sit very comfortably inside. It was really cool. Jackson and I sat in there and stared. I imagined living inside it until the thought of another earthquake trapping us in there spurred my exit.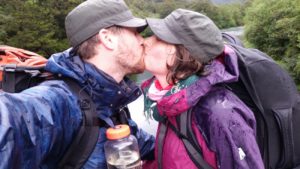 There's a part of the track that was carved out by prisoners in the early days of the path. The prisoners blasted through living rock with explosives (and then carved their names into the rock wall when finished). The Ranger explained that it was the only part of the trek that has required no updating or fix. I believe him. While walking on the track it was hard not to notice the damage and the constant battle between the Human path and Nature's force. There were HUGE trees fallen on the path in some places, sometimes so big that stairs were carved into the sides. Avalanches take out bridges, rivers wash out the path… It's easy to associate violence with blood and ashes in our lives, but there I had visceral reactions to a fallen tree that had smashed a footbridge or what looked like a good chunk of a mountain that slid down and was balanced precariously on the edge of a cliff. The path would also curve around avalanches that had destroyed everything on the slope of a mountain. Dead trees, bushes, rocks, and sand would be piled two stories high as we walked past in awe. Nature is big and we are but small bags of meat passing though. It's easy to forget when I'm living in New York city and a tree is the size of a tall basketball player, but out in the wilderness I could see how far we've come as a species in the battle to conquer Nature's destructive force.
It was a cool day with some sun at times and some rain. The forest was a deep green and the sky was white, but when the sun came out the plants would steam. It was a really wild thing to walk through the forest and watch as the ferns gave off their steam which would collect on the mountain slopes and become clouds. Everything felt so pure.
Arriving at Sand Fly Point felt really good. Our crew was mostly there by the time Jackson and I arrived and they clapped when we walked in. "We did it!" Unfortunately the exuberance wore off as our heat from the hike died from sitting and waiting for the boat to come pick us up. Our damp clothes felt really cold.
Fortunately the boat, which was supposed to come at 1pm, came early! We hopped on the tiny craft (that could hold only 12 people as the original boat that was supposed to hold 20 sank. Yikes!). It was a short trip to the Milford Sounds marina. I'd heard that Milford Sounds is not to be missed when visiting New Zealand. I totally agree except when we were there it got so cloudy! It was hard to see anything, really. I can imagine on a clear day the views would be stunning. Even from what we could see it seemed otherworldly. The mountains stuck out of the water in peaks and marched off into the distance creating perfect V-shaped valleys. The low ceiling of the clouds creating a sense of mystery. I would have enjoyed it more if my butt wasn't still wet and there weren't dozens of boats filled with tourists taking pictures.
We got off at the marina and felt out of place. Suddenly everyone around us looked clean, well groomed and well fed. We laughed at ourselves for what we must look like: bedraggled mountain people hauling large filthy backpacks and dirty fingernails. Being back in civilization was a shock as well. I found myself longing for the quiet of the forest again and the feeling of being untouched. Kathy wished us well and set off (she was doing another great walk the next day- what a badass!). Steven, Kari, Dan, Jen, Caitlin, Jackson and I wandered over to a cafe and ordered some coffee. We had a few hours to kill before our bus would come pick us up and take us back to Te Anau.
I desperately wanted to change my clothes but I'd run out of clean/dry anything. Shuffling off to the bathroom I felt like one of the homeless people I've seen in subways in New York. My hair was greasy and I was covered in dirt holding a few pathetic pieces of clothing to my chest and muttering to myself. I must have smelled ripe as well.
Driving out of Milford Sound is UNBELIEVABLE. The drive takes you up a mountain and down and the views are stunning!! As we rode in the bus Allan, our bus driver, explained some fun facts about the area
"On your left is Monkey Creek because the explorer's dog jumped in it and it's name was Monkey."
"The explorers ran out of names to call the mountains so they just started to call the mountains by numbers."
"This area is full of avalanches and people from all over the world come here to learn about avalanche management." (The NZ government flies around in helicopters and cause avalanches that can be managed and cleaned during the winter so that the snow doesn't accidentally crush people or the town!).
It felt so good to be somewhere warm and dry. I fell asleep not too long after cresting the summit of a mountain and woke up in Te Anau.
We said goodbye to our friends and made ready to make our road trip to Queenstown, 2 hours away.