Prior to coming to Australia, I'd thought of the country as a wonderland of koalas, desert, and the mythical kangaroo. I'd watched Aussie movies like "Crocodile Dundee" and "Muriel's Wedding" and stuff with Nicole Kidman (they all accurately represent this massive southern continent, no?).
We decided to check out Melbourne because it had been described to us as the "New York" of Oz. No one had said anything bad about Melbourne and it seemed a good place to start after New Zealand.
We stayed with a very sweet family in Brunswick, a suburb of Mel. There's Aaron (who offered over Facebook as a friend-of-a-friend to take us in) his wife, Renza; daughter, Poppy; cat and three dogs who all live in a gorgeous Edwardian house.
From the few days we've spent in this town I can say with certainty that the Aussies we've met have been very giving, sweet and open: Melbourne is the total package.
The first 3 days consisted of walking around the city. We strolled through downtown snapping pictures at all the old architecture from the turn of the 20th century. I had no idea that Melbourne had so many beautiful brick buildings! We stopped and stared at so many.
There are small alleys and lanes, too. I was reminded of European cities in that there are so many small nooks and crannies to explore.
As we exited one small street I saw the windows of an old looking Italian espresso bar. Following my instincts we went in for lunch at Pellegrini's Bar and had the ravioli. It was delicious, but the portions were huge so we only ordered one plate to share. I highly recommend checking the place out. It felt very much like Old New York City and the places I've eaten in in Italy. I did have a small chuckle hearing an Aussie accent come out when they spoke English instead of a thick New York accent (like what I'm used to).
We wandered through parks.
The weather was gorgeous the 1st day so we stopped in the shade of a tree for a nap and as I woke up a large seagull pooped on my back! The seagulls are such assholes DO NOT TRUST THEM. Thankfully, Jackson was ready to help clean the crap off my back in a jiffy. What a guys. He would have earned more brownie points had he then killed the seagull who did it…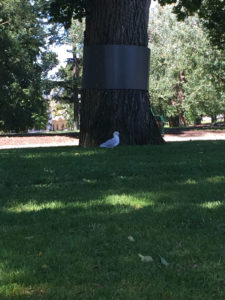 Aaron collected us and took us to St. Kilda's to see the beach and nightlife. We had some dinner on the sand and walked along an open market, watching a busker dance on a wheel. The birds at dusk are very loud, so loud they were competing with the music!
The second day it rained so we went to the National Gallery of Victoria (which is free to see). The Gallery is very nice and a good place to spend a rainy afternoon.
After perusing some more shops downtown we called into a sweet cafe called "1000 Pound Bend" for some WiFi and a seat.
We took the tram to get back to Aaron's. It was very simple and easy. Cost about $4AUD each one-way.
Aaron and his family invited us along to a pub to meet some friends. I had my first Kangaroo burger which was delicious. Aussies and Kiwis will put all sorts of stuff on a Burger that Americans won't do like: beet, grilled pineapple, and an egg. My 'Roo burger came with beet on it and it was surprisingly delicious. We drank beer (or, in my case, cider) and talked about travel and life. Meeting some of Aaron's friends was delightful. Jackson and I enjoyed listening to tales of adventure from one of the Aussie blokes named Phil who had traveled around Central and South America and lived in China for a while. Phil gave us all sorts of tips for Singapore.
On our third day out we walked down Brunswick Street. So far Sydney Street had been the main channel of walking as there is so much to see on that thoroughfare! Tons of shops and boutiques. Brunswick was even more chuck-filled with boutiques and shops. I had a lot of fun scanning the windows and fingering the clothing as we passed. I'm a terrible shopper, though. It's very difficult for me to buy anything and I don't enjoy shopping for a purpose. I'm fine if I browse but the minute I have something I need I hate the whole activity. Also: Melbourne is EXPENSIVE. Even with the USD being stronger, the AUD can pack a punch and nothing is cheap.
Jackson and I met up with our friend Rob who took us to see the Eureka deck. The Eureka building is the tallest building in Australia and the top deck has a really nice view of the city. The tickets were $20AUD each. Afterwards we walked along the Yarra River and had a beer**, watching a man dressed as a Gargoyle scare passerbys.
**which are not cheap. A pint can cost about $12AUD and the smaller glass called a 'schooner' will run you about $8-1o. In New York City you can get a happy hour beer for $4-5USD and only really expensive places will charge $12USD for a beer!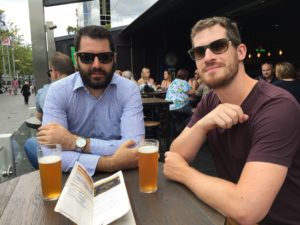 To get us out of the city to see more of Victoria on the 4th day, Aaron drove us to Barwon Heads to meet his sister and her family and take a trip to the beach. Barwon Heads is a lovely beach town about 1.5 hours south of Melbourne. The beach was beautiful and the water is pretty warm (about 20 degrees Celsius/ 70 degrees Fahrenheit). After lunch at a restaurant called 'At The Heads' (I got a swordfish pate which was okay. $17AUD.) we trucked over to meet some of Aaron's sister's friends who were staying on the beach. Jackson and I watched the children play in the water as our group made our way toward a bluff at the end of the beach.
We hiked up to the top of one of the bluffs and watched the surf crash along the coast. At the crest, Aaron pointed out that the Great Ocean Road was down by the coast. He said it was a lovely highway to drive along. I made a mental note to check it out next time we're in Oz.
On our last day, Aaron drove Jackson, me and Poppy to Healesville Sanctuary (about 1.5 hours north of Melbourne). The Sanctuary is in the Yarra valley which is known for its wineries. The Sanctuary was unique in that it offered a chance to get up close to some of Australia's local wildlife. It was my first time getting really close to a koala and a kangaroo and I was thrilled! They're REALLY cute, but also not as mythical anymore now that I've met a few! The tickets cost about $32AUD per adult and kids are free.
Stopping at a winery called Badger Creek Blueberry Farms on our way back to the city, Aaron, Jackson and I sampled some blueberry wine. It was delicious! I bought two bottles (about $25AUD each). We drank some apple cider that Aaron had bought as well while sharing our adventures with Renza over brie, olive oil and bread when we got back to Brunswick.
If you're looking for a great bar to visit in town, "Naked for Satan" is an awesome place to stop in. We went on our final night in Mel and drank delicious Gin and Tonics while watching the city below (because there is an awesome ROOF DECK). Cocktails there will run about $16AUD.