Our hosts, Aaron and Renza, had warned us that Adelaide might feel like a small town after visiting Melbourne. I found that although it did feel smaller, the access to mountains and beaches that it afforded made it well worth the trip.
The flight to Adelaide from Melbourne was about 1.5 hours. The airport is very close to the city and further boosted the creed of Adelaide being the "20-minute city" in that everything feels about 20 min away.
Our first day we landed early in the morning and our host, Chinthana, was there to meet us at the airport. Chinthana and Jackson have known each other for a very long time and have been close friends since their days in Christchurch. Currently, Chin is a professor at University of South Australia and while he had some classes and work to get to at University, he lent us his car.
Our first stop took us out of the city and into the Adelaide Hills: full of vineyards and farms. It felt a bit like Southern California. We drove to visit Hahndorf, a small area established by immigrating Germans in the early half of the 19th century. Today the area is visited for its German cuisine and history. The food was okay and a bit pricey.
I visited Germany (specifically Bavaria) in summer 2016. Compared to that visit Hahndorf seemed somewhat silly. I liked the original old buildings that the first settlers had put up. There were plaques posted outside the doorways describing what the building's purpose used to be. Otherwise I found the "authentic" German music that was piped in over the loudspeakers and the "authentic" German garb one could buy at the souvenir shops a bit garish.
Walking the main strip, we got too hot for more and decided to head straight for Maslin Beach.
It was a hot day: about 98F or 38C depending on who you ask. The air was dry, so it's easy to cool off in some shade, but to be in the sun is to sizzle. Maslin Beach seemed like a great idea for a place to go cool off. It's located about 1 hour south of Adelaide and is ranked as one of the top 10 best beaches in Australia. We had to check it out.
The beach was well worth it. There were beautiful bluffs that stretched the length, ending in a cliff that people were jumping off in the distance. The sand was soft and the water a bright tourquoise that felt exquisite to be in. We settled onto the sand for only 10-15 min at a time before getting too hot and jumping in the water again.
Jackson pointed out a bunch of umbrellas farther down the beach and suggested we go check out what was pulling people so far away from the parking lot.
Making our way down we realized that that section was a nude beach! We'd never been to a nude beach before and after hesitating for a few minutes decided to move there.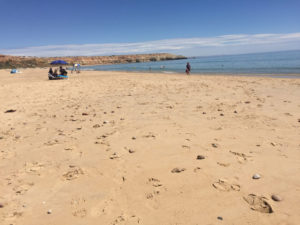 The nude section was so chilled out. Everyone was naked, of course, but no one seemed to care at all. I especially enjoyed walking into the water to swim. At a normal beach I feel like I have to constantly watch my bathing suit top because the waves will push it off my chest and that can be embarrassing. On a nude beach? Ha! I'd definitely go to another one. It was nice. There weren't any old creepy guys (there were old fat guys, though) and there was a healthy mix of couples and younger women sunbathing as well.
On day two we were taken out to Cleland park in order to climb to the summit and enjoy views of the city from Mount Lofty. Chinthana joined us on this trip and it was nice to catch up with him as we huffed our way up the slope. The path can get really steep at times! There was a nice breeze and it was a lot cooler that it had been the day before, making the hike very enjoyable. At the top of the mountain was a café! Sweet! We got nice cold drinks and enjoyed the view. The hike took a few hours and was free. A great place to spend a morning/afternoon.
Arriving back in Adelaide, we strolled through Rundle Mall. It's mostly outdoors and had a wide selection of shops. I liked the statues that were scattered around.
For dinner, Dinithi (Chinthana's fiancée) made Jackson and I a delicious spread of Sri Lankan food. It was my first time trying cashew curry and the spicy chicken and yellow daal dishes were supremely delicious. As we're planning on going to Sri Lanka in a few days, Chin and Dinithi talked us through some customs from their country and gave us some tips.
Before our flight on our third and last day, Jackson and I went to check out Glenelg, a beach town south of Adelaide. It was OK. We liked Maslin beach better. The Tour Down Under 2017 (like an Australian Tour De France) was happening as we arrived and I got to watch the bikers race past which was cool. The city was overrun with cyclists. They were EVERYWHERE. It was cool to walk through the streets and see the numerous amounts of helmets, bikes, and gear. Glenelg was alright to see, I wouldn't make it a huge trip.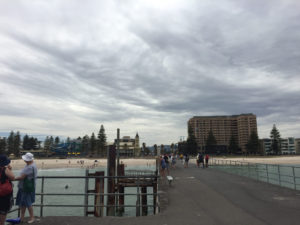 I do wish we could have spent longer than 2.5 days. I think driving around the hills would have been nice and seeing some more of the coast would have been a cool thing to do. We'll have to come back.