We hadn't fully anticipated how much it can rain in this city. Waking up on our third day we were confronted with a torrent of rain, thunder and lightning. Sheets of rain were peeling off buildings and as we stared stupefied at the rain our next thought was: what now?
Unlike New York, Singapore has an excellent warren of halls and holes leading through alleyways and under buildings, bringing the walker a relatively dry journey through a good portion of the downtown. The overhangs are not extensive enough to cover the walker the whole way, but does give an awesome respite from the elements and plunges the traveler into stall after stall filled with food hawkers, fabric sellers, tea houses, and massage parlors. Some of these walkways are quite beautiful: white tiles inlaid with patterns of indigo blue contrasted with large green palms that hang over the path causing you to duck. Sometimes there is the scent of incense burning or tea or Chinese five spice as you pass through like a ghost, carefully picking your way along the goods for sale spread out on the floor and ignoring the peddlers trying to invite you into their stall to look at the rugs for sale.
We did our best to avoid the worst of the rain, but still got pretty wet walking over to the National Gallery. A day indoors seemed like a grand idea and we spent a few hours wandering the almost empty halls of the National Gallery ($20SGD entrance each). I liked looking at art that was made by South East Asians and told stories of their struggles and lives. It was quite the contrast to the National Gallery in Victoria, which struck me as more similar to The Met. It was a lovely collection although the building was really hard to navigate. The art is in the old court house and there are courtrooms and holding cells sprinkled around the building, making for a somewhat confusing presentation. We even wound up walking into the special collections exhibit without knowing and only after a short while were we stopped and asked to leave (we hadn't paid to see the special exhibit!).
The rain let up and we decided to go explore more of Chinatown. Unlike Little India, Chinatown seemed a bit tamer but with more stalls selling an unbelievable amount of what looked like utter crap. Lots of plastic, rubs, red lunar New Year signs and cheap clothing. It was overwhelming walking along the stalls for too long and we ducked into the Buddha Tooth Relic Temple.
The temple is free to enter and a MUST see! It was gorgeous inside! We marveled at the detail, the thousands of small buddhas that lined the walls, the gold foil on everything and monks chanting. The silence in the front hall was often punctuated by the clink of coins hitting prayer boxes.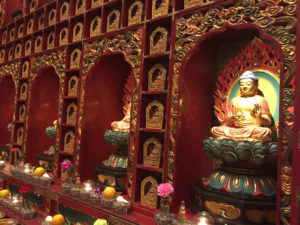 We got ourselves a delicious red-bean and green-bean-paste pastry and chowed down on the street, the crumbs  falling off our finger tips and lips.
We ducked into Sri Mariamman Temple (also in Chinatown) for a quick look around. It was free to enter and quite a contrast to the Buddha temple. The Hindu temple was quiet, stark and somber, we didn't stay long.
Walking over to Thian Hock Keng Temple was our last destination for the day. It was a lovely old temple boasting a traditional build process using no nails and supported entirely by stone and wood. The deities were ornate and lovely and there was a heady scent of incense. I liked walking around the complex and contemplating the heavy-lidded deities. Unlike Buddhism, these gods had a range of facial expressions from anger to serenity. I liked the concept of "Door Gods", smaller gods to pray to to keep out intruders. Their depictions made them look somewhat fierce, and that they took their jobs very seriously.
A full day of walking! We only took the train to get home. Our feet were really feeling the concrete, but there is so much to see in this city!