It was explained to us that the rain doesn't normally last very long in Singapore, but comes in a burst, leaving clouds and sun later. Not so with us. It rained in Singapore for 2 days straight. Having exhausted our museum preferences (there are a lot of museums, but we felt to only see The Gallery) we kept day 4 a very chilled-out day. We didn't leave until later to wander around and find some chicken rice, a dish that had come highly recommended by bloggers and foodies like Anthony Bourdain (we watch his show, "Parts Unknown", religiously!).
We found the joint Anthony had eaten at when he was in Singapore and ordered the two types of chicken: steamed and roasted.
In the windows of quite a few stalls and restaurants it is not uncommon to see the roasted bodies of chickens hanging by their necks on hooks. For the western tourist it can look quite garish, especially the steamed bodies, heads still on, their white featherless carcasses looking only partially cooked.
When the meal came we got quite a shock: the chicken was room temperature! Whoops! No one told us that was the case! The rice is hot and flavorful, there is a broth served on the side that is also nice and hot, but the slimy, cold, steamed chicken was hard to stomach. The flavors were all delicious, but I couldn't get over the solidified fat jiggling on my fork. Ew.
For a treat, we took ourselves downtown to the Marina Bay Sands hotel to sample a cocktail on the 57th floor. We chose a Tuesday night because the bar was advertising their #flight cocktail at %50 off: score! Cocktails are EXPENSIVE in Singapore! To have a price tag of $25SGD is not unusual. We had looked into going to The Raffles Hotel bar for a Singapore Sling, but that puppy would have cost about $35SGD and the reviews online said it was pretty crap. No thanks. I'd rather fork over good money and at least get a view.
The 57th floor has a stunning view of Singapore. The cocktails were expensive, but it was well worth the trip up in order to get a chance to see the city at night.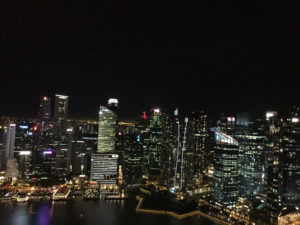 Day 5 looked like a great day to be outside! Yay! We jumped in our clothes and made our way to the Botanic Gardens.
The Gardens are free and it took about 30 min by train to get out there from downtown. What we were after was the Orchid gardens, a $5SGD entrance.
The Orchid gardens are a must see! They are beautiful! The orchids are really top notch, exploding in color and variety and they are everywhere. Gorgeous.
The rest of the Botanic Gardens are also beautiful. They boast a rain forest section, an evolution garden, herbs and spices, and an assortment of other types of plants. It was so nice to walk around in it and it's really big, too!
We discovered that the Super Trees in The Gardens by the Bay light up at night at 7:45 and 8:45pm. Viewing the trees is free and we figured we'd check it out. The light show was OK. The first 30 seconds were fun and then the magic wore off. They pumped "music of the far east" over the microphones and cheesy Hollywood-takes-on-China music played as pinks, blues and purples lit the trees. Meh. We stayed for 2 songs before leaving.
As we walked back toward the subway our path took us through Marina Bay Sands and the MASSIVE mall that's inside. This mall is unbelievable! There's a canal that runs through it and you can rent a gondola to take you through it (we didn't). The amount of shops were never ending, too. We walked all over staring at everything. At one point, I walked into a lingerie shop and fingered a bra before looking at the price tag: $560SGD. Um. Nope.
On Day 6, we met up with Sharon, a colleague of mine, who took us to her favorite restaurant and ordered a slew of delicious dishes. It was lovely to see her and cool to go to a different part of town. I was grateful to try some other Singaporean delicacies like Chicken Curry (a little like a Thai curry, but with Indian spices- delicious!) and the Singaporean breakfast of fried chicken, rice and some crushed spices. For dessert we had Singaporean toast: thinly sliced, toasted bread with jam and butter inside. Yum.
After lunch, we strolled along the beach, goggling at the amount of ships waiting in the harbor to come to port. There were super tankers as far as the eye could see. It was unbelievable. Pictures couldn't do the scale justice.
We prepared to leave Singapore. Sad to say goodbye to such a bustling, colorful city but excited for Sri Lanka. We weren't sorry to say goodbye to our hostel room: it was disgusting. The whole room smelled like mildew and mold and it didn't feel comfortable at all. We had tried to leave early but they had a no-cancellation policy. The location was great, as was the staff and WiFi, but that room was awful. I wouldn't recommend 5footway.inn.