We decided to leave Kandy and set out for Dambulla in order to catch a bus or tuk-tuk to Sigiriya. (If you followed that: A+! Your knowledge of Sri Lankan highlights is superb! If not: we went North.)
Having only taken the train by this point we were a little unsure of how to get to our next destination. Our host, Jagath, explained that taking a bus was easy. He was so right! We caught a tuk-tuk ride to the bus station which was a chaotic cacophony of honks, bus engines, people, dogs and ticket sellers. The three of us stepping out of a tuk-tuk made quite a site. A scrawny dude holding a receipt machine strapped to his wrist shouted at us. "Dambulla!? DAMBULLA!?!!??"
"Uh. Yes?"
"This bus!" He pointed animatedly at his old, colorful, thick-black-smoke-belching bus.
We hesitated. Was this how it worked? Do you need to buy a bus ticket or just get on? The scrawny guy practically grabbed us and threw us in. "On! ON!! Okay?"
We filed in, the inside smelling of incense. The other buses were parked so close it felt claustrophobic. A couple people turned around in their seats to stare at us. I kept wondering if we were in the right place. Hawkers would file onto the bus selling all sorts of things, including lottery tickets and I got more panicked. I hate not knowing what the hell is going on.
The ticket guy tried to get us to put our bags in the back, but we were too scared to part with them. Instead, we piled them high on a seat next to me. The ticket guy came to collect some money from us. This is how the ticketing works: A guy comes up to you and nods. You tell him where you want to go. He prints out a receipt and you pay. Cash only.
I didn't realize we were leaving until I noticed the parked bus next to me slowly drifting by my window. Inch by inch we pulled out of the parking spot. The traffic getting out was so congested that the bus needed to inch in order to even get enough space to pull out. Suddenly loud Sinhalese music began blasting through the loud speakers and the bus was able to pull onto the road and out of Kandy.
It was a 2.5 hour trip and cost about 100LKR per person (about $0.65USD) we paid an extra 100LKR for our bags. People jumped on and off the bus- literally. The bus would barely slow down and people would fly off, another 2 or 3 waiting to jump on. As they did, they'd hand the ticketing guy some money and then take a seat (if there was one available).
I wouldn't say riding the bus is the most comfortable, but it surely makes for a good trip. The windows are open and that's the only way of keeping cool, otherwise it's hot as hell. If an old lady gets in, or a monk, you need to give up your seat. If the bus gets crowded people will hand their bags to those sitting to hold them (doesn't matter if it's a stranger!). The bus will drive on either side of the road and will whip around corners and over highways at alarming speeds. All the while this ridiculous Sri Lankan music is pumping throughout the interior. It's fantastic, really.
Dambulla, we had been warned, was a crowded traffic-filled town that wasn't worth much of a visit. They were right. The minute we stepped off we wanted to get up to Sigiriya. We settled on a taxi who charged us 800LKR (about $5USD). I don't know if that was a good price or not. We managed to talk him down from 1000. There is a bus that goes from Dambulla to Sigiriya, but we were too green to find it.
After checking into our rather bare-bones hostel, we had lunch at a quaint little shack 2 minutes down the road called "View Sigiri". The owner, Nishanta, a plump guy with a big white smile and even bigger eyes, sat down to chat with us while we ate our lunch buffet. He asked if we wanted to see Sigiriya rock (of course!) he then recommended we go in the evening. The park closes at 5, but if you get there at 4:30 you'll see the sunset from the top and it's not as hot or crowded. Nishanta said he'd worked as a guide at the UNESCO Heritage Site for 15 years. We trusted him. He even offered to drive us to the entrance. "No charge!" He assured us. "I'm happy to do it!" What a champ. He did.
Sigiriya Rock is one helluva visit. It is a MUST see. To climb to the top takes about 45 minutes (and at times it can be very steep and creepy: the steps cling to the rock face and there's nothing below you). The top of the rock has STUNNING views. Our jaws dropped. I can't fully describe it. You have to see it to believe it. We didn't get a guide: didn't need one, really. However, listening to snippets of what the guides around us said, it sounds like a nice thing to get if you've got the means.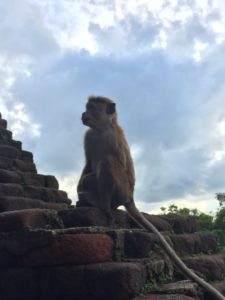 The only thing I can complain about being there are the stupid tourists. There are so many STUPID tourists talking loudly, playing Youtube videos with the sound turned up (wtf!? You're on a damn rock that's full of ruins and an amazing view and you're watching Youtube!!??) posing for ridiculous pictures whilst taking up an ENTIRE staircase, screaming at each other, antagonizing monkeys, picking up pieces of the site and putting it in their bag and, my favorite, flying a fucking drone around the site when it CLEARLY says in pictures all over the place that you're not allowed to. (Thankfully a guard caught the bastard flying the drone: I hate drones. Don't take a picture of me. I don't know you. Also your stupid flying machine is loud as hell and throwing off the view, jackass). If you've done any of these things at a World Heritage Site: check yourself. Don't be a stupid tourist. Quietly taking in the sites, snapping some pictures and putting your phone in flight mode is not only respectful to the surroundings, but also the tourists around you who just want to take it all in and enjoy the experience without your stupid soundtrack.
The entrance cost about $30USD (Ouch. UNESCO sites are not cheap) and took about 2.5 hours to really enjoy and walk through.