What I love about being in Asia is observing how different the names are from anything our North American brains would ever be able to read once and then pronounce without extreme difficulty. The names of some of these locations have so many syllables that it's difficult to wrap your tongue around them, much less say them over and over again. Anuradhapura /anu'radapura/ is no exception. It is therefore incredibly impressive when the guy who's selling tickets for the bus yells out the front door "AnuradhapuraAnuradhapuraAnuradhapura…" over and over again. You try saying that 3 times fast. Listening to Sinhalese is a lot like listening to someone saying Anuradhapura 3 times fast all the time. It's a baffling language to me, but fascinating.
After a bumpy, dusty, sweaty trip on the bus we arrived in the "1st" Kingdom of Sri Lanka. Our homestay was on a busy street (Airport road) that no taxi driver had ever heard of so it always took a while to get there… great. Deciding to go adventuring for some food, we ambled outside and down some side streets and were immediately taken in by quiet neighborhoods. There were swaying palm tress, some barking dogs (both stray and not), an occasional motorbike and smiling "hellos" and waves from the locals. Everyone was SO NICE. We got asked, on multiple occasions if we were enjoying Sri Lanka, as if, by saying no, the local would then make it their sole responsibility to rectify the problem. Little kids would wave at us frantically to try and get our attention and then burst into giggles when we would wave back. There were quiet little shrines dotted around the streets, some under trees and others on the side of a road, little Buddha drive-bys.
While waiting for dinner (at Little Paradise Tourist Guest House), we decided to check out Nuwara Wewa Lake and kill some time. It was beautiful. Empty, except for a few braying dogs and full of birds and the white peak of a stupa in the distance. We stood and stared for a while: totally in awe.
Dinner was the best food we've eaten in Sri Lanka. If you want a place full of authentic, delicious, varied Sri Lankan cuisine Little Paradise Tourist Guest House is the place to go. You'll need to tell the owner that you want to eat there earlier in the day so she'll make enough food. Otherwise: dayuuum! For 900LKR each you'll have a feast. GO.
On Day 6 we rolled into Anuradhapura's ruins by tuk-tuk. The Sri Maha Bodiya tree is located there: a 2,300+ year old tree that is said to be from a branch of the bodhi tree that Buddha obtained enlightenment under. This tree is so old and so well revered that it is said this tree is Buddha.
Foreigners need to buy a ticket to see the tree… or you can just walk the hell in and walk around, which is what we did. There were a ton of people praying and singing around the tree. As we walked around the shrine one of the priests hailed us over and blessed us. He smudged some white powder on our third eye and tied a white string around our right wrists. It all felt really beautiful until he tapped the collection plate and we forked over a couple hundred rupees. Still, though: it was so calm and beautiful being there. The tree itself is nothing outstanding to look at, but the people are.
Outside the gates to the tree a man stopped us and offered to take us around. Being trusting and, well, naïve, we agreed. He showed us all over the grounds and told us about different highlights.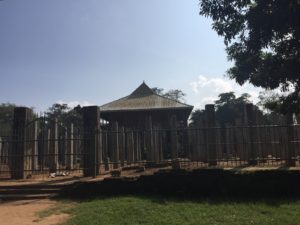 It was a nice tour until he tried to charge us more money to take us around more of the park, and then tried to upcharge us for the bike rentals. No thanks, bro. Byeee.
As we studied the map of the grounds (which is very confusing, badly laid out and hard to navigate by) a really nice guy approached us and asked for directions. Turns out his name was Jackie and he was visiting from Guangzhao, China. We invited him to join us on our exploration; he was really sweet and a lot of fun to have with us.
Biking the ruins was hot work. The sun beats down and there is very little shade. The things to see are really spread out and some are not worth going to at all. A lot of the ruins are in such bad repair that it looks like a pile of rocks sticking out of some grass. Polonnaruwa was, in our opinion, a better place to see some authentic ruins.
My favorite part was stopping at a quiet grassy ruin and sitting in the shade. The place felt really calm and locals would occasionally walk by on their way to the really old temple down the road and they'd wave at us. I felt a little bad climbing all over the ruins, but being all alone and able to explore at our own pace felt really good.
Our last stop (before we felt like we'd collapse in a puddle of heat induced vomit) was a REALLY old temple, built around 350BC. That was cool. It was built into the rocks and has since been added on to, but being at a place that was so old and still active as a place of worship was really wild. Heat: forgotten!
Tickets for the park was $25USD each and we rented bikes for 900LKR for the day. Bring a crap ton of water and a lot of patience because there are great distances between sites and cows will wander around in herds and get in the way!