Don't make the mistake we made. Don't go from Trinco to Ella in one day. By bus. This epic trip took 12 hours. It was awful. The bus we were on to get from Tincomalee to Kandy kept breaking down and we eventually had to get off and hop on a new one. I had to pee for, like, 2 hours before we stopped and found a bathroom. We needed to change buses in Kandy for the bus to Badulla then get a bus to Ella. The crazy thing? 12 hours of bus rides cost us about $5USD for BOTH of us to cross the country. These buses are no-kidding-around cheap and a great way to see the country. It's amazing what people'll pay to get driven around by a private car: $50-75USD one way sometimes. In hindsight: we might have coughed up some more money for a car to get us across the country quicker, but, oh well.
Arriving in Ella was a shock. The North is quiet, sleepy, and non-touristy. Ella was the opposite. Ella reminded me of Thailand: lots of backpackers, western music, western food and white people. I'm worried the rest of Sri Lanka will look this way in the next 5 years. This country is changing so rapidly. Get here while you can, reader. I doubt the Sri Lanka Jackson and I are seeing will be here much longer.
Ella is situated in hill country. Sri Lanka's hills are not super tall, are very green, and they are quite old so they're very rounded. What's lovely about this area of the country is how much cooler the climate is. The altitude (about 1,041m/3,415ft above sea level) makes for cool breezes, misty mornings, and clouds. This is also tea country.
Our first morning we set out to climb Ella Rock. Finding the path to the hiking trail is difficult. It is not well marked, takes you on terribly dangerous paths, and is full of completely mind-blowing scenery. It is free to walk up the mountain.
Up and back takes about 2 hours from the center of Ella. To get to the trail you need to skirt around some back streets, walk along some train tracks for 2km, turn off to the left after passing the Kital Ella railway station to take a dirt road that takes you through a tea plantation and then up a mountain. To find all these roads takes a little luck, a sense of adventure, and a whole lot of asking backpackers where they found their information. One chick, Lisa, from Germany, joined us. She had a pdf of a hand-drawn map on her phone that she was referencing.
We wound up making friends with the gal who was staying at our homestay in Ella, her name was Lika and she was from The Netherlands. She tagged along with us as we hiked around Ella. At the top Lika, Lisa, Jackson and I marveled at the views. They were good climbing buddies.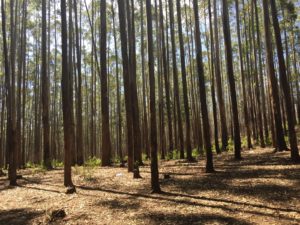 After the hike Jackson and I scheduled another ayurvedic massage at a "Lanka Grand Herbal Spa" on the main road. This massage was a lot better than the one we got in Kandy! It was all quite relaxing until the end when, covered in oil, we got ready to get up off the beds and the lady who had been massaging me looked at us and said "One hour no shower! OK? One hour NO shower!" Apparently, if you book a one hour massage at this place you can't hose off when you're done. Ew. Lost a lot of brownie points from me. The massage was 4000LKR (about 26USD) each which was pretty expensive for one hour.
The next day (day 12) Lika, Jackson and I decided to rent a tuk-tuk and go check out the highlights of Ella. The driver for the day cost 3,500LKR (23USD) for the 3 of us (I feel like we could have gotten it for 3000, but oh well). It was nice to have the driver for a few hours because some of the sites in Ella are quite spaced out and hard to see in one day without a vehicle. We were ferried to Uva Helpewatte Tea Factory and went on a tour to see how they make tea. The tour was fascinating! It was 300LKR (about $2USD) each for the tour which lasted an hour. We couldn't take any pictures of the factory, unfortunately, but watching and learning about the process of tea making was so cool! I highly recommend stopping there and learning about it. They even took us down to the machines to watch the leaves being processed. The whole building smelled like black tea and there were tea plantations everywhere. The location is gorgeous, too. It's high in the mountains (to help dry the leaves, of course!) and the factory is old, with large wooden floorboards and old glass windows.
After the tour we sped over to see Ravana Falls, a waterfall that is chuck-full of tourists. Jackson and I couldn't help feeling jaded as we've seen quite a few waterfalls (and hiked through a few as well) in New Zealand and elsewhere and this one was so full of tourists it was hard to get an idea of what it was like as a place of zen contemplation. After a few pictures we high-tailed it.
We saw the famous "9 Arches" bridge that the train goes over. A sight that looks nice when you first see it and then we were like: meh. It was nice, but we'd spent yesterday hiking all over train tracks so it didn't blow our minds.
Our next stop was a green tea factory that tried to charge us 500LKR for a tour which we declined because we'd just done the black tea factory. And we decided to get lunch.
There's a delicious dish in Sri Lanka made of milk curd and treacle. I HIGHLY recommend getting this if you have the chance. It is so delicious! It tastes like very sour, creamy yogurt covered in a thin, sweet, floral sauce. There's a curd shop in Ella that serves curd it's called "Curd Shop" (original and catchy, right?) for 200LKR (about $1.75USD). We stopped in there and devoured our shares. Yum!
The 3 of us decided to hike up Little Adam's Peak to enjoy the view at the end of the day. It was really nice. The hike is easy and walkable from town. It's a lot easier to find than Ella Rock as well. It took about 1.5 hours round-trip. The top of the mountain had good views but Ella Rock is better, I felt. A LONG day in Ella, but I'm glad we decided to fit it all in one day. I felt like we did Ella justice.