We weren't sure where to head next: Sinharaja National Reserve or Udawalawe National Park? Our goal was to head south and make it over to Galle eventually so that we could make it back up to Negombo easily and catch our flight out.
We decided on Sinharaja because we were told that Udawalawe was really touristy and Sinharaja was a bit more off the beaten path. It's also a bit closer to Galle.
We were told to take a tuk-tuk or car to the park because "the buses would be too difficult" Ha! Says who? No one on Trip Advisor could tell us how to get to our guest house which was right at the gate to the national park outside a tiny village called Mideripitiya which is outside a town called Deniyaya. Can't find the answer online? Ask the locals.
So, for all you looking to get from Ella to Deniyaya: be prepared for buses galore. We took 4 (and could have jumped a 5th had we known).
Step 1: bus from Ella to Wellawaya.
This is a short trip and easy to do.
Step 2: bus from Wellawaya to Udawalawe (there is no bus that goes from one city to the other, you just need to ask around as to what bus to hop and then they'll tell you where to get off- Udawalawe is a large national park and is a popular destination for tourists).
On this bus route, which took about 2 hours, we saw some elephants on the side of the road! Wild elephants! Lika, who was taking the bus with us, but getting off at Udawalawe National Park, later ran into us in Galle. She said that the park was pretty pricey and touristy and she saw no more elephants than the ones we saw on the side of the road while on the bus. Hmmm. Good to know.
Step 3: bus from a dusty Udawalawe stop on the side of the road (just look for a whole bunch of locals grouped together somewhere) to Embilipitiya (a short ride: maybe 20 min).
Step 4: bus from Ebilipitiya to Deniyaya, about 1.5 hours.
We got off at the small Deniyaya station and took a tuk-tuk from there. Had we known, we could have taken another bus from Deniyaya to Mideripitiya's post office (about 40min).
Grand total cost to get from Ella to Deniyaya? About $5USD total.
We left Ella around 10am and got to our place, the "Sinharaja Forest Edge" around 4pm. The tuk-tuk cost about 1000LKR ($6.50USD) and took us over some BUSTED backroads to get to the entrance of the park. We were in the WOPS. Seriously. There was nothing out there except a handful of hotels and a post office. The hotel we booked is quite literally the forest edge, too. The entrance to the park is almost at the entrance to the hotel. I wouldn't recommend this hotel, though. It was pricey- $40USD a night for a double-occupancy room, which includes breakfast. Everything else, however, is extra and we were a captive audience. Because there is nothing else there you have to eat the food they have (which they charged dearly for) and they really pushed their own forest tours on us. We wound up caving in and buying an all-day pass to get into the park for $35USD each. (yikes).
The next day we entered Sinharaja. The National park requires all foreigners to have a guide when entering the park. I can understand why: the paths are not well marked, they snake in and out of the forest and there are all sorts of things to really mess with you while in there (including a butt-ton of leeches, ew!!). The entrance to the park is 500LKR each (about $3.50USD) and then you have to hire a guide which is all about negotiating a deal. Because we booked through our hotel we skipped that whole process. Would we have done it differently now that we know more about the park? Probably not. Our guide was really fantastic and sweet and took us on a bunch of routes that were clearly not meant for the general populace (No one else was there except locals). If you feel adventurous and not ready to fork over $70USD, then negotiate a guide yourself. I'll bet it's much easier than the hotel owner was saying it would be…
The guided tour was 14km and last from 8am to 4pm. It snaked all over a small pocket of the park and took us to a couple waterfalls. Because it was a national holiday, the waterfalls were very crowded. The guide assured us that normally there is no one there. It didn't bother me too much, but Jackson got a bit overwhelmed at one point when literally 50 people showed up to the quiet spot we were having lunch and began shouting and screaming. Hey: it's their country.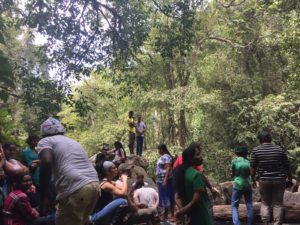 We left for more quiet spots.
The final part of the tour led us to a gorgeous waterfall and watering hole. It felt really good to jump into the cold water and swim around. There were some other tourists at this spot and some of them decided to jump off the waterfall's edge. The locals found this hilarious. I did too. Especially when they squeaked as they fell. LOL!
Sinharaja felt much less touristy than Ella and I'm glad we went. The forest is a UNESCO world heritage site and is the last remaining virgin rainforest in Sri Lanka. It's quite lovely and very hot. Although we didn't see any, there are jaguars and elephants in the forest as well, but you'd have to search really hard to find them. Instead, you'll see a whole lot of snakes, lizards, birds and bugs. I'd go just to escape the bustle of Southern Sri Lanka.