This busy, heaving metropolis slapped us right in our faces. Wealth! It was everywhere! HUGE shopping malls, glittering window displays, no stray dogs all over the street…  Bangkok was quite the contrast to everything we'd just seen in Sri Lanka.
Tired from our red-eye flight, we checked in early to our hostel, The Weeping Willow, and after a good nap went in search of food.
Thailand's cuisine is known everywhere and rightly so. This isn't stuff your mama makes.
We'd gotten a recommend from an ex-pat coffee shop owner to go to the Rod Fai Night Market 2 off the Thai Cultural Center stop on the MRT. It was a great suggestion. When we got there the place was a mecca of food wonders: fish, meat, veggies, rice and everything in between. Jackson and I looped the market several times oohing and ahhing over the food choices. The best part was how few foreigners were there! Going where the locals go to eat is great way to know you're in the right place. Once we started panting because we were so full, we decided to head home. Damn, Thailand: you know how to cook a helluva dinner.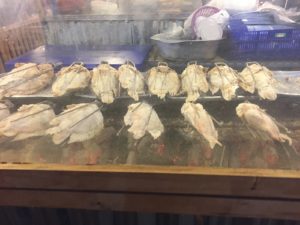 The next day we decided to explore more of Bangkok's older center. Maybe see some temples? When I came to Thailand 5 years ago I had stayed near Khaosan Road and thought to go back and retrace some of my steps.
Getting to the old city is really difficult from the trains, however. There are no trains that go into the old city and the best public transportation option is bus or cab. We walked. It took about an hour to get to the Palace and Wat Pho and by the time we got there the place was teeming with tourists.
Feeling exhausted (and little put off by the random Thai guy singing karaoke on the street under a blue tarp) we decided to hell with the Palace, we'll find a place to get a sticky bun, or something, and sit in some Air Con. Konnichipan was our place! My sister and I had gone there several years ago and I remembered it! Delicious, buttery baked goods and yummy thai iced tea. Yum!
We decided to hitch a cab back to the train station and a tuk-tuk guy pulled up and asked if we wanted a ride. Uber quoted us 100-120 baht, this tuk-tuk driver wanted 300… uh. No. Jackson was insulted. "Does he think we were born yesterday? I would have given him 150, but 300?!" Thailand, on the whole, is a pretty honest place but there are times to haggle, folks, and taking a taxi/tuk-tuk is one of them.
Thailand has developed quite the reputation for medical tourism: teeth cleaning is one of those sweet deals you can get in Thailand for dirt cheap compared to home. Being that The US is way behind practically every other country on the planet in terms of medical care and does not provide affordable dental coverage for people like us, Jackson and I took full advantage of the sweet sweet deals that exist in Bangkok. For 1,000Bhat each ($30USD) we got our teeth cleaned! Yay! We went to "Dental Design": they were friendly and took us as walk-ins. Our teeth felt squeaky clean. Thanks, Thailand!
On Day 3 we had to check out some temples, just HAD to! Taking fate into our hands we decided to get off the MRT at Saphan Taksin. Jackson had heard that there was good food out there on Charoen Krung Rd and lot to see. Okay! We'll start there and walk around.
Getting off we walked up to a large temple (yes!) and a lady stopped us before going in. "Where you from?" She asked. (Oh no. I think I know where this is going). "New York, but I'm from New Zealand." Jackson replied. She nodded. "You see China town!?" (Uh oh. She's going to try to get us to go somewhere, I know this gimmick) We shook our heads. "No thanks." Jackson said. The short, graying-haired lady hailed over a tuk-tuk. "He take you there! 40baht! Very lucky today. Temples free. Today only, yes. You go China town and see." She had the tuk-tuk driver pull out a map and she began furiously circling parts of the map. "No." I said. "Thank you." I pointed to the temple. "We want to see this today. Bye." We turned to leave. She all but cursed us.
My sister and I got roped into stuff like this last time we were in Bangkok. Anyone coming up to you to tell you that "today only" is a free day in the temples and that "it's your lucky day" is full of crap.
The Temple we saw was what we re-named "Temple of the Junk" because in the middle of the temple was a large, glittering Chinese junk. Cool. I couldn't hope to take a picture of it. It was enormous. Also, you could enter the junk from the bottom and it looked suspiciously like you were entering a giant anus…
Walking along the street (and getting a bit turned around) we saw the food stalls and places that had been mentioned on Charoen Krung road. Would I tell you you have to check this all out? No. But, it was nice to be in another part of BKK without tourists.
Tired of how long my hair was getting (because, dang Bangkok is HOT) and feeling like Jackson could use a haircut as well, we set out in search of a salon. The local malls were going to do it for 700bhat each (ew: that's expensive and they all looked really shady). Thanks to the wonder that is Google, Jackson found a sweet salon to get our hair cut where we paid 700bhat ($20USD) for the two of us! Sweet! I highly recommend Chada Salon as a place for a cut. They were really sweet and gave the best head massages! I wanted to cut almost all my hair off because it was getting annoying to deal with while on the road. Having a short pixie cut is really great! It's easy to clean, easy to manage and much cooler. It took a while to get used to, but I'm really happy with the choice.