Day 4 we awoke at our leisure and slowly dragged ourselves out of the air-conditioned comfort of our room to seek out the elusive and tantalizing Wat of the Golden Buddha. Was it elusive and tantalizing in real life? Eh. More like really hot and crowded.
The temple complex is quite impressive, towering above the street and glittering like a jewel in the sun. The whites, golds, greens, reds and blues all look so ethereal compared to the dull grays and browns of the asphalted streets of Bangkok. We bought tickets to see the museum and Buddha for 140Bhat each (about $4USD).
The museum was nice and cool and very empty of people. It seems swarms of Asian tourists have no interest in museums: sweet! More chances for us to check out things on our own. The museum was actually a timeline of how Chinatown came to exist in Bangkok. It had all sorts of exhibits and figurines everywhere. It also had a whole wall dedicated to the Kings of Thailand, praising them for being the best kings EVER. It was my first time reading how Thais reflect on the history of their monarchy which seems whitewashed and scrubbed super clean.
The Golden Buddha was very pretty and beautiful, the tourists were not. We promptly left and walked over to Chinatown, curious about it now that we'd read and seen all the mannequins and figurines acting out how it all started!
Chinatown was overwhelming. Had it not been so goddamn hot it might have been more bearable, but I noticed that Bangkok rarely has sidewalks where there should be and then when they are not as necessary, they spread out everywhere! Stopping in a Starbucks to order nothing and sit at an air-conditioned table and look like we owned the half-finished coffee left from previous customers, we zoned on our phones.
I can't speak enough about how beautiful it is to zone out on a phone by playing a stupid video game for a while. Travel for several months can make anyone a little coo-coo and a good brainless game of "Plants versus Zombies" or a few chapters of a book, are enough to help reset the brain back into curiosity mode and not overwhelmed mode.
Later that evening we had booked a cooking class at "Silom Cooking School". The cooking class was really fun! The recipes were okay. I had taken a cooking class 5 years ago at "May Kay Dee's Cooking School" and remembered being stuffed to bursting with delicious food. This was not the best, but the novelty of making our own food using authentic ingredients and watching the process done by a professional cook was really fun. We took the evening class which does not bring you to the market to pick out ingredients (I've done it in the past and it's pretty "meh", you just watch people go shopping for food, really). The evening class was a little cheaper and cost us 900Bhat each ($25USD) I highly recommend taking a cooking class in Bangkok.
Day 5 found us going to the biggest weekend market in Thailand. This market was NO. KIDDING. AROUND. You want exotic plants? You got it. You want weird types of dried fruit? No problem. Foot massage? Done. Fifty kinds of white shirt? Pants? Shoes? Earphones? Iced tea? Done, done and done. Chatuchak Market is the place to go.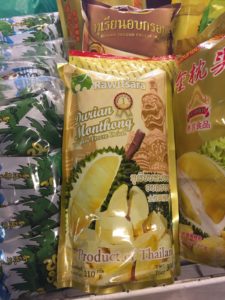 We spent hours wandering the stalls, which are all tightly packed together. It was crowded near the entrance, but once inside it didn't feel too overwhelming and we could walk at our own pace while staring at all the goods. I got a half hour foot massage (150Bhat or about $4.50USD) and reveled in the attention. Jackson staunchly refused one (he doesn't like them: wtf?) and walked around some more. Sucker.
We had bought our overnight tickets on a train to Chiang Mai for that evening and we packed our bags and prepared to leave Bangkok for the promise of the North: mountains, temples and a new city to see.
I had gone to Chiang Mai the last time I visited Thailand and was excited to see this town again. I also remembered the overnight train being somewhat pleasant. Not this time, though. I could not sleep at all! The train jostled and shuddered the whole night leaving me with only a few hours of snatched sleep. Otherwise I stared out the window and listened to Macklemore and Ryan Lewis' rap albums (I was in the mood for rap).
Our 2nd class tickets cost about $25USD each and the beds were fine, the air conditioning was nice. I doubt the 1st class passengers had any better time sleeping than we did. Take 2nd class if you can: it's totally fine and not at all like the 2nd class train cars we took in Sri Lanka. The train ride left at 7:30pm and arrived in Chiang Mai at 9:30am.