The moment we walked into Chiang Mai for some sightseeing I knew something was very wrong. 5 years ago, I remembered this city as quaint, full of beautiful temples and good food. My sister and I had found yummy street stalls, quiet places of contemplation and zone-outedness. There were some tourists, but nothing crazy.
The Chiang Mai we walked into this visit was nothing like that. This place was OVERRUN with tourists. Like, Chiang Mai's center had become an amusement park of Thailand. Neon signs abounded, massage parlors, Irish bars, Western Saloons, Indian food, Billiard clubs, 7-Elevens and Chinese take-aways. What. The. Hell? What happened to this place? Trip Advisor? Google?
Meeting up with my sister, Caitlin, we decided to walk some of the night market that happened in the middle of the Old City. Bad idea: the market was chuck full of people. Throngs and throngs of people. Escaping, we found a small street stall and ate a meal full of disappointment.
The next day Jackson and I decided to take a car up into the mountains (you can catch these red truck-like cars that ferry people up by the gate entrances to the Old City of Chiang Mai) to see a Temple many had described as a beautiful, peaceful place. Wat Phrathat Doi Suthep is located about a 20 minutes from the center of Chiang Mai, up a steep and vomit-inducing road. It cost about 110Bhat ($3USD) each to go up and come back.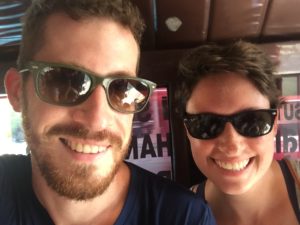 This was a very pretty temple. The problem: It was FULL of tourists. Good god. They swarmed around this place like bees on honey. I tried very hard not to let myself grow full of despair. Was this what we had to look forward to for the rest of our trip in Thailand? Beautiful temples full of loud, selfie-taking tourists?
For dinner later, Caitlin found a stand of food stalls selling all sorts of delicious meals. She suggested that we eat one or two dishes from each stall and sample the food. What a great idea! We had delicious salted fish, slow roasted over coals. We had stewed pork: so tender it melted like butter in the mouth. We had mango and sticky rice for dessert, all washed down with cold glass bottles of Leo Beer that Caitlin and Andrew (the BF) brought when they met us for dinner (win!).
We went a bar Cait and Andrew had found with a band playing the night before. Sure, why not? Let's see some sweet live music! The group playing all had traditional Thai instruments (sweet!) and the audience was all Western. Every. Last. One. Of. Them. (Uh oh). The band started jamming and I felt like I had walked into a 15-year-old's amateur band practice in his mom's basement. No one was listening to each other and all of them were banging and strumming away on their instruments. A few of the audience members clapped and hooted (what music were they listening to?). Caitlin, Jackson, Andrew and I all looked at each other in quiet shock and quickly left after the second song.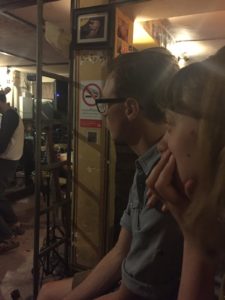 Later that evening Caitlin texted me information about a trek her and her boyfriend were going to do the next day. Line-zipping, water-rafting and hiking. I looked imploringly to Jackson for guidance. We had come up to Northern Thailand in the hopes of a good hike through the mountains, but now I wasn't so sure. How could we top the mountain trek from my last visit? Caitlin and I had visited small villages and gotten to know our guide, Toon, really well. He made us soup and shared his tobacco/weed mix with us through a bong he made out of bamboo. We had hiked for 3 days, clambering around the mountains while flirting with British boys. Those times were gone.
Jackson got solemn. "We are travelling." He said, "That means exploring, taking matters into our own hands, and going off the beaten path. If we go on a guided trek, it would feel too polished and probably similar to what we've been experiencing in Chiang Mai. Instead, let's go somewhere new and see what happens." I felt bolstered by his talk. Yes. Let's strike out. Go somewhere new. Let's leave the tourists behind and find somewhere where we can be observers.
Pointing his finger to a small province in the North East, near Laos, Jackson suggested we go to Loei and that we leave early the next day, without delay. Yes. Let's.