Phu Kradueng called.
This unique park attracted us because it sits atop a large Mesa and boasted views of the surrounding region. It's largely visited by locals and was highly recommended on Google and Trip Advisor.
Many reviews (most of which are written by Thais) said that the climb to the top was "hard" Bah! We can do hard! We did the Milford track in pouring rain, how hard could it be?
Catching a bus (basically by saying the park name over and over at the bus depot) we arrived at the entrance to the park around 1:15pm. (We needed to hire a van to take us to the park entrance from the bus stop. I think 100bhat [$3USD] is an okay price to pay, maybe you can barter for cheaper).
The park closes at 2pm. It was a race to the top before sunset, although we had no idea at the time what we were in for. We paid our entrance tickets (400Bhat each, about $11.50USD) and stupidly declined to leave our heavier items down at the base (we can carry them! It's not too big a deal, right?) we set up for the climb.
To reach the camp at the top, a total walk of about 9km (5.6miles) is required. 3.5km when you reach the top of the mountain to the camp and about 5.5km (3.4miles) to get from the base to the top. The climb takes you 1,200meters (about 4,000 ft.)up. So, you have to climb 4,000ft in 3.4miles. It looks a bit like this:
The first 800 meters up were an absolute NIGHTMARE. We had NO IDEA WHAT WE WERE IN FOR AND THEN WEPT FOR OUR ARROGANCE AND FOOLISHNESS. It was fuuuuuhhcking hot, about 38C (for us Americanos, that's 100F to you and me). We had 30lb packpacks on. There was a breeze, but the gusts would blast up the side of the mountain like an oven. No relief from shade. Just baking sun and heat.
As I climbed (more like dragged myself up using my hands) I reflected back on the worst day of the Milford Trek. I thought about when the temperatures dropped to almost freezing and the wind was whipping and I was trudging through waterfalls. I didn't know suffering like this, though. What the Milford Trek threw at me on that bad day, this trek was giving the same way, just using the opposite effects. We were HOT.
Reaching the first base camp of Pang-Kok-Ka was like reaching a gate of heaven. As if our purple faces and empty water bottles didn't scream it loud enough, our trudges and stumbles must have. A lady at one of the food stalls called us over. "You want soup?" She asked. I nodded, almost in tears at the thought of replenishing my salt stores. She gave us cups full of ice and some fruit "Free." she said, pointing to the purple, orange-sized fruit. I gulped down delicious water and ate the fruit, relishing the sweet taste (a little like a pineapple and a nectarine had a baby). The hot bowls of salty, steamy soup came and I ate, feeling the electrolytes and calories fueling my depleted body. Ah! Bliss!
Jackson and I sat there for a while, contemplating the fact that we weren't even a quarter of the way up and it was almost 3pm. We had to get to the top before sunset.
Leaving our oasis, we set out again climbing and climbing.
Some parts of the walk are not too bad and, objectively, are quite pretty. It's when you reach the steep parts that you want to sob because these parts are unrelenting. They're stairs or boulders or step-ladders: all of which are steep and hot. Flies buzzed, then mosquitoes as the sun dipped behind the hill. A lady called out to us from another base: "You better hurry! The elephants come out at dusk and they are very dangerous!"
Shit.
Suddenly it was 4pm and we were only half way. GO GO GO. No stopping! No rest! We have to climb before it gets to dark to see!
The worst part of this trek is the last 1,300 meters from Sum-Krae to the top. It's almost vertical and a whole lot of scrambling over boulders. You keep thinking: surely this is closing in on the end? Just around the bend, right? Just up this step-ladder, right? Is that the top? Muscles ache. Joints creak. Sweat soaks everything. Up and up and up.
What was really embarrassing was watching the porters trudge past. These poor goofy bastards were carrying packs the size of ours by the dozen. I'm not exaggerating. They must have been hauling hundreds of pounds in backpacks, water bottles, supplies, gas tanks… you name it. They moved, slowly and surely, up the mountain and a lot faster than us. I felt like I had no right to complain watching those guys (and gals!?!) move.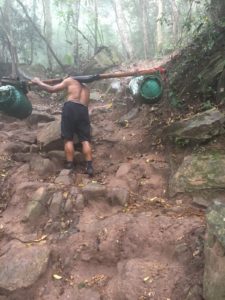 We reached the summit just at sunset. The golden rays stretching out over the Savannah like a warm kiss. The alpine trees and their needles gave off a fresh scent and the area was empty save for us. Taking a much needed breather at the "Congratulation!" sign we counted ourselves lucky. We made it and didn't die of heat stroke or dehydration or avalanche.
The walk to the camp is another couple miles, but it's flat and compared to the climb a literal walk in the park.
We arrived at the camp site at 6:30pm. The climb took us 5 hours.
You can rent tents and sleeping equipment at the top for a cheap price. The tent was 225bhat a night (they're all set up already, you just choose one that doesn't look too busted or dirty), 30B/night for a sleeping bag, 20B/night for a sleeping pad and 10B/night for a pillow. All told: 345Bhat (about $8USD) a night for the two of us.
There are a couple places to eat at the top. They're expensive compared to what is offered below, but to us tourists it's still really cheap. We were able to enjoy hot, fresh Thai food for about $4USD for the two of us, per meal. Not bad. Compared to the food we were eating on the Milford Trek: a feast.
Establishing our camp, we settled in for the night.