Waking up bright and early (because the Thai were getting up at 4am to see the sunrise and then played the national anthem over loud speakers at 7am) we roused our aching bodies and set out to explore this park we had climbed so hard to get to.
We decided that two nights would be enough time to see most of the area. You can rent bikes at the top in order to get around faster and see some of the farther flung cliff sites like Lom Sak or you can walk around and see stuff that's a bit closer to camp, like we did.
We set off on a loop from the campsite to Ano Dard Pond, over to Yeab Mek Cliff, walked along the edge, and then swung back toward camp at Mak Dook cliff. A total walk of about 9km (5.6 miles).
The walk was mostly deserted. Most of the time we were the only people anywhere. It was a great!
Ano Dard Pond was ok, we enjoyed it more for the walk and less the destination.
When we got to the cliffs the views were very hazy and it was hard to see anything. In a way it felt like looking out into a void: like the end of the world. A bit creepy when I got to really think about it. We sat down near the edge of the cliff at one point and ate dried mango while letting the wind whip the sweat from our face. Thankfully, it's a lot cooler at the top of the mountain because it's 1,200m/4000ft high. The air smelled so good, too. The pine needles scented everything.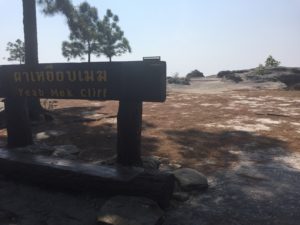 Later in the afternoon, after a hot and sweaty nap… (see below)
…we tried to go see some waterfalls but because it's the dry season the falls were dry as well. Also, we got freaked out by the "Caution! Elephants!" signs that warned of dangers after 3pm. Yikes. Jackson and I weren't sure if we wanted to run into a wild elephant or not. They could be really cool to see, but also, I wouldn't want to startle one and get trampled. We didn't wind up seeing any anyway.
Sleeping in the tents was rough. I'm okay at camping, but it's not my favorite activity. I especially dislike hard beds and sleeping in tents means just that. Combined with the loud snores of the Thais around us, sleep was not easy to come by that night. At one point during the night it sounded like 3 people were competing to snore the loudest. One guy kept snoring louder and louder until he'd stop altogether, wake up and then start from a small rumble and start all over again. I think he was also the guy who farted loudly the next morning. I turned to Jackson accusingly because I thought it was him and Jackson looked at me like "you did that" and then we realized, with horror, that the farter-starter was not in our tent, but really close by and, my god, those were some loud farts!
We woke up at 4:30am the next morning in the hopes of seeing the sunrise over the Eastern cliff edge of Nok An. We followed a ranger along the path in the dark. The stars were pretty and it was fun walking around the area at night. There were a lot of people hoping to see the sunrise and the procession behind us looked like a line of ghostly lights in the dark.
Getting to the cliff face meant a slow and cold watch for the sun. The Thais around us were loud! Jackson and I wished we all could have sat in silence and watched the stars, maybe without instagramming and facebooking? Also, who are you facebooking at 5am? The "firefly" lights of the cellphones were very distracting to the ambiance of the stars and nature. But, hey, it's your country. We're just visitors.
The sky lightened and I got excited, and then a huge cloud rose from the valley. Everything was gray and damp. It was quite pretty, actually. But no sunrise.
Jackson and I gave up at 6:30am and walked back to camp. It was cloudy which meant the climb down would be mercifully less hot!
We had our final meal at a food stall we picked out from the moment we showed up to the park. There was a daughter, mother and son (I think?) who worked there. They were so nice to us! The first night they got really excited because they saw some wild boar, so they hurriedly flagged us over to show us. The daughter told me that pigs/pork were called "mooBAAA" in Thai. That was the beginning of the friendship. We kept going back from breakfast, lunch and dinner; each time I would ask for more Thai words. By the end they were filling our water bottle jug with a light green tea they made. "Free!" They would excitedly say, handing us the room temperature tea. It was delicious. We were very grateful. I'm sorry I didn't take a photo of them. I feel strange taking photos of people, especially if I can't quite communicate that I'll be sharing their picture on a public blog. Oh well.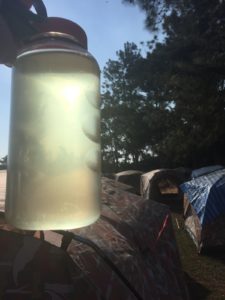 After our last breakfast, we packed our bags and set out for the long climb down.
The walk to the path back was really foggy! I'd never walked through fog that thick in my life, it felt like we were walking through a cloud. Our visibility was almost as far as our feet were from our eyes. It was really magical. We shared a road with other people heading back, including two female monks, but soon lost them to the mist. I felt like we were walking in a dream.
The climb down was WAY better than the climb up. I felt really sorry for the red-faced hikers going up. I did my best to encourage the few who looked our way by holding up my fist in a Rosie-The-Riveter stance that said "you can do it!" It got worse and worse the farther down we got. Near the end, a family was trudging up the first leg of the journey that I had wanted to lie down and die in two days prior. I didn't have it in me to encourage them. They had 5 hours of climb ahead of them and their own personal hell to go through. Yikes. I'm sure they made it….
Getting down to the bottom my legs were jello. My calf muscles were tight and my thighs were quivering. We did it, though! That was one helluva climb, but I was so glad we got that done!
Hitching a ride back to the bus stop, we caught a bus bound for Khon Kaen. We were told this would be the city to catch a bus bound for Bangkok the next day.
Bye, Phu Kradueng. It was really lovely to be alone in the forest and park. To hear only the sounds of the crunch of our shoes and the wind in the trees. It was a really peaceful place and, had you dropped me there blindfolded several months ago and told me I was in Thailand, I wouldn't have believed you. It's so different to anything we've seen in this part of the world. A real gem. Just: don't climb unless you've got a will of steel.