There are so many things to do in Dalat, Vietnam! Above all else it can give you a break from the heat, noise, pollution and crowds of the bigger cities in Vietnam. Here are ideas to answer the question of what to do in Dalat.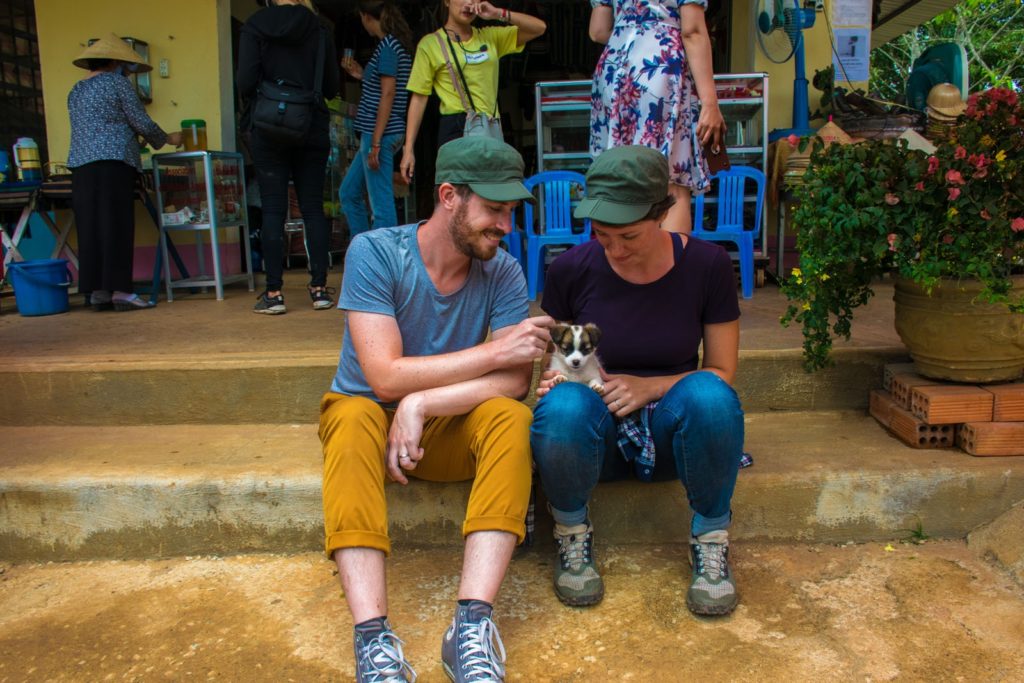 In my humble opinion, if you only have one place to go in Vietnam: I'd recommend 3 days in Dalat.
But, Natalie: why? I've never heard of this place and Hanoi and Phu Quoc sound so cool!
I mean: if you are literally looking for "cool" get your act together and come do this Dalat itinerary. There are so many things to see and do in this area and at much cooler temperatures! (the locals literally wear winter jackets in temperatures hovering around 75F/24C, ha!).
This is more off the beaten track and has some really unique experiences in store!
What is Dalat and Why Should you Go?
This destination is known to some at the "Honeymoon Capital" of Vietnam. There are things to do in Dalat that would be a great way to spend a honeymoon. Also, it felt like the tourists were sticking to the beaches and didn't have much time for this pit-stop on the way North. All the better for those looking for some more peace and quiet!
Originally the French aristocrats' playground, Dalat was a place for the wealthy elites to retire to in order to escape the heat and noise of Ho Chi Minh City. It's no small town now, but some of the French architecture still remains and the place felt distinctly different (dare I say: more European?) from the other parts of Southern Vietnam we'd toured on our trip.
Dalat is located about 6 hours by car North of Ho Chi Minh City. There are plenty of buses that will take you there or you can do what we did and fly into Nha Trang and take a bus from there.
We went because we wanted a break from the big cities. The heat of the coast was getting overbearing and after getting my bag stolen in Ho Chi Minh, I wanted a safer, more relaxing break.
What to do in Dalat
I think 3 days in Dalat will give you plenty of time to see everything without being too rushed. In the following itinerary I've covered places to drink, local culture, art, and really strange local customs.
3 days in Dalat means a lot of moving around and being open-minded, but it's well worth the trip!
Dalat Itinerary Day 1: Go see "Crazy House" Then Drink at "100 Roofs"
"Crazy House" is a hotel, but I think calling it that would limit what it actually is. It's a work of art, really.
Dang Viet Nga is the architect and based her insane building on Antoni Gaudi's style of architecture (as found in Barcelona, Spain – like the Sagrada Familia).
I think this building is more like Gaudi, Tim Burton and Salvator Dali all got together and had a crazy marathon of designing based on what their interpretation of what a tree should look like if the tree was larger than life and fed nothing but nightmares and the holiday-themed fever dreams of little children.
Does that give you an idea of what this place is like? Because pictures won't do it justice. This is one of the most incredible things to do in Dalat.
If you ever get a chance: go see it. Tickets were 40,000 Dong (a little less than $2USD) or you could stay there for about $35-70USD a night. There were a bunch of Russian and Chinese tour groups streaming around the place, but even that couldn't ruin what was a truly wonderful experience to see.
We spent several hours crawling over this place. It's amazing. Make sure to bring some sunscreen and a good camera.
100 Roofs
A friend of ours (Felix) invited us for a drink at a bar called "100 Roofs", which felt like a spin-off of "Crazy House."
The bar had a million different rooms, staircases (some leading nowhere), and painted creatures everywhere. It's like a playground for adults.
It was really dark, a huge fire hazard, and someone could get seriously lost in there. I loved it. Again, pictures can't do it justice, but watching Jackson climb through holes and then getting the much larger Felix to do so as well was a memory I won't forget easily!
This place was really worth the visit. Drinks are not too pricey. I'd recommend going before the evening falls, maybe late afternoon, to avoid the worst of the tourists who go here. This place can be really crowded and claustrophobic.
That said, this is a definite MUST on things to do in Dalat. It is so weird. It is so cool.
Day 2: Book a Tour with Mr. Rot's Secret Tour
We booked tickets to "Mr. Rot's Secret Tour" on the advice of a friend of mine. Prior to going we had no idea what to expect.
I can't go into too much detail about what happened on the tour. I can tell you that it was life-changing.
In a nutshell: Mr. Rot's nephew who called himself "Jessica" (Ha!) took us on a relatively touristy route through the mountains of Dalat on the first half.
I enjoyed seeing some of the markets and learning about the customs of the locals. We even went to a beautiful waterfall and took a bunch of pictures.
The second half of the tour is where Mr. Rot showed up. There were 7 of us having lunch when this flamboyant, hard-as-a-rock, bald man shows up and serenaded us in Vietnamese. He immediately primped and fluffed the girls' hair and gave Jackson a massage.
Then he took us to a secret place and was our guide through a really wonderful evening.
The tour lasted the whole day. We went all over the place. We had lunch and snacks and met a lot of different people and saw a lot of different things. We sang and got sung to. I don't want to give too much away because this is something you really need to experience for yourself.
Tickets were 800,000 Dong (about $35USD each). We were picked up at the "Pink Villa" Hotel. You can book a ticket directly with Mr. Rot or through the registry at the Pink Villa Hotel. Make sure you buy your tickets the day before or a few days in advance.
Day 3: Take a Taxi or Scooter Around the Area
Stop 1: The Valley of Love
"The Valley of Love" further proved the reason why Dalat is considered a honeymoon capital.
It's a sprawling garden of flowers, animal figures, and heart-shaped shrubs. The theme is love and it shows. It was a 15-minute taxi ride from downtown Dalat which cost about 55,000 Dong ($2USD).
The tickets to the park were 30,000 Dong each (about $1.50USD). We spent a good couple hours wandering around. It was nice to be in a park with trees, quiet and a place to relax. We couldn't get over how ridiculous the thousands of plastic animal statues were.
Is a field of pink flamingos meant to be an aphrodisiac? Whatever. It's an awesome answer to what to do in Dalat because I have not seen anything as ridiculous since.
The Valley of Love was really not crowded and it is just so friggin' weird. Put this on your itinerary of things to do in Dalat, please.
Stop 2: Walk around Town
Dalat is very walk able. The weather allows for easier breathing and cooler temperatures which means you actually want to be outside. We enjoyed taking in the streets, smells, sights and sounds.
There is a lake in Dalat which is really weird. I'm not certain, but I think people dump bags of fish into the lake in the hopes of gaining good karma or for good wishes?
Whatever the reasoning, the lake is filled with dead fish. It's disgusting. At one point, a woman got off a motorcycle and dumped a bag of what looked like goldfish into the lake. I looked sideways at Jackson and wondered how many minutes it would take for the goldfish to either get eaten or go belly-up.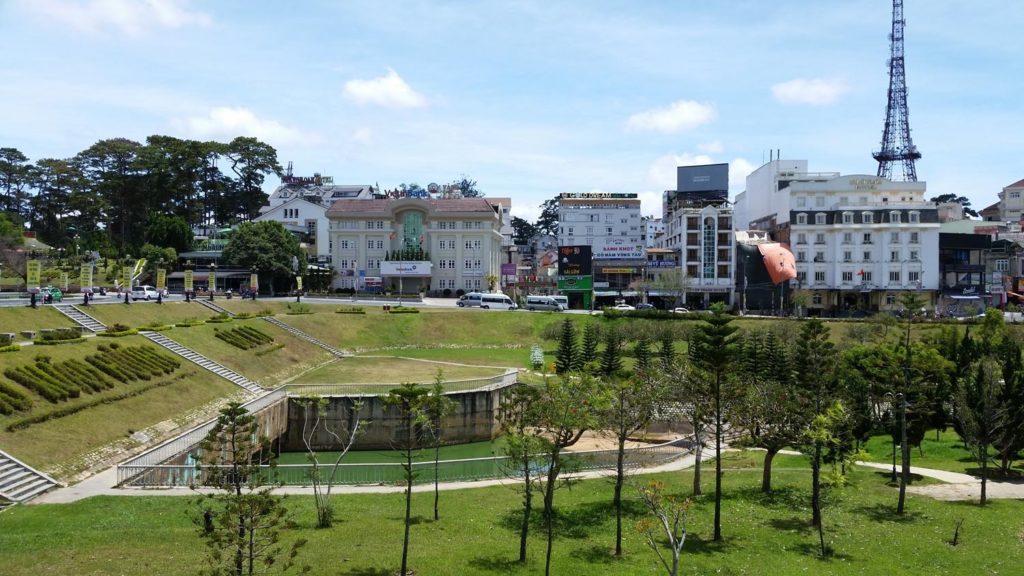 Sometimes, when travelling, seeing the local customs make no sense. This is what makes travel strange and beautiful. Who are we to judge, I guess? I did feel sorry for the fish, though.
Stop 3: Check out the Dalat Flower Garden
We chanced on the Dalat Flower Garden which is a large botanic garden that had a strange-looking entrance.
Intrigued, we stopped in (for 10,000 Dong a person~ roughly .50 cents USD) for a look. It's a nice botanic garden that is really unpretentious and not very crowded.
We spent about an hour there. It's a nice spot to sit and relax a little in the middle of the city. They have swan-boats you can rent and take out into a man-made lake if you're feeling like a paddle.
What's the Weather in Dalat like?
Dalat is generally quite a bit cooler in temperature than the coastal cities because it sits in the mountains in the interior of Vietnam. Although this means you won't get a chance to chill on the beach, you will get a chance to chill.
On average, temperatures can go as low as 12C/53F at night and as high as 24C/75F during the warmest months.
Here's a handy graph to give you some idea of what I am talking about:

This area has pretty high humidity and can get quite rainy. The rainiest months are from April – October. September is the rainiest month of the year so if you're not into that don't come in September.
When is the Best Time of Year to Go to Dalat?
December to March would be a good time to go. This is the dry season in Vietnam and the likelihood of rain drops considerably. Temperatures are at their coolest (although not cold!) and the sun shines the most.
We went in March and had great luck with the weather. March is shoulder season in Vietnam so there weren't too many crowds, the weather was good, and we had plenty of things to do in Dalat as a result!
Where Should I Stay in Dalat?
Jackson and I checked into the Sleep in Dalat Hostel located on a tiny street that took us a while to find: even Google Maps was baffled.
The room, however, was very nice and in a good location (downtown, close to a ton of restaurants) and cost about $30USD/night for a private room. Breakfast included.
They have dorm beds for as little as $4 USD a night. This is a quiet, clean place. A nice spot to go on your Dalat itinerary.