Growing up, I always dreamed of going to India or China and exploring ancient temples whilst smelling spices and being blinded by bright red lanterns. I'd always imagined Japan as a smaller, quieter counterpart to these exotic places. It wasn't until I became an English as a Foreign Language teacher that I started to consider Japan as a place I really wanted to see. The field of EFL is packed full of travelers and nomads, many people I've met have taught in Japan and raved about it. I'd hear things like: "It's beautiful!" "The food, oh my god…" "Go to a Ryokan if you can, the hospitality is amazing." "The mountains! They're so lovely!" "Working in that country will kill you if you let it…" (Ok: good to know about the job prospects. I don't feel like working my butt off all day everyday.)
Jackson was jumping out of his skin with excitement about going. He had been reading up on places to go and see in Japan for weeks prior and he was a bundle of energy as our plane touched down. He'd found us a little AirBnB apartment to stay in while in Osaka and we'd planned on spending 3 days in the city.
My first impression of Japan was shocking because it felt so familiar, not like I'd been there before, but that everything I was seeing was present in my life at one point back home. I grew up watching Japanese cartoons (My Neighbor Totoro, Pokemon, etc…), I listened to songs with Japanese influences (Gwen Stephani, anyone?), Japanese fashion heavily influences fashion in New York, the characters on the billboards, the food: so much of it! I felt comfortable immediately.
The evening we arrived we wandered over to a commercial area near our apartment called "Shinsekai" which was filled with different types of food. Wandering into the first ramen shop we found (to get out of the cold drizzle) we each had a bowl of hot, steaming Japanese wonder. The savory noodles, rich broth and buttery pork melted in our mouths. Drooooooolll.
Exploring other parts of this area revealed really strange store fronts full of moving eyebrows, waving fish, large blinking lights and over-the-top menus. We were dazzled by the display.
Over the course of the few nights we stayed in Osaka we came back to this area enjoying a different dish and restaurant each time. We tried fried food on a stick which was highly recommended to us as an Osaka specialty. The fried food was incredible! I really liked watching the animated Japanese line cooks hurling the food around and dunking it in the batter and throwing it into boiling pots of oil. They made it all look so easy.
Another night we went to try Okonomiaki, a pancake-like dish filled with chopped veggies and meat which is then fried on a grill. I didn't like it very much, but Jackson did. I enjoyed watching Jackson make it on the grill, however, as we had no idea what we were supposed to do so we stared at the people next to us and mimicked their movements. (When in doubt: stare!).
Another gem in Osaka was a tiny coffee shop we stumbled on near the Shinsekai area. This coffee shop reminded me of being a girl and going with my dad to the Bronx. New York City in the early 90s was full of places like this. It was a little mom-and-pop shop with a set menu involving coffee, bread and egg in different iterations. The place smelled of cigarette smoke and the people working it couldn't have been younger than 65. We went each morning and were greeted with a bright "Irasshaimase" (Welcome/Come in) and "Ohayo gozaimasu!" (a formal 'Good Morning!'). We loved it in there.
One of the students from my school back in New York came to meet us on our first full day in the city. She took us out to a place for sashimi and ordered a bunch of fish dishes I hadn't tried before. All of it was delicious. Jackson and I peppered her with questions about phrases we can use to help us better communicate while in Japan. Megumi was really helpful, giving us advice and functional language we can use to order food (yay!).
She even took us over to see Osaka Castle which looked very pretty from the outside, but the line to get in was really long so we didn't go inside. Tickets were 600 Yen or about $5.50USD.
After leaving Megumi we explored more of downtown Osaka.
The next day we decided to do a day trip into Kyoto to check out some of the sights there. (Osaka wasn't very full of tourist destinations from what we could see. Kyoto is chuck-full of them and is only 30 min away by train). We regretted going almost immediately. Kyoto was PACKED with tourists.
Walking through the city, we decided to go see the Kiyomizu-Dera temple and just walking up to the gates was a chore. The street was choked with tour groups, families, couples and picture-takers. It was horrendous. Jackson and I panicked: is this what we have to look forward to for the rest of our trip here? There'd be a tree with some scraggly cherry blossoms just coming in and a ring of people, 3-deep, taking photos would surround it. Cherry blossoms were juuust coming in and people were freaking the fuck out trying to get a good shot.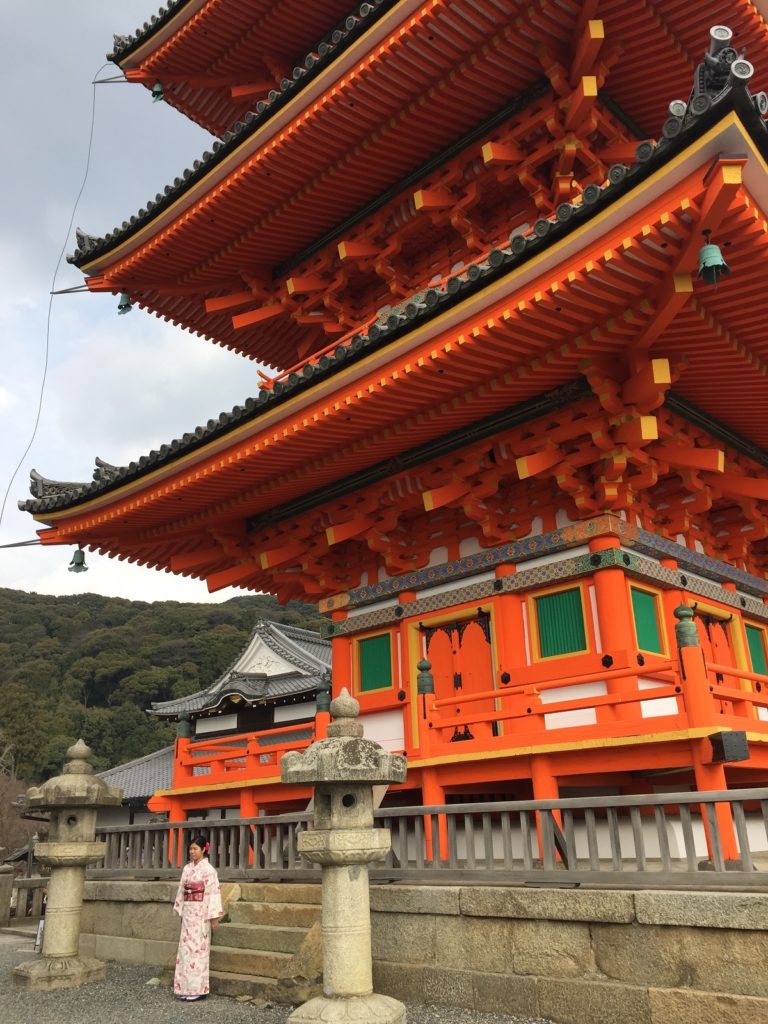 Trying to get away from the crowds we picked a direction and just walked, taking in the small streets and alleyways along the way. I enjoyed seeing all the women dressed in traditional kimonos walking around. It was quite common. There were shops everywhere that would rent out a kimono for the day for about $30USD. Megumi had suggested I try it. Arguing that I was not Japanese and would feel silly, Megumi countered with: "No one cares!" I still couldn't bring myself to do it.
Getting back to our AirBnB later, Jackson and I panicked. Up to this point on the trip we had made plans last minute, changing our minds about a place and booking some where on the fly. We didn't think about anything being sold out or unavailable, but the reality that Japan was enjoying Cherry Blossom season and was therefore PACKED with people became a crushing reality. Looking online for places to stay in Kyoto (our original destination after Osaka) we saw that everything was booked. More panic. "WUDDOWEDO!?" It also didn't help that the place we were staying had crap-tastic wifi making our searches really difficult.
"We need to book Tokyo or we'll be screwed there, too!" Jackson moaned almost throwing his phone across the room in frustration over the crappy wifi. Our searches revealed that all that was left were semi-expensive hotel rooms. I booked us a place in Tokyo through my credit card and paid with points. A 3-night stay in Tokyo would have cost $400USD and we paid nothing because of the points. (Thank you, Chase!).
The next hurdle was figuring out where the hell we were going next. Kyoto was barred. Jackson then found a small city in the south. "What about Kagoshima?" He asked, handing me his phone with pixilated pictures of a mountain. "There's an active volcano there and we can get a hotel room for half-off."
Deal!
We'll take the bullet train and go south to Kyushu!