I've been struggling with this post for a while. How do I sum up what we saw and how I felt? How can I put into words the taste of the food I ate, the smells of the parks and city and rain, the feel of the wind off a temple hundreds of years old? Kyoto wasn't just the sights, either. It was the people we stayed with, ate with, talked with… Kyoto was my favorite city in Japan for these reasons.
In my struggle to put to words what Kyoto meant to me, I've instead decided to focus on the people we met and shared time with because, I think, Kyoto wouldn't be Kyoto without them.
Take Naoko. I taught Naoko in New York City last year for two months. When she joined my class her English was very low- almost beginner level. At the time, I was teaching a class that was labelled as "low-level" English, but the students were far higher than beginner. Poor Naoko struggled those first few weeks to get her footing in a class full of students who were running circles around her. I later found out New York was her first time out of Japan and could appreciate how brave she was to come to New York to learn English by herself for 2 months!
Over the course of the 8 weeks we spent together, I took great pleasure watching Naoko learn and catch up with her classmates who were all very willing to be patient and help whenever they could, exclaiming that they knew the struggle as well!
I reached out to Naoko to see if she was available to visit while we were visiting Japan. She had an evening free and came from Osaka to meet us in Kyoto and reserved a table at an incredible restaurant for us.
Listen: when I say this restaurant was authentic as hell, I mean it. There was a full on Geisha in the adjacent room performing with a fan.
When we walked in (after stepping out of the cab that Naoko paid for and almost getting into a fistfight with me over insisting on giving money to the driver) the host got down on her knees to welcome us (in traditional Japanese style). We kicked our shoes off and placed them in special lockers and were ushered to a table (behind a traditional paper screen door) which was laden with food.
"Is this ours!?"
Yes. Because Naoko had called ahead and ordered what seemed like EVERYTHING ON THE MENU. Dish after dish came as we ate. Boxes of sushi, plates of sashimi, platters of meat, salad, vegetables, soups, bowls of rice… on and on and on. I was stuffed. Naoko kept offering to get us another round of beer or drink.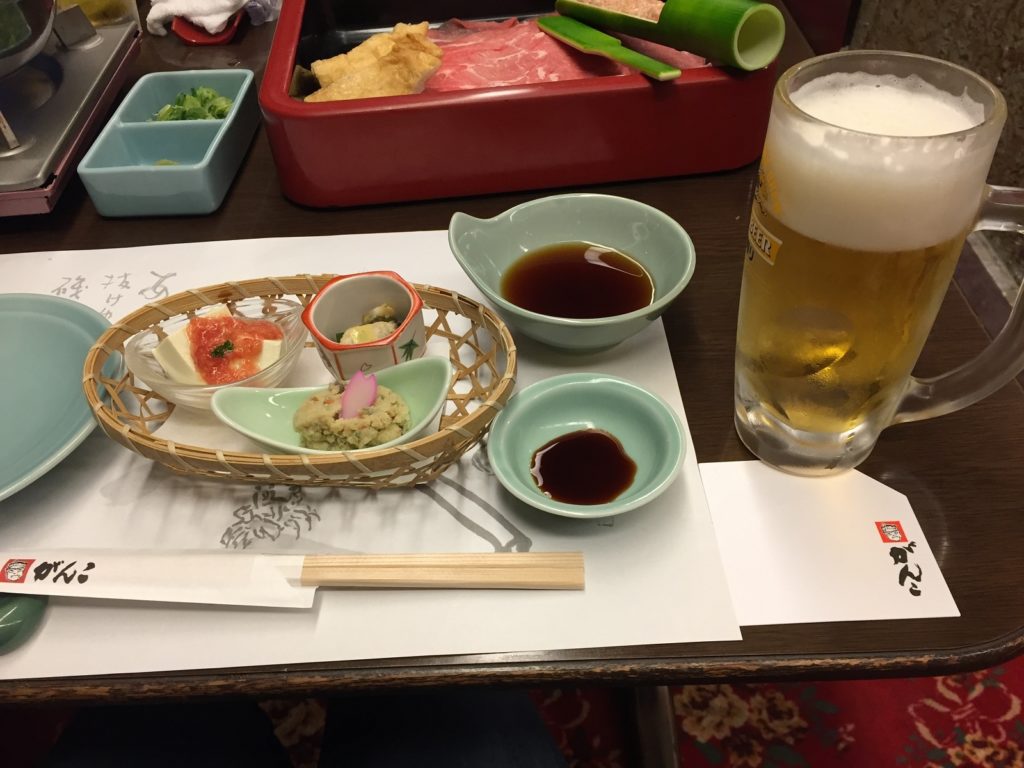 Naoko made conversation with us using a lot of hand gestures and broken sentences and I had a great time catching up! Later she admitted that it was very difficult for her to find someone to talk to in English in Japan. She said she was very happy to talk to us and only wished her English was better. Did that matter? What is language if not only a tool for communication? It is not the ONLY tool, that's for certain. Context is incredibly important and as long as that was well established, we could have lots of fun talking about New York, our jobs, our lives, our experiences in Japan: all sorts of things. Naoko's English was not perfect, but she was excited to talk, listen and laugh with us.
After dinner (which Naoko paid for) we went for a walk in the night around Kyoto.
Kyoto at night is magic. The blossoms are lit by lamps and glow against the dark sky. The streams and creeks sparkle. The streets are empty and quiet and it is so easy to lose oneself in the romance of the shadows cast by paper lanterns.
We strolled, chatting away, exclaiming over how clean everything was. The street looked like you could eat something off it. Not a single cigarette butt, no cast-aside can of soda, no broken glass! The pavement was new. The paint indicating lanes or signals was crisp. I've never seen a used street look so good. Naoko explained that in Japan it was rude to litter and everyone will carry their trash home with them. Even cigarette butts and gum: the litter-rats of most major cities in the world.
Coming to a busy street to wait for our bus back to our apartment I felt nostalgic for the evening we'd just had. Not ten minutes had gone by since we rounded a corner from the quiet lamp-lit glow of the Japanese side street we'd just walked down and I felt like I'd left a dream I couldn't return to.
Naoko waited with us until our bus came. She still had to catch a train back to Osaka (about 45min away) and had taken off work the next day so she could stay out late. She beamed at us as we hugged her and assured her over and over that we had had a fabulous time. "I am happy." She said. I think she really meant that.
I told her she was welcome back in New York and to please tell us when she came as we could repay her generosity by housing and feeding her. She nodded vigorously.
The bus pulled away and we waved until she was out of sight.
I cannot fully describe the generosity of Naoko; to treat Jackson and I to such a fabulous meal, great company and a lovely walk in Kyoto is a real gift. I am so grateful.