There were two days to kill before we were going to the mountains of Akita on the Northern part of Shikoku island in Japan. Our plan was to skirt the coast on our way up. Taking fate into our hands, Jackson found a place called Mito about 1.5 hours outside Tokyo.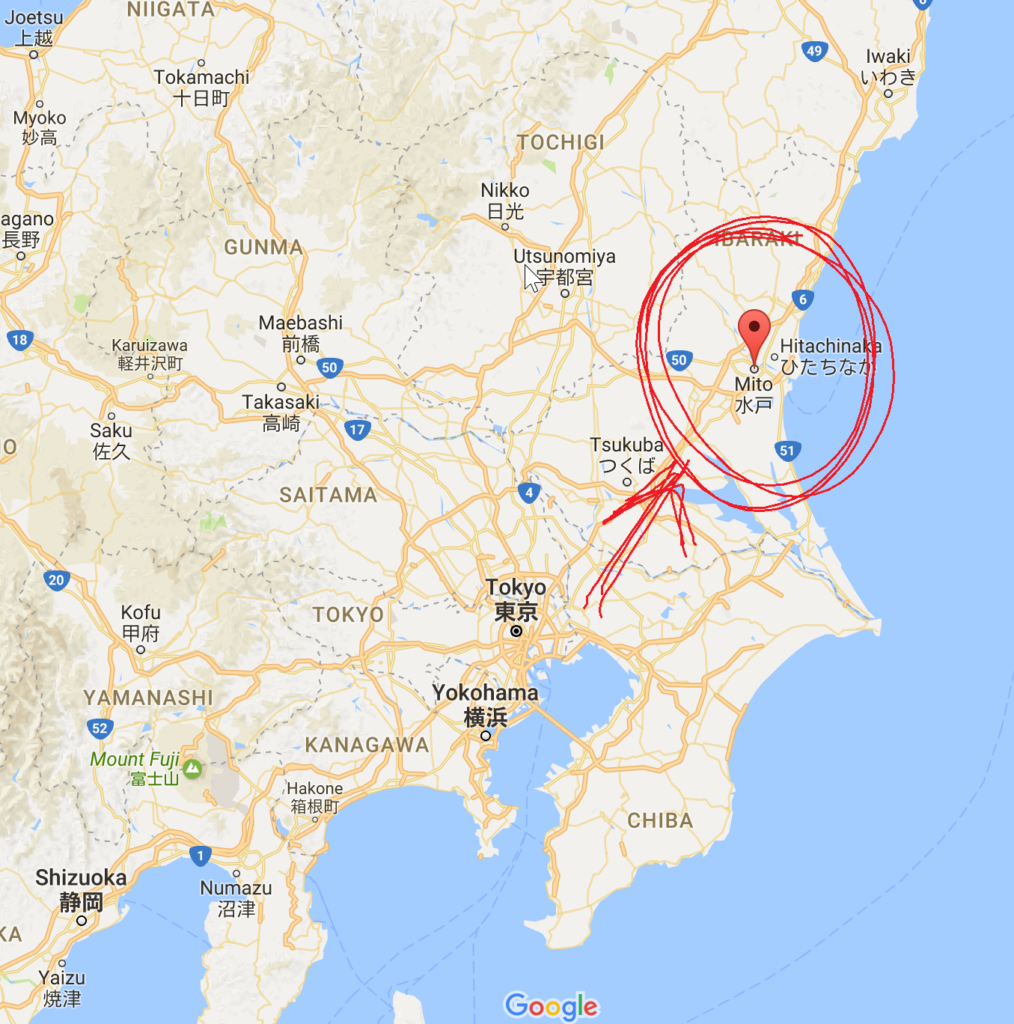 Mito is a small city whose real claim to fame is its third prettiest traditional Japanese garden. If that doesn't make you jump for excitement you're probably about to see the second or THE prettiest Japanese garden. In which case: good for you.
Our train pulled into the station in Mito (precisely on time) and we got out into a drizzly, chilly, grey world.
We checked into our hotel and after a lot of convincing ourselves that the 3rd prettiest garden must still be pretty enough to brave this crappy weather, we left to go explore.
Mito was eerily quiet. Maybe it was the drizzle? We got lost. We got wet. We got to the garden.
The beauty of wet misty drizzle? Only the hardcore come outside. We were those people. Also the swans, too. They were hardcore but because they were black as night and looked ready to fuck some shit up if you got too close to their nests. I walked away from one very quickly. Black swans are metal as hell.
These gardens were, for lack of better words, otherworldly. As we walked around the people thinned out and we were, in many places, the only humans there.
We saw bamboo forests that I imagined looked simultaneously haunted and dreamy.
We walked past shrines that looked ready to host a dinner for the spirits of the woods.
I felt like a FOREIGNER here. This was not my land. I was a visitor merely passing through. Despite feeling so conspicuous, the people we did walk past were very friendly. As we strolled down a path lined with cherry blossoms we saw an old couple walking under their umbrellas. They both smiled at us. I felt like, had I asked, they would have taken us to their house and given us hot green tea and some dinner. Another photographer saw Jackson taking a shot and then pointed to a place and gave a thumbs up a way of saying "this is the best angle, buddy!" Hey, thanks, stranger!
After getting thoroughly soggy we got a rather forgettable hot bowl of udon noodles and trudged back to our hotel where I spent the rest of the night watching Japanese anime movies.
The next filler was Sendai, a few hours farther north than Mito. Sendai is a larger city in northern Japan. It's claim to fame is that it's, well, kinda large and in the north. They also boast a regional dish made with cow tongue.
When we pulled into this large city we went on the prowl for cow tongue. Gyutan (as it is known) is thinly sliced cow tongue grilled over charcoal and served with a bowl of ox tail soup and rice. Jackson found a place that looked promising on Google and we went in to sample this meal.
I can only describe our experience as a mouth-gasm. This meal was heavenly. Was it the caramelized charcoal-edges of the juicy meat? Or the salty, fatty, rich goodness of the oxtail soup? That perfect bowl of sticky, fluffy rice made the whole thing come together in a dance of flavors that made us want to weep with joy. This, friends, was one of the best meals in Japan. Holy Cow oh, Holy Holy.
As I ate, I watched the four Japanese chefs(?) stand behind the bar we were gorging ourselves at. One person was solely in charge of roasting the meat over hot coals. One was in charge of pouring the soup. One took the money and another watched everyone and nodded occasionally in approval. It was all very Japanese, right down to the HUGE chopsticks the griller used to flip the meat.
Is Sendai worth a visit? Nope. Other than our delightful meal the city itself fell flat. There wasn't much to see and after walking around a while we concluded that the travel books were probably right not to include this place as a "must-see" while in Japan.
We were excited to jump back on the train and head toward Akita and the one-night stay we had booked as our last night in Japan in the mountains. We were going to a Ryokan.