Oh, Europe.
My mother always talked about Rome and Paris as magical places full of art and good food when I was a kid. Honestly, if it wasn't in the contiguous United States I thought of all countries outside of the border as shaded gray lands. How could Europe hold any magic if it was a grey blob over there like the map said?
My Dad took my sister and I to the UK when I was 15 and I remember that trip as being exhausting and exhilarating. It was the first time we'd ever been referred to as "Americans" and sounded completely different to those around us. Also: it wasn't gray!
In 2011, I went to visit my sister in Italy and I was hooked; I've been back to Europe as often as I can ever since. When Jackson and I were planning this big trip it was not even a question that we would go, more a matter of when and for how long. Europe is huge and the American side of my brain has no accurate idea about distances because- you know- a "long drive" for us is 15 hours and that doesn't translate in European terms. You could cross a country in 2 hours over there. Inevitably, most visitors pack too much in and go to too many places. I'm no different. I go to The EU and want to stuff my face with sausage, croissants and bread as much as the next guy. Maybe I'll never learn control? But they have really good $2 bottles of wine! How can I stop??
We decided on flying into Amsterdam because of friends living in the city who offered to host us. Our flight from Japan was easy. It took about 20 hours with a brief stop in Qatar. By this point we had racked up enough points on the credit card that we paid NOTHING for the flights. (WIN!!)
My last visit to Amsterdam was in 2011 with my sister, Caitie. We weren't there too long, a few days, and I fondly remember how everyone looked tall and beautiful and how good the bread at the supermarket was. My memories were still accurate.
I think Amsterdam is a perfect city to spend 3-4 days in. It's not very big so you can cover a lot of ground walking, there are museums to visit that are full of history and art, there're beautiful gardens and parks, and (if you're into that) you can smoke enough weed to forget everything you've just seen.
The free walking tour that Sandemans offers was a great introduction to the city. I LOVE the free walking tours in Europe. I've done about quite a few of them at this point and they have been really great ways to see the city, get the highlights, and meet new people. The tours are operated on a donation basis and if you go online you can get the schedules.
My favorite part about Amsterdam is how orderly and practical it feels. The canals are orderly, the roads ripple out from the center like a stone's imprint in a pond. There are gritty aspects to this city, but they are contained, regulated and in a specific place.
The famous places to visit, like the Anne Frank Museum, had a line wrapping around the church which was on the next block. (Jackson went 10 years ago and says that it's interesting, but not worth the hours of waiting. Just read her book.)
We opted for the Rijksmuseum. Tickets for the Rijksmuesum can be bought online beforehand or you can wait on a loooong line to get them at the museum OR you can show up early like we did and see the museum before the crowds show up (thanks, jet lag!) The museum was expensive, about €17.50 ($19USD) each. I liked the collection and the building was lovely, but I wasn't blown away by the museum as a whole. I think my favorite part was some of the old articles from medieval households like jewelry and hunting items. Some of the more famous pieces in the museum are lovely and worth seeing. But… 19 bucks? Ouch.
We didn't go to the Van Gogh Museum this time. Jackson and I have both been on separate trips to the city. It's a nice museum from what I can remember when I went in 2011. There are some good pieces in there, but I've seen good pieces that Van Gogh has made in the Metropolitan Museum of Art in New York and felt a little underwhelmed. Plus, tickets are €17 each (museums are not cheap, folks!).
Our friends Ying and Syberen came to meet us later. It was nice seeing familiar faces again! Jackson had gone to graduate school with Syberen in New York City and the couple had moved to Amsterdam earlier this year. I liked walking around the city with them chatting about how our lives have changed.
Unfortunately, Europe is a lot cooler than Japan so our fresh-off-the-boat butts were really cold. Despite that, we still got ice cream because you have to.
The tulips this time of year are gorgeous! Walking through the city you can see them out in full force in mid-April! We had a great time admiring the bursts of color.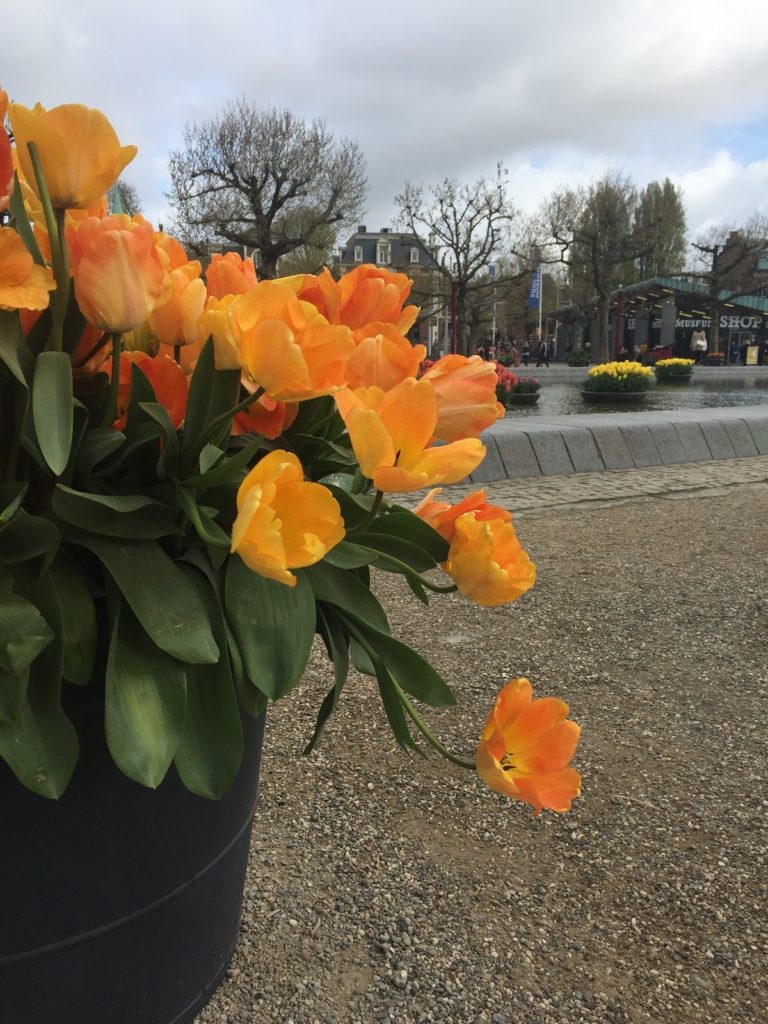 Jackson's friends, Bart and Lies (lees), put us up in their apartment and we got to know their half-crazed dog, Elvin. Some people are pet people. I don't think I'll ever be one. There have been a few times on this trip when people will talk fondly of their pets and I go cold. Maybe this is what it feels to not want kids?
I really enjoyed getting to know Bart and Lies. I'd heard so much about them from Jackson and it was nice to put faces to names. Lies even came to pick us up from the airport: what a winner! Jackson made us all a delicious dinner as a thank-you.
Amsterdam felt a world away from Japan and Asia. Walking around eating fresh food and seeing carnivals and the red-light district made my mind blow apart a little. Truly, this world is really really big.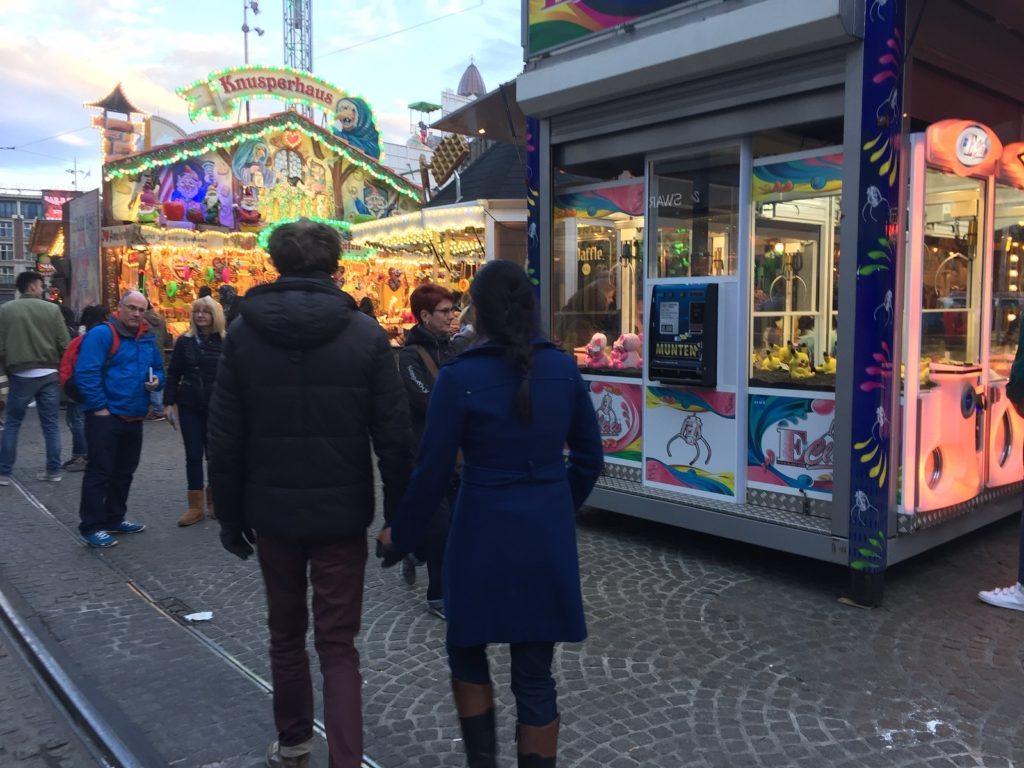 In the course of only a few days we can go from a mountain onsen to a street lined with prostitutes and reeking of weed.
Amazing.