Jackson and I are on this round-the-world trip for many reasons. One of which is to shop around for potential places to live outside of New York City (if it was even possible?). Up until this point in the trip we'd thought highly of some of the places we'd been- but nothing had gotten our blood rate pumping and spurred excited fantasies of what it would be like to be residents.
Then: Paris.
The "City of Lights" was so much more than I expected it could be. I realize that not everyone has the same reaction, but when we checked into our AirBnB in a quaint neighborhood 10 minutes from Montmartre and bought our first bottle of incredible $2 wine: I. Was. Hooked.
I know, I know… "Really, Nat? A $2 bottle of French wine is enough to make you consider leaving New York City?"
But, listen: it isn't just the wine. There's a funk to Paris that I felt hooked on almost immediately. Maybe it was the subway? The crispy, fresh bread? The multiculturalism? I can't put my finger on it, but walking around this city made me feel like I was in a very exotic, romantic place. The buildings are beautiful. The apartments are funky, unique and creaky.
There is GREAT food here. The culture of sitting on the street and blatantly staring at your neighbors as they walk past is right up my alley: I love judging people! There are great places to stop and work in a café. French, which up until this point I had never considered a language I wanted to learn, sounded so cool and hip. I wanted to learn French and sit in a café drinking too many glasses of red while eating delicious unpasteurized cheese and talking- nay- complaining about something with good friends. It all seemed incredibly romantic to me.
Jackson and I began to spurt wild ideas around. Sitting in front of the large windows of our tiny apartment we'd stare at the misshapen chimneys and rooftops and watch the sun set while dreaming up a way of spending longer in this town. I don't know that I want to live in Paris for a long time, but maybe 6-9 months? I could do that.
The weather in Paris was astounding at times. While visiting the Eifel Tower we had a cloudless day to bask in the glory of the icon.
The Louvre was an incredible museum. I can see why it is a MUST SEE while in Paris. In fact, going several times would really do the place justice because it is just so damn big! Getting in to buy a ticket was a bummer, though. We stood on line for 30min before getting inside. Apparently, that's not too long! Yikes! It's €15.00 ($16.50) per person for a ticket.
We spent the first few minutes in the museum RUNNING to get to the damn Mona Lisa. It was really frustrating because this painting is really nothing to see. It's just super famous. Also, when we got into the room it was PACKED with people taking pictures of it. You can't even get up close to look at it. Lame!!
30 minutes later, when we walked past the room again, it was twice as crowded as before.
On a free tour later, the guide told us that the best time for visiting the museum was not early in the morning, but in the evening on Wednesdays. The museum is open late on Wednesdays and it's best to go after 5pm when it is really not crowded anymore. Ok: lesson learned.
Walking around Paris is really fun. We hiked all over the place. The free walking tour was a great place to start as it gave us locations to check out and then we went from there. At one point, we were walking down Rue St. Louis and it felt like every store on the street was filled with delicious looking cheese, cookies, baked goods or wine. What. The. Fuck. We caved eventually and walked into a chocolatier and died over how good the caramels were.
I got to see a family friend, Lisa, who lived with my Mother and step-dad in New York in 2015. Lisa made us a delicious dinner of baked salmon while we talked about politics and life. Politics in France was a really big deal at that point as it was days away from the first major election. Also: everyone's favorite topic around the world is hating Trump and asking us Americanos why the hell we elected such an embarrassing human. We got asked that a lot. Everywhere. My favorite pointed question was when a German guy in Vietnam leaned across a table and said: "You didn't vote for him, DID you!?" As the only American at the table who could vote in the American elections I emphatically said 'No.' and that a majority of 3 million Americans didn't as well. Unfortunately, being embarrassed about my country's president is as much a part of this trip as eating.
The world is definitely watching, folks.
Paris is also one of the most poignant stops on this trip. I've mentioned in other posts that my Mother loved Paris and talked of it often. My mom died in January of 2016 and since the trip started I had been carrying around a small glass jar of her ashes, spreading them in places around the world that I thought she would have liked to see. On this trip I put her on a beach in Fiji; a rose garden in Christchurch, NZ; a park near a shrine in Kyoto and then I saved the last bits for Paris. I spread her ashes all over the city: anywhere full of flowers and in a cool area I could find. When I emptied the last of the glass jar near the Louvre, I cried. I wouldn't have been able to do this amazing trip without my mother's life insurance policy, but it's a sad reason to be able to do it.
To end on a high note: we saw some of the places that were in one of my favorite movies, Amelie, while on a walking tour of Montmartre. I LOVED seeing some of these places in real life and got mushy when we finally got to this part: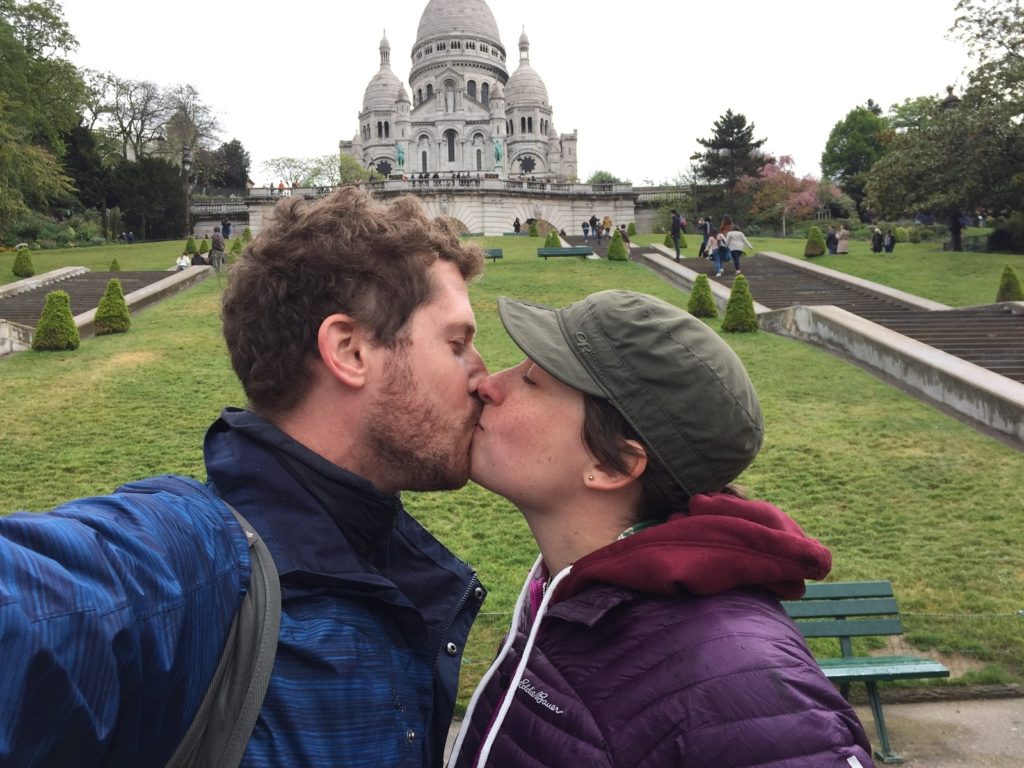 Paris is wonderful. Spending only 3 days is not enough. If you go, go for a week at least! I can't wait to go back.