This was our second time in "The Golden City"; I visited in the summer of 2016 and Jackson was there 10 years ago with his family. We knew there were a ton of things to do in Prague, but we wanted to find places that weren't teeming with tourists, a tall order…
Getting there from Poland
The bus ride from Wroclaw to Prague is a beautiful trip. You'll wind through mountains, fields, towns with medieval church spires and shelled-out abandoned houses. I recommend taking Polski Bus: it's cheap and the buses are pretty comfortable (AVOID EuroLines!! They SUCK.) The Wroclaw bus station is under construction so the "bus station" currently is an open parking lot with a lot of photocopied schedules posted on light posts. It's incredibly difficult to figure out and very, very Polish (meaning the ticket officers don't speak English and can only point in the general direction of your bus stop. Get there early.)
It's a 3.5 hour bus ride to Prague from Wroclaw. Polski bus has WiFi (yay!) sometimes (like when they leave the country and it stops. Boo.).
Arriving in Prague
Prague! It's romantic as all hell. It's also busy as all hell. There are a ton of things to do and tourists swarm all over. Jackson remarked at how busy it felt compared to the last time he visited. I expected it: when I was there in August 2016 it was just as busy (if not more so).
If you want to avoid the worst of the crowds either wake up really early and walk around or wait until after 10pm. Or, go in the winter (I expect it's not nearly so bad then!)
We Got There on a Holiday… Whoops.
We spent about 3 days in this city. Unbeknownst to us, we arrived on a holiday called "Witches Night" which is a holiday that celebrates the end of winter and is an excuse for gals and girls to dress up like witches and parade around the streets. I was intrigued by the parade we saw up Charles Bridge featuring a witch effigy ("is this based on witch hunting!?"). April 30th is a magical day, according to ancient paganism, and witches would gather at night so by burning an effigy you protect your children and family and keep yourself warm.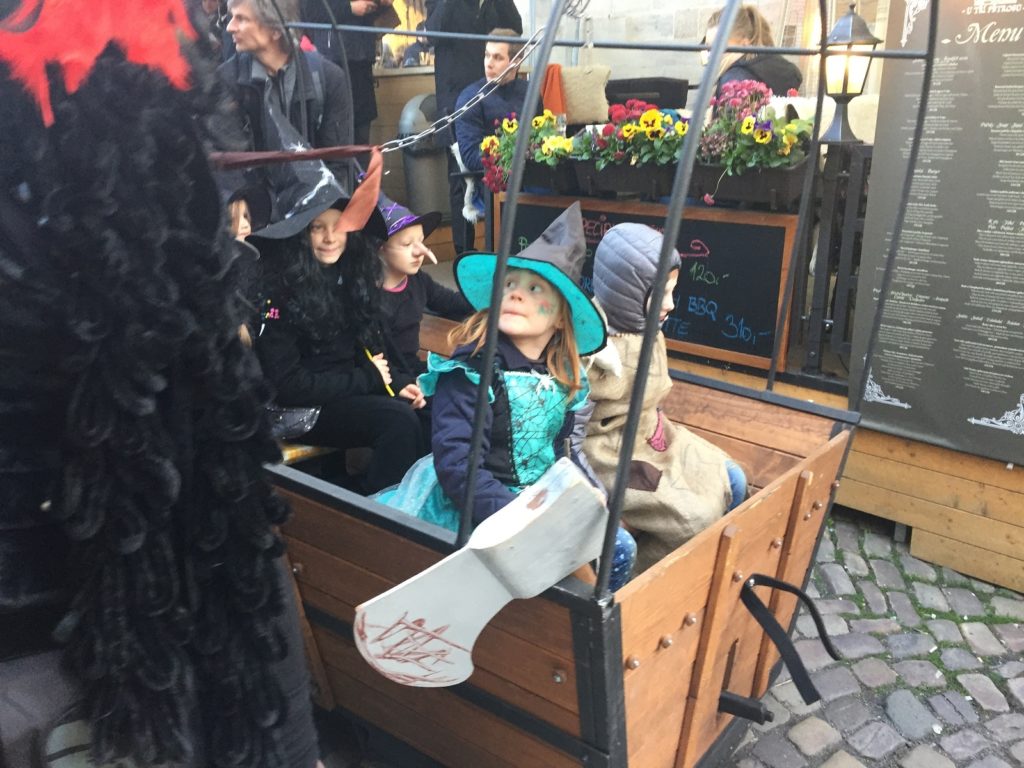 The festival originated as a celebration of fertility, but has since evolved into a large drinking holiday and a chance to stand around a bonfire and eat sausages. Jackson and I did exactly that. We stumbled across a festival with live music, beer and a ton of sausages and food for sale. Yum!
Things to Do in Prague
Look. I'm mentioning the things we did, but I am not endorsing all of these places as "must-sees." We were tourists and embraced our roles with fervor, going to really touristy places that made me gag a little because of all the souvenirs, swag and crap being sold for bloated prices.
Take a Tour
Other than end-of-winter festivals, There're a lot of highlights in Prague. I'd recommend doing a free tour which meets in the Old Town Square and takes about 3 hours. I did it last summer: it's great. I went with Sandeman's, but there are plenty of groups to go with.
Walk Charles' Bridge
Charles' Bridge is awesome and really, really crowded. I think this is an icon in this city, and have walked it both times I went, several times. That said: I think of this as the "Times Square" of Prague: a must-see for tourists, but locals avoid it like the plague and it's not indicative of the "real" part of the city.
The Lenin Wall
The Lenin wall? I found it kinda' 'meh', to be honest. I've seen better graffiti and street art in Berlin. I know people get really excited about this place, but I didn't see that charm; I found my ice cream to be more interesting.
The Old Town
This is a lovely square to walk around in and knock into people. There are so many people. There are also so many bubbles and old buildings and history. The old town is also a UNESCO world heritage site so that's pretty cool. As crowded as it was, I was happy to be there and oggle the street performers.
The Jewish Quarter
This is somber and beautiful. Also ridiculously crowded. The Jewish history of Prague is layered and old and full of sadness, like most of central Europe. I was fascinated by the old cemetery and learning some of the myths about golems.
People, people, people…
So, what did we do to avoid the people? We walked. We branched out. You want things to do in Prague? Put on your walking shoes and go. We hiked up the hill and into a different neighborhood, got out of the city center and explored more residential streets. Highly worth it. The architecture is just as funky and art-deco as the center is, but minus the crowds.
Honestly, walking this city is hard not to do. There were several nights when we bought a bag of onion-flavored chips and walked for hours, munching and licking our salty fingers. After dark, the city empties a bit and is just lovely.
Get Ice Cream
At one point, we went to buy some gelato at "Angelato" which has a couple branches around the city. I walked up to the counter and asked for vanilla and chocolate and almost got laughed out of the store.
"Why you want something so boring!?" the huge man with the stained apron behind the counter asked.
"uhh…?"
"Get something with more flavor!"
I wound up with pistachio and chocolate. Delicious. Lesson learned: there's no room for boring in Prague.
Go to a Street Fair
At one point, Jackson and I found a wonderful street fair devoted to Vegan food along the Vltava river as we were walking toward Vyšehrad. The food was delicious and cheap! We had some crostinis with hummus and some kind of garlic spread.
Go See Vyšehrad
Most people go see Prague castle, but not as many were checking out Vyšehrad: a 10th century fort built on a hill overlooking the river. It's a gorgeous view and there's a large garden which was a beautiful walk. It's free to visit, but you have to climb a rather steep hill to get to the top. Although there were some tourists, it wasn't nearly as busy as Prague Castle.
Prague Castle
Honestly: Prague Castle has some cool medieval stuff to see (it dates back to the 9th century), but I found it confusing, crowded and globalized. It's free to enter (although careful you don't go around lunchtime as there were long lines to get in then) but once inside, you need to pay for entry tickets to see "special" parts of the castle like the private art collection or the palace. To buy tickets meant waiting in another LONG line. I was annoyed. Technically, Prague Castle is the largest castle in the world, yet I felt crowded, jostled and like a peasant allowed in to sneak a peak at how the rich used to live. Blech.
Wallenstein Palace Gardens
Go see the Wallenstein Palace gardens and grounds, they're at the base of Prague Castle and have beautifully curated gardens and statues. It wasn't too crowded and it was free to enter. It was a great way to wash the negative taste out of my mouth after feeling like a "sheeple" in Prague Castle.
Get a Cider on the River
My last piece of advice for things to do in Prague: get a cider and sit by the banks of the river. Jackson and I did this a couple times and it was a great way to people watch and soak in some R & R. There are a ton of places to choose from along the east side of the river between Palackeho and Legii Bridges.