Ela and I met while doing the Delta 2 course in Wroclaw in the summer of 2016. She's smart; silly; has a huge love of travel and adventure; and is one of the nicest, most put-together people I know.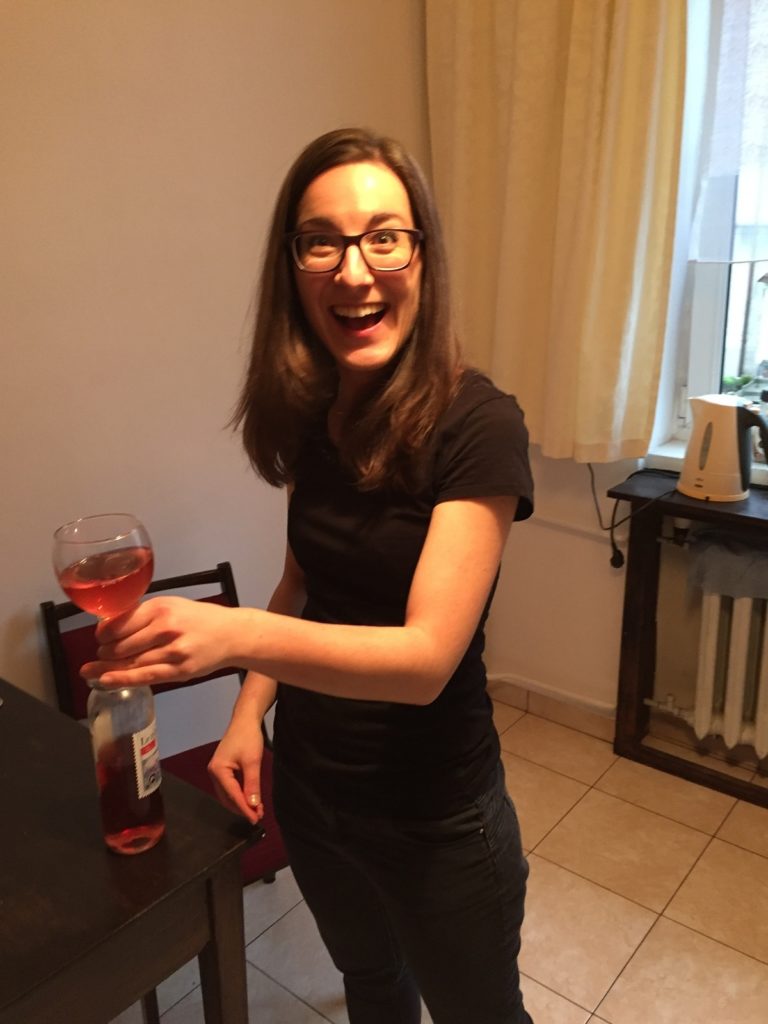 When I told her I'd be back in Poland and would love to visit, she offered her room for us to stay in and an open invite to Bielsko-Biala, a town in the Southwest of Poland. How could we not take her up on that sweet offer?
As with the other FABULOUS hosts we've met on this trip, Ela was no exception: a real gem.
Meeting us at the bus station, Ela immediately took us on a very detailed and insightful walk around her town. "It's not very big." She explained, but made sure to point out all the interesting architecture and trivia she knew. "That's the building with the first escalator in Bielsko!" She'd say, offering to take us in to check it out.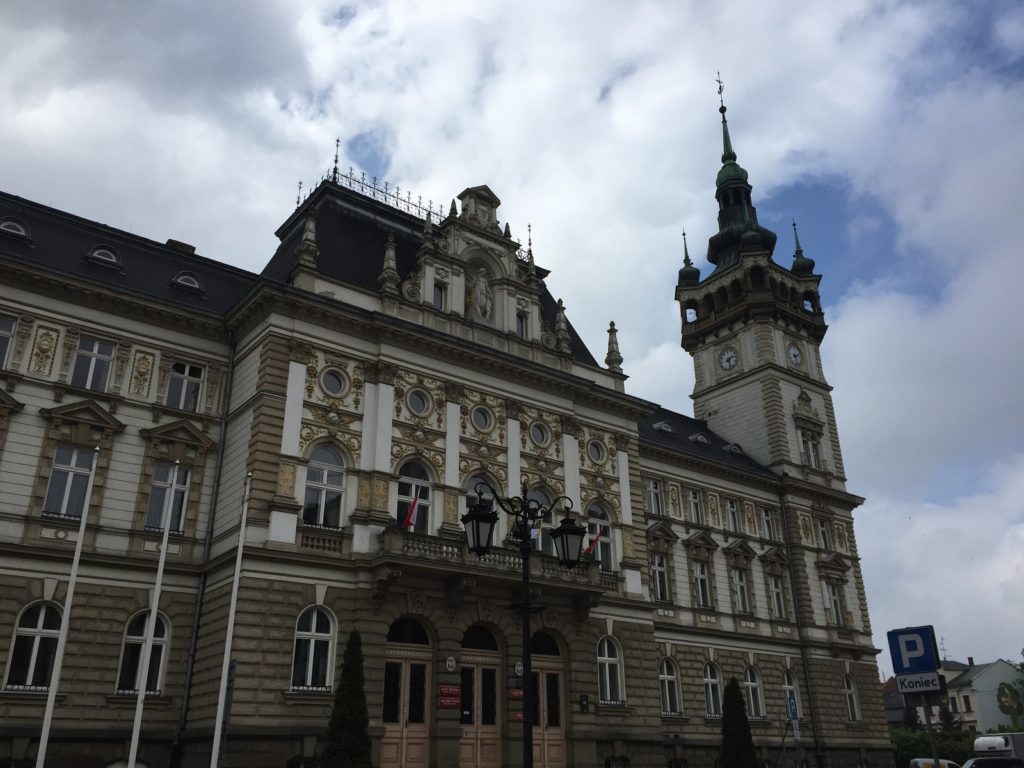 Bielko-Biala (which literally translates to "Whitish-White" on the bank of the "White" River) used to be two separate towns, but were joined together in 1951 as they grew larger. Ela made sure to show us Bielsko and Biala announcing, as we crossed the Biala River, that we'd entered the other side of town.
I liked the small-town vibe of Bielsko-Biala. It was very quiet on the Saturday we arrived and Ela explained that during the week it was a bit more lively. Honestly: I liked how quiet it was. After all the big cities we'd just been exploring, walking on deserted streets and taking our time to stare at a building was a nice change.
I really liked coming across an old animation studio that created Soviet-Era cartoons. Ela told us that she grew up watching cartoons like Bolek and Lolek.
"We didn't have Disney movies," She explained. "The government would allow some Saturday morning cartoons from The West, but only if the message was something the government liked." This I found fascinating. Ela is almost exactly the age of Poland post-Iron Curtain. Over the course of her life, she's witnessed massive change in her country- she could tell you the memory she has of the first time she ate a banana after the fall of the Soviet Union in 1989. I can tell talking to her that she has a lot of pride in Poland and is eager to share bits and pieces of history and knowledge. As we passed an old Soviet-Era car Ela stopped and pointed it out. "This car was the only car people could get back then." She said. "It would take 10 years to get it. Seriously. So, no one had a car back then. They were really shit cars, too. My Grandfather had one."
That night we got invited out to meet Ela's co-workers who are also English Language Teachers (most of them ex-pats) working at IH Bielsko. Because this is Poland, and what you do in Poland is drink: we had a grand night.
At one point, Jackson and I got up to buy everyone a round (alcohol is cheap in Poland and even cheaper in smaller cities and towns). When we told the bartender we wanted 9 shots, she held up a bottle of vodka. "It is fifty zwote. Better for money." Jackson and I quickly calculated the math: 9 shots x 5 PLN is 45 zloty ($12 USD). The bottle of vodka is 50 zloty ($13USD) and came with a bottle of orange juice. I've never bought a bottle of anything at a bar. But we did that night. When we come to Poland: We. Don't. Play.
Shrugging off our hangovers the next morning, and having a delightful breakfast conversation, we decided to go to Katowice (about an hour from Bielsko) to meet another colleague, Ross. Ross and I hung out a few times during Delta 2 as well. He was always good for a laugh and willing to bend an ear to a problem. He's wickedly smart and has a streak of sarcasm to match.
The train from Bielsko to Katowice was nice and prompt. When we arrived in Katowice I was struck by how much more lively it was. Katowice is a mining town and derived a lot of its wealth from coal mining. It's pretty, not Krakow or Wroclaw pretty, but: worth a walk.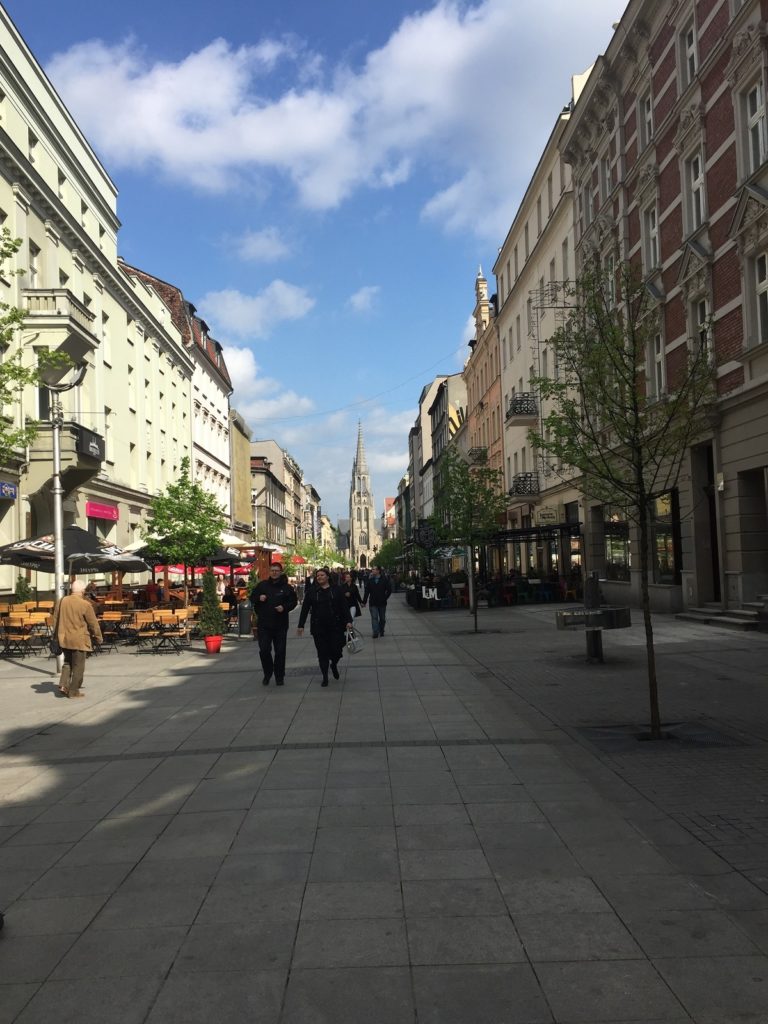 Ross took us to see some of the highlights of Katowice, including the amazingly mundane Rawa river, and what Ross dubbed the "Empire State Building" of Katowice which, as rumor has it, has prostitutes that work the top floor (we couldn't confirm that).
How could we miss seeing Spodek? Originally the site of a large industrial waste dump, The Soviets built a large dome, finished in 1971, to be a concert hall/ sports arena. It boasts no pillars to hold it up (uses cables instead) and has had rumors circulating of cracks and potential collapse of the structure since the 1960s (yeah… before it was finished).
I liked climbing up on some steps next to the arena and looking at the Katowice skyline. At first, I thought we couldn't go up because there was large CAUTION tape strapped to all the entrances, but people seemed to blithely ignore this and come and go as they please. We did the same (because if you follow the rules you're a sucker, right? Who needs "caution"??). While looking out at the city, Ross pointed out an abandoned mine; they're dotted all over the place. "Romantic, isn't it?" He joked.
I guess, when I think of abandoned mines, I think of large cavernous caves with boarded up entrances and a faded "Do Not Enter" on the front. These mines were large metal skyscrapers that had brick houses next to them sitting derelict. As we passed some of these relics you could see different efforts made by the locals to reclaim the space. One of the brick buildings was converted into a church!
Our last stop was Silesia Park (Slaski park), a HUGE park on the edge of town. Created in the 1950s in an effort made by the local government to clean up a large industrial waste dump (noticing a trend, here?), it is now twice the size of Central Park in NYC and boasts an amusement park, zoo, restaurants, cable cars, large boulevards and playgrounds. It's massive.
We had a beer and talked about life as teachers and what that means for us in the future: More travel? How will we get to see more of the world? What's the next step? Will we do this forever? Does anyone want another beer?
I'm glad we got to see Katowice. I've driven through it several times on my way from Wroclaw to Krakow and was curious. It was good catching up with Ross, too.
Back in Bielsko, Ela, Jackson and I talked more about life. Being 30 is hard- you have to start making some decisions, ya know? Like, grown-up stuff such as: where are we going to live? Will we buy a house? When do we want to start a family? Where do I want to go with my career?
Ela's great to talk to: she gets it. Asks the same questions, too.
No real answers, yet.