We'd heard that Budapeshhhht was the "Paris of the East" and was a wonderland of architecture and culture. "Ok." We thought. "Why not spend 5 days there and get to know the city a bit?"
In hindsight, I wouldn't have booked us 5 days there. 3. I would have done 3. Why? Because of several reasons: the city itself had a lot of charms, but nothing that blew us away, the food we had was okay, and the people were not very nice.
The Hungarians take a lot of pride in having one of the most difficult languages to learn. In fact, if you meet a Magyar (what the Hungarians refer to themselves as), it'll be one of the first things to come up. Can't learn our language! Oh no. Much too difficult. Almost impossible for foreigners. 
Kinda like a club you'll never *really* be a part of. I feel like, after travelling for a while, we've come across quite a few incredibly difficult languages (looking at you: Vietnamese), but none that seemed to take pride in it. It wasn't a very welcoming start.
But, being a tourist in Budapest is a lot of fun! (And there's a LOT of English speakers so you don't have to die trying to stumble through an order in Hungarian.)
There's a lovely market in the "Great Market Hall" that sells fresh fruit and veg. I enjoyed going in there and looking at all the strange things for sale: a bag of chicken heads, goose liver, soft salami, crumbly looking cottage cheese and a plethora of old fruit and veggies that have had limbs amputated and put out for sale again (cut off the ugly bit and it still tastes good, right?).
Overall, the city was uncrowded, which was really great and made walking across the lovely bridges that connect the two sides of the city quite easy.
I liked walking right up to statues and squares and feeling like the only person there.
I liked walking the Danube at sunset and stumbling across the Parliament building and being only one of 3 couples taking pictures of the golden light on the buildings.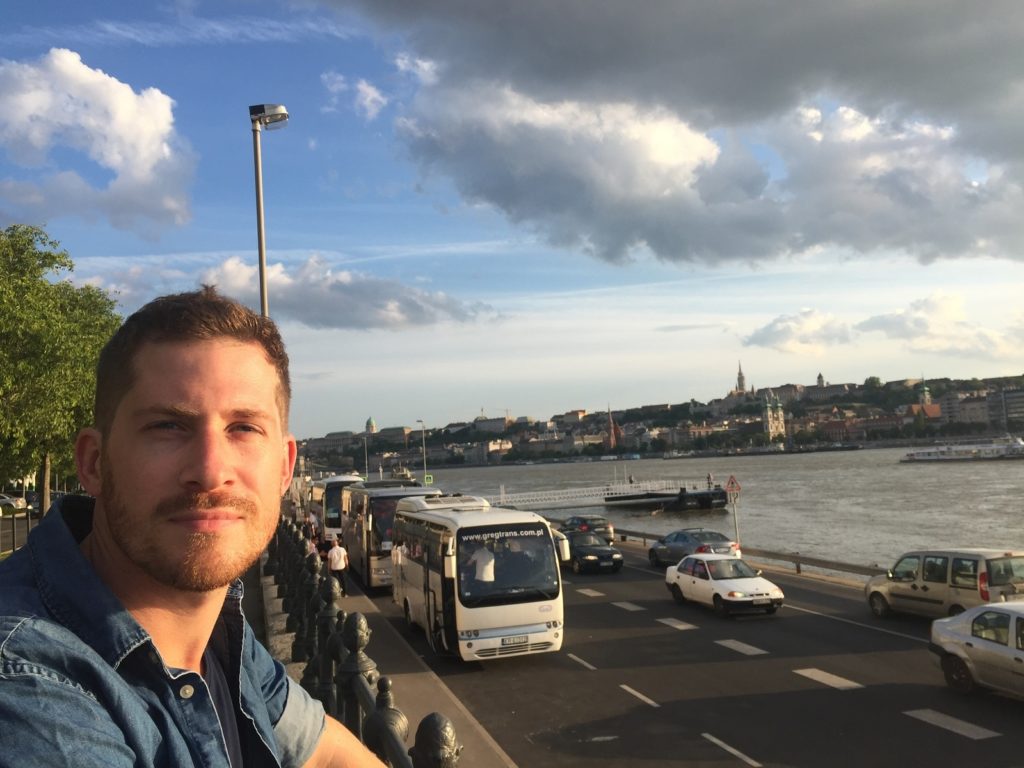 The views from the top of the hill on the Buda side were really pretty. It's a short climb, and the top is windy, but the scenes are stunning.
As are the churches.
The food was, at times, good! Like when I had duck legs and melt-in-your-mouth mashed potatoes and stewed red cabbage. And at other times, not great (watery pizza, overcooked sausage). If we stuck to a butcher, we got great stuff. If we went to a restaurant it was just ok. (Look: I'll admit to ignorance, here. We had no contacts in this city and no one to point us in the right direction. I'm SURE there are great places to eat, but we didn't find them).
The service was not great. The locals didn't give us a very warm vibe, overall. The tour guide we met on our first day explained that the city was still trying to overcome its Soviet-Era customer service and that it still has a long way to go. (I'll say).
Our tour guide, who was very nice overall, took us on the longest city tour we've been on in a city (over 3 hours) and explained a little but mostly told us really trivial things like how she needed to go to a coffee shop and count all the money we were going to give her so she could record it accurately. I felt like that anecdote took her about 30 seconds to say as well. She used a lot of filler language like: "You know? It's an interesting thing, but I have to tell you that I am going to a coffee shop where I can buy a coffee or maybe a tea? It is somewhere over there, or maybe it's down there? I can't exactly remember- I'm sure I will find it if I just start walking ha ha ha. I need to count the money…". By the end of the tour I was DONE. I handed her a tip before she could finish her long-winded sentence and walked off to take more pictures of beautiful buildings.
Anthony Bourdain did a show about Budapest and we went to one of the places he featured in his show. It was over an hour's walk (and knowing what we were in for, we decided the two-hour roundtrip was worth it). It's a schnitzel shop called "Pleh Csarda" that specializes in HUGE pieces of veal schnitzel. Oh, baby. They were big pieces.
In the reviews of this place people were saying things like the portion size could feed a family of four. They weren't wrong. This piece of fried meat was insane! It was quite good, though. Definitely recommend a stop there. Just do yourself a favor and walk there (and maybe split this thing between 4 people. We still had leftovers after eating our fill of one piece!).
We also saw ballet! "Swan Lake" tickets for $5?? How neat is that? The old opera house was beautiful, too. I highly recommend looking for tickets online the minute you get to the city and getting yourself a cheap matinee.
We dropped in on a Rosé Festival, too. It took us by surprise, but a happy one at that. It was a 3-day event in City Park. You had to buy a tasting glass at the entrance (200 and then could walk around the event tasting pours of rose and sparkling wine from all over the region for about fifty cents a pour). I was impressed by how neat and tidy everything was. I was not impressed by the food. We bought a pastry and found it tasted like cardboard. Yech.
This is not the Paris of the East. It is not as pretty as Prague nor as cheap as Poland. It is an amalgamation of old world, communism, hipsterdom. Budapest, like the language everyone claims is hard-as-fuck to learn, is full of irregularities, some similarities to other cities, and rules that don't always apply. Overall, I enjoyed myself, but I felt like I was ready to move on.