We rented a car. It was the first time on our round-the-world trip that we decided to do so and boy are we glad we did. The price is really cheap. Jackson found a deal online and was even able to find a company (ridecar.hr) that allowed us to drive the car from Zagreb to Dubrovnik without charging us an additional 150 Euro fee for not dropping the car off in the same city.
Having a car is so so nice. Some online sites had assured the reader that you can travel around Croatia using the busses and it's not too hard. I beg to differ. When we looked at catching a bus from Zagreb to the Istria region we found that the ride would have taken about 9 hours and dropped us off in Pula (the main city in that region) without a way of getting around outside the city. Yuck.
If you come to Croatia: rent a car. I can't imagine doing this country any other way. Also, I don't think you would do your visit justice if you didn't give yourself the opportunity to get off the beaten path and find nooks and crannies that the tourists tend to miss (more on that later). The total cost for our car was about $300USD for the 14 days we rented. This included:
The 50 dollar fee to drive through Bosnia on the way to Dubrovnik (they really stick it to you to drive, like, 10 minutes through another country. It sucks.)
The cost-per-day of the vehicle
The gas (about $130USD total).
We picked up the car at the Zagreb airport and the guy who checked us out looked at EVERY LITTLE ding, scrape and scratch he could find on the car and noted it down. "Just in case" he said. "They look for stuff like this and will charge you for any scratches, so be careful."
Yikes. Every time we've rented a car in The States the people checking us out will assure us that if it isn't over 4 inches long and enough to scratch the paint off they don't really worry about it. Here we were in a foreign country, driving a manual car for the first time in years on roads we don't know. No pressure: just don't even BREATHE on the car the wrong way.
Our first stop was Samobor.
Samobor has existed as a city since 1242. The town itself is really like a suburb of Zagreb at this point. It's only about 20 minutes outside of the city limits, but it does feel completely different.
Samobor is has a few draws for foreigners like us: castle ruins and a fluffy pastry called "samoborska kremšnita" which, in my opinion, is one of the best pastries I have eaten in Europe.
Most bill Samobor as a weekend get-a-way. I wouldn't give it that much time. The 4 hours we spent there was plenty.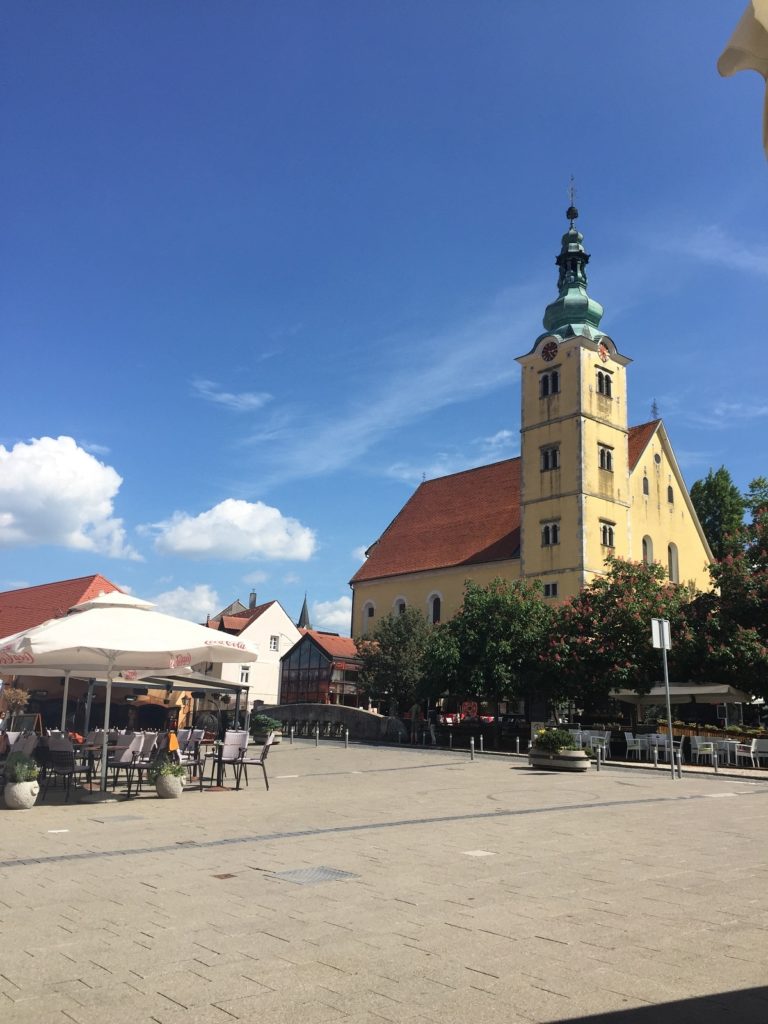 We hiked up to the ruins of a castle. This castle was built in the 13th century and is a fascinating stop. It's nestled in the hills above the town and after a very confusing walk to the top (no real path other than a dirt road in the woods above an old church) we were rewarded with beautiful views of the town, countryside and mountains as well as the chance to walk around these crumbling stones with no one else to bother us.
This is the magic of Europe: there are so many pockets of beauty and history that can be discovered. It's incredible. Also, you're often the only one there.
Making our way back to the town center (about 20min walk) we stopped in at "Slasticarnica u Prolazu" in the main square for some of the most delicious pastry you can get in Croatia. For 9 Croatian Kuna ($1.40USD) we got a piece of samoborska kremšnita: a light, fluffy custard sandwiched between two flakey puff pastry crusts. It is heavenly.
After licking our fingers, we hopped in the car (sweaty and nervous about driving in the TINY medieval streets of these medieval towns) and drove the 3 hour trek to Plitvice National Park to check into our AirBnB.