Despite the promise of rain, the olive trees in the grove we were staying in outside Galizana in Istria, Croatia made a romantic backdrop to our windows. 
Jackson and I were catching up on blog posting and categorizing our photos. We didn't know what we could do on a rainy day. I started browsing the internet for suggestions.
I came across a blog called "Istria Outside My Window" and got hit with an idea: maybe I should reach out to her and ask if she wants to hang?
I shot Isabel (the writer of the blog) an email. The pessimist New-Yorker side of me didn't expect an answer.
30 minutes later I get a reply: "…if you want to brave the rain and would like to come and see our cute little village [you could] join us for a coffee later today."
SCORE!
And suddenly Jackson and I are in our car heading 30 minutes north to go meet Isabel and Samy, two expats now living in a small medieval village called Gračišće in Istria. Isabel and Samy had also lived in Bangalore, India prior to moving to Croatia (I had spent 5 weeks there in college studying abroad) so I knew we'd have a lot to talk about.
The couple was really nice! Espresso, homemade treats and a walk around their quaint village (including STUNNING views of the countryside) made for a wonderful excursion.
I enjoyed seeing their beautiful, renovated home and picking their brains about living abroad. Samy insisted that everyone should try and live in another country at one point in their lives. Jackson and I nodded vigorously in agreement. The end of our 6-month trip was nigh and we were feeling the pressure of returning to The States. The idea of living in Europe not only seemed romantic, but downright needed to happen.
I'm so glad that visit happened, and that we got to meet people who were cosmopolitan but living in such a lovely little village on a hill.
Istria is peppered with quaint villages on hilltops. Indeed, as you drive through the peninsula you can't do anything but see these beautiful towns and clusters of houses.
Istria's population hovers around 200K people, so it's not very crowded. Much of the landscape provides vineyards and olive tree groves with dark green mountains in the distance (and sometimes glimpses of the turquoise sea). There are tiny little roads that turn into one-lane dirt paths that can take you to deserted coves and beaches. Jackson and I tried our damndest to go to as many of these as we could, tracing our fingers over google maps to find where the white line ended and then driving there in the hopes of seeing another gorgeous vista.
Each place we went in Istria was beautiful. My jaw dropped frequently as we'd turn a bend in a road and see dramatic landscapes or crumbling ruins or both. It was something out of a fairytale.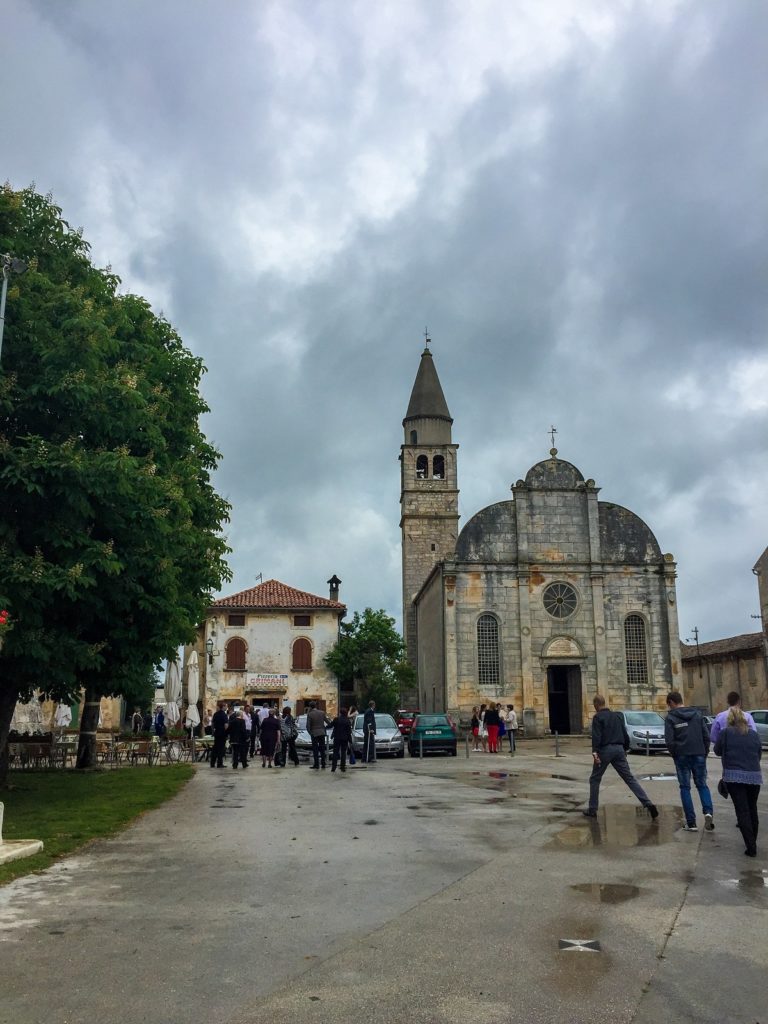 If medieval ruins aren't enough for you, the region is known for producing truffles and olive oil and DELICIOUS food. Jackson and I munched on fresh vegetables, bread, peppery olive oil, truffle oil and fruit. I couldn't stop buying cheese and sipping glass after glass of delicious red wine.
Our accommodation was perfect: a small one-room house nestled in a grove of olive trees outside the medieval town of Galizana. Driving to our little house was hair raising because you need to drive through the medieval town that was not designed with cars in mind (or, you know, people who are over 5.5 feet tall). There were frequent hair-pin turns and two-way, one-laned streets.
The larger towns on this peninsula didn't have as much charm as the smaller ones did, in my opinion. We went to check out Rovinj which had a gorgeous marina and view, but felt touristy and crowded.
We left the center and ambled over to the park nearby (Park Suma Zlatni) and found ourselves in a beautiful area full of naked sunbathers and rock climbing enthusiasts (they have cliffs, you know). I could not believe how utterly beautiful everything was. We practically had most of the park to ourselves (even though it was the weekend) and could stroll in and our of forest, beach and rocks at our own pace (just skip the ice cream parlors, they're not great).
On another day we went north to see Groznjan, an artist colony also set in an astoundingly beautiful medieval town. There were a bunch of truffle shops and artist studios all over the place and it was fun wandering around and peeking inside. We had lunch while sitting under the shade of a tree and dipping nutty, crusty bread into the Istrian olive oil we bought whilst crunching on fresh vegetables.
Another visit took us to Vodnjan, a sleepy town filled with street art and mysterious barking dogs.
There were olive oil producers called Chiavalon in town and Jackson and I had our first olive oil tasting (weird: dunno if I liked it). I didn't realize how peppery olive oil was! We bought a bottle of delicious oil (about $20 USD) and joked about how expensive the same bottle would be in New York- I'm scared to look. I really liked Vodnjan. We ate at a delicious restaurant called Restoran Vodnjanka where we indulged ourselves and ordered truffle pate– a little part of me died of happiness.
Istria also gave us beaches. So many! We went out to Donji Kamenjak i Medulinski Arhipelag and found a cove to bask in the sun (the entrance was about $5USD). It was perfect. We lay there for hours, occasionally getting up to dip in the cool water before basking again. It wasn't too hot: about 80F/27C and a slight breeze: perfect. Also, it was a nude area so we could just lay there naked, surrounded by a couple other chilled-out naked people and felt perfectly at peace. (If you want to know more about our favorite naturist beaches in Croatia, you can read this post.)
I've rarely felt so goddamn relaxed.
I would move to Istria. We loved it. It was our favorite place on this entire 6-month trip. I dream about it, still. It has so much to offer and only spending 5 days was not enough. It is the closest thing to what I would describe as heaven-on-earth. I was flabbergasted by its beauty and charm.