We often get asked about our favorite country to visit: Croatia is at the top of that list. And at the top of the best places in Croatia: it's Istria. 
But why is this area so great? Why should I tell you to visit Istria?
Dude. This place is magical, that's why.
What's Istria's Like?
Climate and Topography:
Istria is a little peninsula that sits at the top of the Adiratic sea. It straddles the border of three different countries: Slovenia, Croatia, and Italy.
It's been occupied for nearly 800,000 years and has seen different occupying forces come and go over the centuries.
Istria's climate is Mediterranean, meaning hot, dry summer and warmer, wetter winters. This landmass that is approximately 1,200 sq. miles (about 3,000 sq. km) has 267 miles (430 km) of coastline which can be dotted with tiny islands.
The peninsula is covered in rolling hills, valleys, rocky coasts, and forests. For more about topography, economy and history, check out Encyclopedia Britannica.
Honestly, to drive from one end to the other could only take an hour. It's not that big, but a to visit Istria means you can see so much in such a little space. It's unlike anywhere we've been before.
Is Istria Safe?
We spent the better part of a week driving around this region and felt perfectly safe.
This doesn't mean that it's a good idea to leave valuables in your car or keep all doors unlocked, exercising normal precautions is just a good idea in general.
That said, we never felt uncomfortable or unsafe whether we were walking in crowded areas, hiking alone, or visiting small villages.
When is the Best Time to Visit Istria?
We were there in shoulder season for the last two weeks of May. Shoulder season in Istria lasts from May to June; September to October. This means that the weather is pleasant and warm, but the summer crowds are not in full force.
We loved being there in May. It wasn't too hot (temperatures ranged from 65-80F/18- 27C), it was dry, and although there were days it got rainy, the rain never lasted long and only made the scenery more stunning.
The summer (late June to early September) is high season in this area. This means ideal temperatures for hitting the beaches in Istria, but you'll likely be sharing those delightful little beaches with locals and tourists. The water warms up a lot at this time of year and swimming is really nice.
If you come in summer, please book all accommodation in advance and prepare to pay higher prices!
Low season, November to April, will means wetter, cooler days and no beach days. This can be ideal for hiking, however, and the fall foliage would be lovely. There will be far fewer crowds, and accommodation prices will fall and availability will shoot up.
What is the Best Way to Get Around Istria?
By Car
We rented a car and drove. Here are more details about driving in Croatia. This, in our opinion, is the best way to get around this region and will give you plenty of things to do in Istria.
Driving in Istria was great. The roads are really small and windy, and getting into our own car to zip around was easy and distances were not far at all.
The roads can turn into one-lane, two-way streets in the small villages and that can get a bit hair-raising if you aren't used to that!
The beauty of driving if you visit Istria is that you can go off the beaten path and find little corners all to yourself to enjoy. This is one of the biggest reasons this area is one of the best places in Croatia.
By Bus
There are buses that service Istria. BusCroatia has quite a few stations in this region with access to a bus. Prices vary depending on where you want to go and you'll need to keep track of their schedules.
The cool thing about a bus is you don't have to worry about driving tiny medieval streets!
Taking the bus means less impact on the environment, too. There are international bus routes on offer as well, if you care to take a bus into Italy or Slovenia.
By Ferry
Towns and cities on the coast of Istria will have access to ferries. Taking a ferry is a one of the great things to do in Istria because there are so many islands and can be a very quick way to get to Venice, Italy.
There are ferry terminals in Trieste (Italy), Piran, Porec, Rovinj, Pula, and Umag on the West Coast. On the Eastern side of the peninsula there is the Rijeka, Brestova and Rabac terminals that will get you ferries to other islands in Croatia. For more information on ferries and their destinations, read more here.
By Train
There are train stations dotted around Istria, but they are not highly effective ways of getting around the peninsula. If you are looking for a train to get you to Istria, there are a couple of stations. Pula, Trieste (Italy), Koper (Slovenia) and Rijeka station are among the options available.
I'd recommend taking a train into Istria and then renting a car from the station or city center to get around.
Things to Do in Istria
Istria is peppered with quaint villages on hilltops. Indeed, as you drive through the peninsula you can't do anything but see these beautiful towns and clusters of houses.
The population hovers around 200K people, so it's not very crowded. Much of the landscape is covered in vineyards and olive tree groves with dark green mountains in the distance (and sometimes glimpses of the turquoise sea).
There are tiny little roads that turn into one-lane dirt paths that can take you to deserted coves and beaches. Jackson and I tried our damnedest to go to as many of these as we could, tracing our fingers over google maps to find where the white line ended and then driving there in the hopes of seeing another gorgeous vista.
To visit Istria is to be blown away by beauty. My jaw dropped frequently as we'd turn a bend in a road and see dramatic landscapes or crumbling ruins or both. It was something out of a fairy tale.
Go Visit the Medieval Towns
1 Gračišće
Jackson and I went north to go meet Isabel and Samy, two expats living in a small medieval village called Gračišće.
The couple were really nice! Espresso, homemade treats and a walk around their quaint village (including STUNNING views of the countryside) made for a wonderful excursion. Gračišće is a prime example of a village that was all but abandoned, but is now coming back as people move back to Croatia.
I had reached out to Isabel on her blog called "Istria Outside My Window" and asked to meet up, which she very sweetly obliged!
Sometimes, taking a chance and reaching out to locals is a great way to see an area. The best places in Croatia are usually spots recommended by the locals, so keep your eyes and ears pealed and be friendly – you never know what you could learn!
2 Svetvinčenat
This was a stop we were not intending to make, but because this town looked so quaint and beautiful, we had to look around.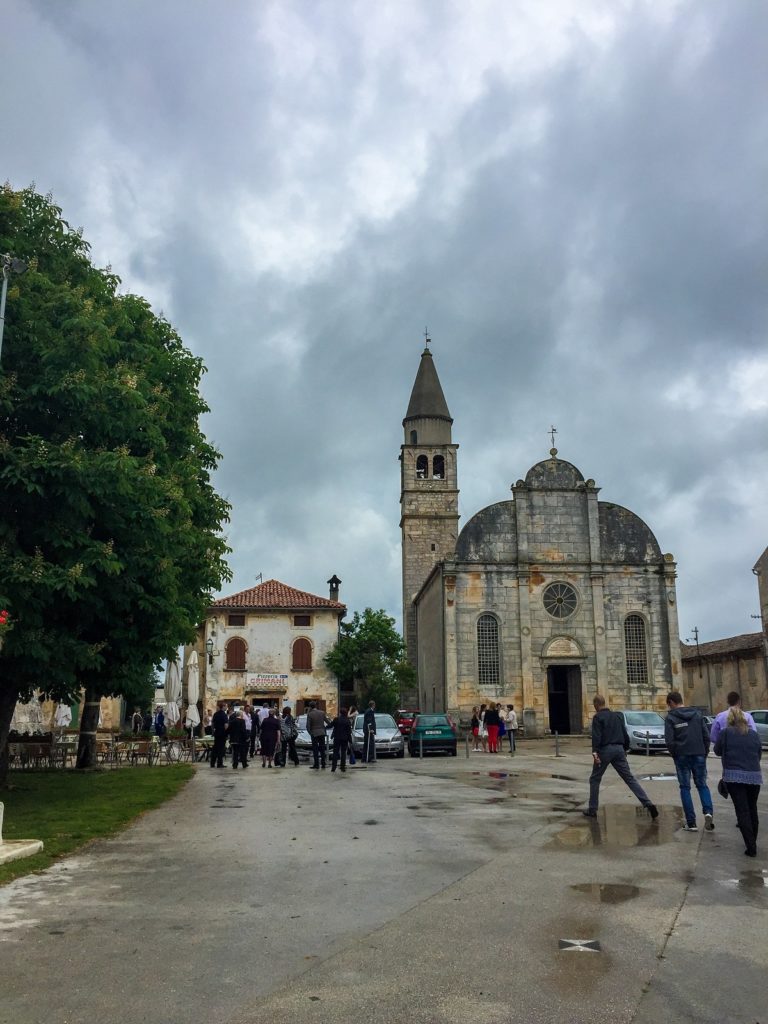 There was a medieval castle in the town center and everything still and beautiful. Although we were clearly not from the area, we enjoyed taking our time poking our heads into side streets and observing the locals.
3 Galizana
Our accommodation was perfect: a small one-room house nestled in a grove of olive trees outside the medieval town of Galizana. Driving to our little house was hair raising because you need to drive through the medieval town that was not designed with cars in mind (or, you know, people who are over 5.5 feet tall). There were frequent hair-pin turns and two-way, one-laned streets.
4 Rovinj
The larger towns on this peninsula didn't have as much charm as the smaller ones did, in my opinion. We went to check out Rovinj which had a gorgeous marina and view, but felt touristy and crowded.
We left the center and ambled over to the park nearby (Park Suma Zlatni) and found ourselves in a beautiful area full of naked sunbathers and rock climbing enthusiasts (they have cliffs, you know). I could not believe how utterly beautiful everything was. We practically had most of the park to ourselves (even though it was the weekend) and could stroll in and our of forest, beach and rocks at our own pace (just skip the ice cream parlors, they're not great).
5 Groznjan
On another day we went north to see Groznjan, an artist colony also set in an astoundingly beautiful medieval town. There were a bunch of truffle shops and artist studios all over the place and it was fun wandering around and peeking inside. We had lunch while sitting under the shade of a tree and dipping nutty, crusty bread into the Istrian olive oil we bought whilst crunching on fresh vegetables.
6 Vodnjan
Another visit took us to Vodnjan, a sleepy town filled with street art and mysterious barking dogs.
If medieval ruins aren't enough for you, Istria is known for producing truffles and olive oil and DELICIOUS food. Jackson and I munched on fresh vegetables, bread, peppery olive oil, truffle oil and fruit. I couldn't stop buying cheese and sipping glass after glass of delicious red wine.
There were olive oil producers called Chiavalon in town and Jackson and I had our first olive oil tasting (honestly, this was weird: dunno if I liked it).
I didn't realize how peppery olive oil was! We bought a bottle of delicious oil (about $20 USD) and joked about how expensive the same bottle would be in New York (about twice the price, I later discovered).
I really liked Vodnjan. We ate at a delicious restaurant called Restoran Vodnjanka where we indulged ourselves and ordered truffle pate– a little part of me died of happiness.
Go to the Istria Beaches
Istria also gave us beaches. So many!
Kamenjak National Park
We went out to Donji Kamenjak i Medulinski Arhipelag and found a cove to bask in the sun (the entrance was about $5USD). It was perfect. We lay there for hours, occasionally getting up to dip in the cool water before basking again. It wasn't too hot: about 80F/27C and a slight breeze: perfect.
This was a nude area so we could just lay there suntanning, surrounded by a couple other chilled-out naked people and felt perfectly at peace. (If you want to know more about our favorite naturist beaches in Croatia, you can read this post.)
I've rarely felt so relaxed.
Park Suma Zlatni
This is a park outside of Rovinj that is lovely. It seemed that most people stuck to the town center of Rovinj and that was fine by us. Once we got to the park, we had a lot more space to ourselves.
Although this isn't a beach in the traditional sense, it looked like a great place to sit and sunbathe. As we walked, we saw plenty of people doing just that.
Rebici Hafen
This was a very private cove down a dirt road to the end of land. We decided to see what was at the end of the road and round this lovely little spot where we took a nap in the grass.
This would be a great place to go in the summer to sunbathe and maybe rent a small boat to go fishing or cruising around the area.
How Long Should you Plan to Visit Istria?
We spent 5 days in this region as part of our bigger 2-week road trip around Croatia.
If we could do it all over again, we'd probably spend more time here because this was one of the best places in Croatia, in our opinion. We loved how quiet and beautiful everything felt. The history of the little towns, the culture, the food.
I wouldn't recommend spending less than 3 days in this peninsula because although everything is relatively close, there is so much to see!
If you have the time, 5-7 days would be a good time frame to give you enough days to get around and explore.
I would move to Istria. We loved it. It was our favorite place in Croatia and on the entire 6-month trip of 2017. I dream about it, still. It has so much to offer and only spending 5 days was not enough. It is the closest thing to what I would describe as heaven-on-earth. I was flabbergasted by its beauty and charm it really is one of the best places in Croatia.