Croatia gets steadily more crowded with tourists the farther south you venture on the Dalmatian Coast. Avoiding these crowds is quite easy if you have a little time, a car, a healthy sense of adventure, and luck. We had all of the above. 
Jackson found a little spot called Brela, an hour south of Split, for us to call home for 3 days. Brela's known to have some of the most beautiful beaches in Croatia so Jackson and I thought this place deserved our full attention.
Brela is a tiny town that sits on the slopes of the Biokovo Mountain range and is sleepy and steep with steps leading down to the sea. Just a 30 minute walk will get you to the more bustling Baška Voda, the next town over.
To drive along the mountain range to get here is to have your heart in your mouth and your eyes pop. These views are as stunning as much as the roads are steep! Everything is narrow and the drivers zip around like speed limits are made to be challenged, we wrote more about what it's like driving in Croatia here. To get to Brela, you plunge from the heights of the mountains, switch-backing on hairpin turns to get to a one-lane road that is the artery of the town.
But, I digress. Why come to Brela in the first place? The beaches, of course!
'FKK' means a nude beach. Seeing it means that there likely won't be kids, there'll be fewer people and those there will be naked as fuck and not at all interested in whatever the hell you're thinking, thank-you-very-much. We wrote more about our favorite naturist beaches in Croatia here.
To get to most beaches in Croatia you'll need to scramble down a steep cliff. And the beaches around Brela (or anywhere on the Dalmatian Coast, for that matter) were no exception. To get to some of the most beautiful, isolated and pristine pebbly beaches I've ever seen, we needed to climb down cliffs after following goat trails and faded signs. Fear not friends: be bold and head toward the sea and you will find yourself a private haven only the locals know about. We did it about a half dozen times in Croatia.
Can I fully express the sheer joy of spending 4 hours lazing on a beach alone? Is it possible to describe the feeling of cool salty sea on the hot sun-soaked skin of my legs? Could I convey, fully, the delight in knowing that the only thing I need worry about is applying more sunscreen to my now-not-so-pasty butt? You need to experience this for yourself. Go to a beach. Get naked. Lie there. Repeat.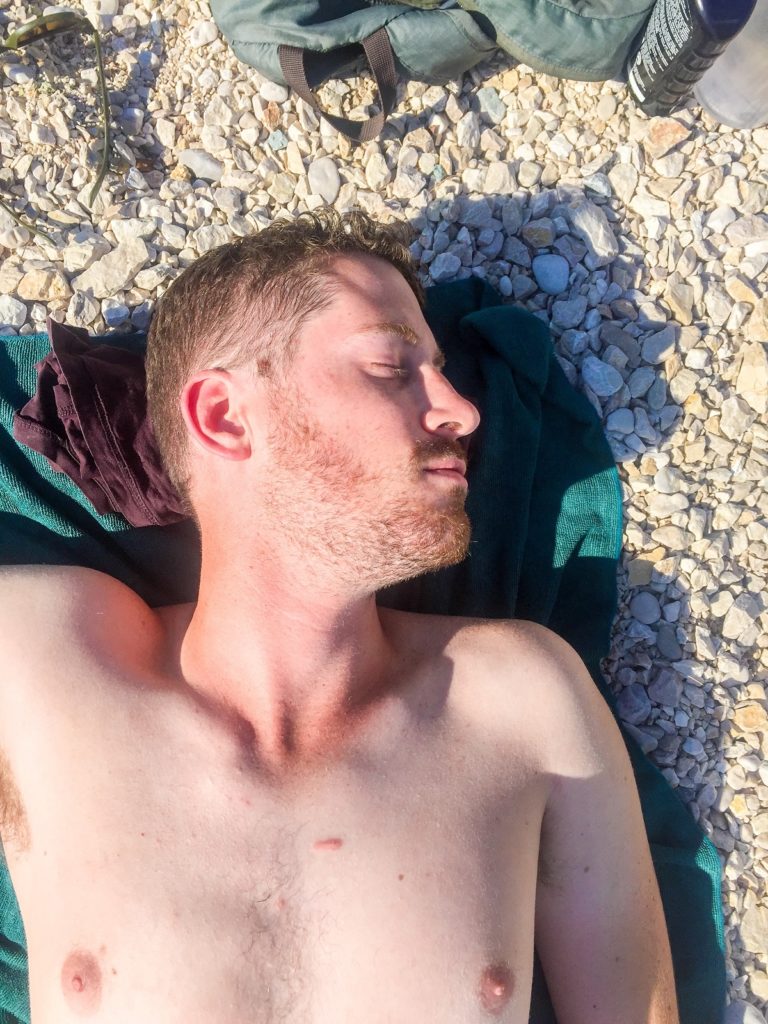 Baška Voda was nice. It has a marina that is lovely to walk around and a couple restaurants to try. What was really stunning were the views of the mountains and the sea. Unreal.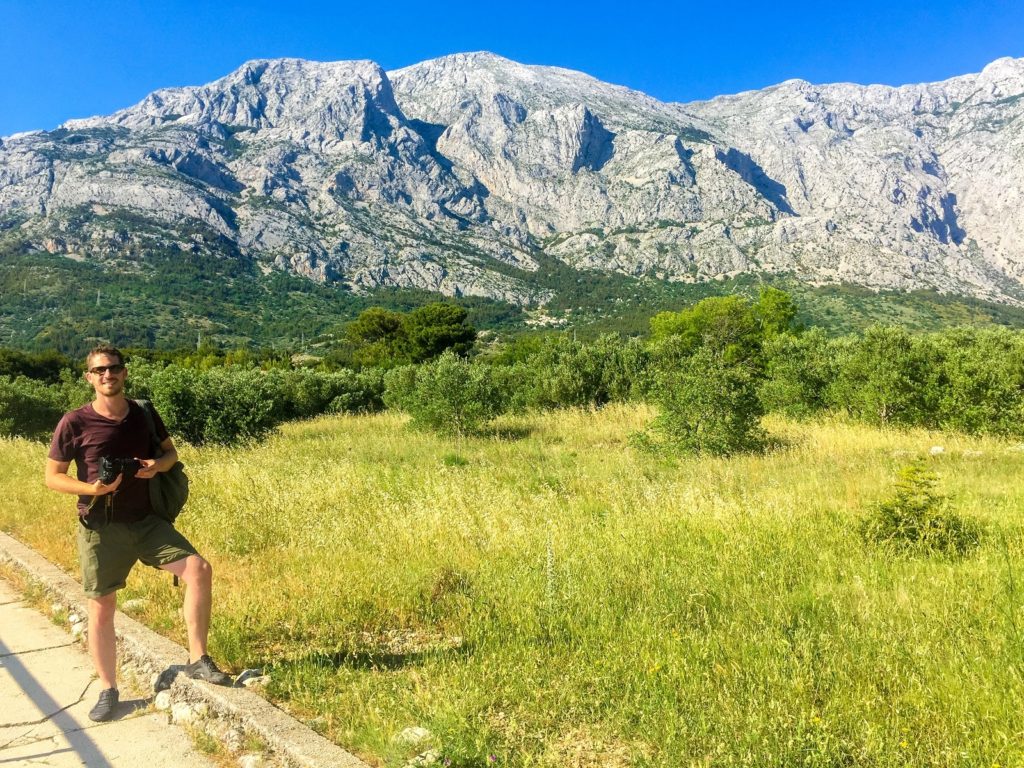 Like all good things, our stint at Brela needed to end. We had to continue south along the Dalmatian Coast toward Dubrovnik to eventually catch a flight home. You can read more about our itinerary for the two weeks we spent in Croatia here.
There's a small 10-minute stint on the highway when you need to drive through Bosnia-Herzegovina to get to Southern Dalmatia. It's very bizarre because you exit Croatia, get checked into B-H at a border checkpoint only to do it all over again at the other side. Oh, and they stamp your passport. Seems a lot of hoop-la for not that much. My brief impressions of Bosnia was that it was more crowded than Croatia (duh: they've only got a tiny piece of the coast to utilize) and the language and architecture was slightly different.
On the other side of Bosnia was a peninsula called Pelješac. It's the second largest peninsula in Croatia (behind Istria). We decided to drive out onto it and see what was there, because why the hell not?

It's gorgeous.
The first little town is a medieval fortress town called Ston. It's got this HUGE wall-of-china like wall that loops up a fucking cliff and defends (I don't know what: a cliff face?) from intruders. Otherwise it's small and full of tourists. We stopped to get lunch fixin's before shoving off to go further into the peninsula.
The drive is lovely. It's full of jagged mountain tops and lonely valleys dotted with olive trees. We eventually came to a tiny town called Žuljana and just beyond that we found a little beach to relax on. We knew this would probably be our last beach in Croatia so we cried a little bit and stuffed our faces with prosciutto and olive oil. It was a lovely beach. We basked in the glory of it for as long as we could: No tourists. No locals. No anyone. Just us: a dream.
Dubrovnik, by contrast, was a bustling tourist-filled old town.
It looks a lot like Game of Thrones' "King's Landing" but less CGI. It's clean, beautiful, full of old stuff and tourists. Lots and lots of tourists.
Recommendations? Go see Lokrum.
It's the island off the coast of Dubovnik and for about 120 kuna each (about $18USD) you get a round-trip ticket on a ferry to go check it out. The island has a lot of places you can go to lose yourself from the crowds and it's very pretty.
We sun bathed for a while, but it wasn't the same as the beaches we had just been to.
The views from the island are very very pretty, though and sitting on the coast to enjoy that is worth it.
Walking around Dubrovnik takes a few hours tops. It's actually a small city, really. It's hard to wander at your own pace because so many of the streets are choked with people. Is Dubrovnik worth a visit? Eh. If you're flying in you might as well make a stop, but I think it's too overrun. Tickets to walk the medieval walls come to about $25USD and that's just ridiculous.
The AirBnB we stayed at was up on a hill overlooking Dubrovnik's old town. We loved it. A nice grandpa who was Croatian but had lived in New Zealand for several decades (go figure!?) took really nice care of us. He even gave us fresh vegetables from his garden. Jackson and I enjoyed fresh pasta and steamed veggies with the Adriatic Sea and a warm breeze on our last night in paradise. What a fabulous end to the trip.