This page may contain affiliate links. This means that if you buy/book anything we recommend through A Pair of Travel Pants, we receive a small commision, at no extra cost to you! It's a small way of helping us fund our travels. Thank you for your support!
The "What if…?" Questions
Packing for a major trip, large or small, can be daunting at best. When I first began travelling internationally I was out of my depths. What if I need…? kept popping into my head. The What if…? is the worst possible form of anxiety when packing and can lead to putting way too much into your bag.
My biggest piece of advice to travelers going the long-haul is: LESS IS MORE.
This 6-month trip saw us through 3 different seasons of weather. Although I was not prepared for fierce winter, I was prepared for cold weather down to about 7C/45F and up to high summer temperatures. I was covered for rain, wind and hiking. But thank god I wasn't invited to a wedding; I would have been screwed.
The following is what I've honed the contents of my 46-Litre Osprey backpack down to (for clothing):
Jackson and I have been using "Good Nomad" packing cubes. Cubes are up to the traveler's discretion, but we've found that it makes organization in the bags so much easier!
What I can't fit in the cubes:
a silk sheet liner, red neck band, hankies, a sarong, a pink travel towel, my fold-able hat, toiletries, and shoes.
The silk sheet liner is really useful! I've used it while camping, mostly to help keep me warm in colder weather. It fits inside a sleeping bag like a glove!
The red neck band is great for sun protection and sweat removal when hiking.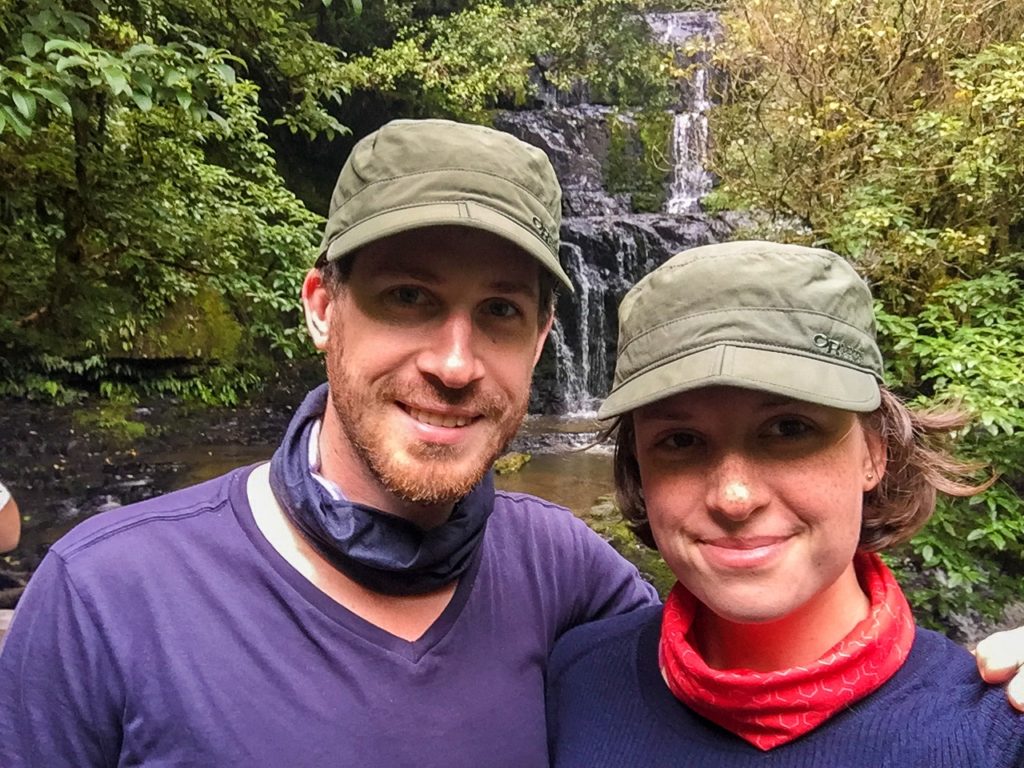 Hankies are useful anytime and anywhere from mopping up exploded spicy red sauce after biting into a Bahn Mi sandwich, to drying your hands.
I cannot recommend getting a sarong enough! These go a long way to keeping whatever garb you are wearing appropriate when you visit temples, it will help keep you warm on a cool day, it's great as a skirt on the beach or it'll act as a towel if you need it.
Travel towels are small and light and a real blessing when the budget hostel you're in doesn't provide towels for free. Also great to go lie on a beach.
Here's what's inside the travel cubes (they hold a lot, right?) as well as the shawl, towel, silk liner, hankies and neck band:
All of this fits into  my 46L backpack and I still have some room for my shoes, laptop and toiletries.
Clothes:
Tops:
2 loose tank tops
1 fitted tank top
2 T-shirts
1 long-sleeved shirt
1 flannel button-up shirt
1 pull-over "nice" tunic
1 large PJ top
1 grey wool sweater
Bottoms:
1 pair of khaki shorts
1 pair of work-out tights
1 pair of hiking pants
1 pair of chinos
1 pair of blue jeans
Underwear:
2 bras (one light and one dark)
2 sports bras (one will get super yucky or wet and it's really nice to have a change!)
1 bathing suit
7 pairs of undies
3 thongs
4 pairs of socks (2 that are hightop wool and 2 low top; 1 wool and 1 cotton)
Outdoor:
Misc:
a light-weight cotton dress (great as a pull-over when going to the beach or it's laundry day!)
a small belt
Shoes:
I cannot recommend my flats enough! Tieks are expensive and you can certainly find a pair of regular flats for a lot cheaper than what I paid, but I LOVE these shoes and wear them as often as I can. They're great for a nicer night on the town or just to walk in.
This sandal is super comfy, great for showers, walks, the beach and lite hikes. I wore this shoe almost everyday in the hot weather and felt quite comfortable in them. I got them on Amazon for $15USD on sale, you can probably find a deal out there for a pair that's similar. I think it's a better investment than a pair of flip-flops (and you never know when that beach trip might turn into an impromptu hike).
Opting not to bring hiking shoes was, in hindsight, not a great idea. The sneakers do enough for what we need, but I miss the ankle support of hiking boots. The trouble with hiking boots is how heavy they can get. We opted for lighter sneakers simply because we wouldn't have to haul their weight around. I'm wearing something similar to these:
While in Japan, I caved and bought a pair of converse for walking casually. This made my bag fit-to-bust. Jackson wound up carrying my other pair of sneakers because his bag is bigger. Should I have just tossed the sneakers? Maybe. But I didn't.
For electronics I carry:
a Microsoft Surface Pro 4 (lightweight, fast and can be a tablet)
an iPhone 6 & headphones
a kindle (I used to be against these but, my god, they've made reading on the road so much easier!)
an extension cable (sometimes the plug is further than you think and it makes sharing one plug easier!)
Medical items:
We kept these in a zip-lock bag inside a plastic shopping bag. Leaks SUCK and they happen all the time. Double bag!
anti-diarrhea
anti-itch
mosquito repellent
pain killer
birth control pills
moisturizer
anti-gas
sunscreen
hand sanitizer
Toiletries:
I keep these in a plastic zip-lock bag
toothbrush
toothpaste
floss
mascara
eyeliner
tampons/pantie-liners (Ladies: I just get a small bag and fill it up with O.B. tampons. It's lightweight and if you hit an area of the world where tampons are not easily found – Hello, Sri Lanka!- you'll be glad you brought back-ups).
laundry detergent (We used a bio-degradable variety so as to limit our impact on the sewage and drains of the places we were staying.)
soap
two-in-one shampoo
deoderant
nailcutters
nail file
tweezers
a razor
Misc:
several pens
a diary
a watercolor kit
a pad of paper
a 1L water bottle
a small day purse (this purse was a cheap little thing given to me by my Mother-In-Law (thanks!) I used it quite a lot until it was snatched off of me in Vietnam. I used a backpack after that incident. I don't know what to tell you about the day purse, because if someone wants it: they'll get it, regardless if it has a fancy non-cuttable strap or not…)
A Few Notes:
I'm not a make-up wearing gal (did you see the picture above?!). I don't do nail polish. Its saves me a lot of room in my bag.
Jackson is carrying an Osprey Waypoint 65L backpack which we use to put our check-in stuff into (shampoos, stuff that can't go into the cabin of a plane, etc.) In hindsight: it would have been easier to have a backpack that doesn't need to get checked in. Next time we travel, we'll find better bags that we can use as carry-on and put our liquids into little 3oz containers.
My Osprey 46L backpack is okay. I wouldn't recommend it for long-term travel. It's quite back-heavy when it is full and as a result, walking with it feels out of balance. I like the longer, thinner packs better. Lesson learned.