Looking for the local NYC? I'm from New York City and I've been all over. I've compiled a list of my favorite off the beaten path NYC attractions that I would recommend to any visitor who wants a more personal, local NYC experience (one without a ton of tourists in their pictures).
Over the years I've watched my hometown change and thrive, becoming a real tourist mecca. The trouble with the influx of tourism is some of the iconic New York City sites are too crowded to be enjoyed. I've taken family and friends to these places myself and feel that these spots are well worth leaving Manhattan for.
If you are interested in learning more ways to act like a local NYC resident (including some off the beaten path NYC spots), check out our recommendations for a cheap night out while in New York.
I'm biased because Jackson asked to marry me here! This island nestled between Manhattan, Queens and The Bronx will always have a special place in my heart. That said, you don't have to go to this place to propose to your loved one: it's just a great place to visit.
How do you get there?
Randall's Island is accessible by bus or foot only, which really thins out the crowds. It's free to walk over from Manhattan via the 103rd street walking bridge (which is actually closer to 102nd street…), The Randall's Island-Bronx connector bridge, and via the RFK Triboro Bridge from Astoria, Queens. It's seriously off the beaten path NYC.
Why go?
This place hosts large music festivals like the Governor's Ball, you can go to Icahn Stadium to see the circus or check out the occasional art openings and sculpture displays happening year-round in New York City. You'll find it to be a real local NYC experience, especially in the summer when you'll spot dozens of families just chilling out and having a picnic.
Walking this island you'll find wetlands, ball fields, rocky coast and spectacular views of New York City's East River. I've biked on this island quite a lot and highly recommend it: you'll get bike paths largely to yourself and could have lunch on one of the delightful green lawns looking out over the city. There are events going on all the time so look at the website to see what's coming up! This is local NYC at it's best.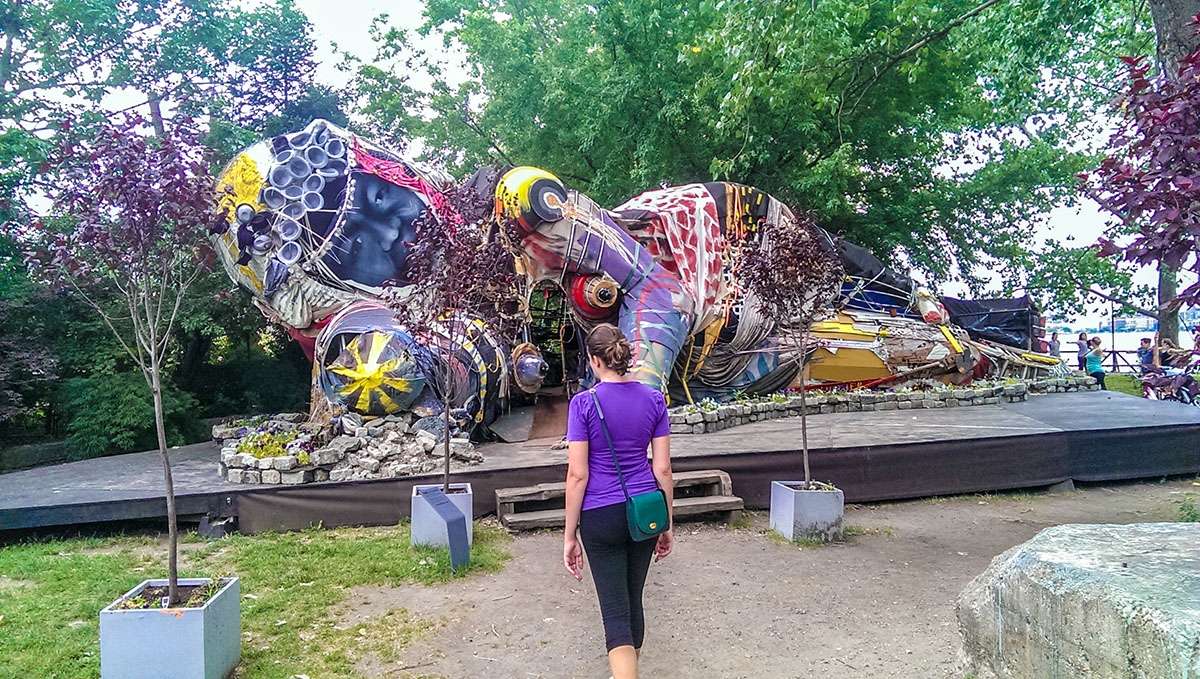 Like large, funky sculptures? Hate crowds? Check out Socrates Sculpture Park in Queens. It's free, it's weird and it's totally worth a trip.
How do you get there?
The park is located on the edge of Queens on the East River. You can take the N/W to Broadway in Astoria and walk East (about 15min). Don't feel like taking the train? You can hop on the NYC Ferry which docks in Long Island City and gets you right there!
Why go?
The great thing about this off the beaten path NYC area is you get a chance to see Astoria's many multi-cultural sides. Also, right next to the park you can check out the Noguchi Museum (free on the first Friday of every month) to see more Japanese-inspired sculptures.
Other than the sculptures, this park hosts movie screenings, live music, food festivals and events (yoga classes, dude!). It's got a nice local NYC vibe, a big field to run around in and public bathrooms! Win!
Like movies? Gifs? Youtube? Go check this baby out.
I love this museum. It's full of awesome special exhibits as well as the permanent installations.
How do you get there?
Take the N/W to 36th Ave in Queens or the M/R train to 36th street in Queens. The museum is at most a few min walk from either station.
Why go?
Not only are there an array of movie knick-knacks and props on display that are super famous, you can play around with some interactive booths where you can experiment with movie dynamics like music, speed and sound effects (kids'll love it!). The special exhibitions are awesome ranging in a variety of topics (one of my favorite was on Cat Videos on the Internet: it was awesome). It takes a couple hours to really take in the whole museum which makes it a perfect activity for a rainy afternoon. The museum is free on Friday afternoons (sweet!). This is probably the least off the beaten path thing on the list, but even so you'll very rarely find it crowded.
There are also movie screenings and festivals in rotation so check the website for more information on hours, showtimes and special events.
Walk down Bedford Avenue
This is not quite a destination but a journey. Put on some good walking shoes and get ready for a long walk through the heart of Brooklyn. You'll see the real local NYC!
How do you get there?
Take the L train to Bedford Ave stop in Brooklyn and start walking South on Bedford Ave. If you have a bike, you can bike this avenue as well.
Why go?
You'll be in the heart of Williamsburg, a bustling, vibrant neighborhood full of street art, coffee shops and restaurants. Pretty much the opposite of off the beaten path NYC. But, as you continue south, you'll hit the Hasidic Jewish neighborhood. It feels like you've walked into another world. The signs change to Hebrew, everyone is dressed in traditional garb and will have very little to do with you as you pass through like a ghost.
As you continue walking you'll come into Bed-Sty, an old, beautiful neighborhood full of Afro-Caribbean and Dominican transplants. Walking through these three neighborhoods will take about 1.5-2 hours of walking, but it is TOTALLY worth the stunning changes you witness. I've taken a couple of people on this walk and thoroughly enjoyed it every time. It is off the beaten path New York at its best.
You can finish up at the Bedford-Nostrand Ave stop on the G train or continue walking to the Franklin Ave Stop on the C train.
Here's a local talking about their experience on this walk. The article is a few years old but will give you an idea of what this walk is like if you don't take my word for it.
Check out the Street Art in Bushwick
This area used to be a financially depressed neighborhood until recently. In the last 10 years it has seen a surge in population and attention which has created a mecca for local NYC street art.
How do you get there?
Take the L train to the Morgan or Jefferson stop.
Why go?
This street art is really cool. There are great restaurants and coffee shops dotted around if you get tired. There are also a host of off the beaten path NYC self-guided walking tours if you don't know where to begin. The Bushwick Street Art Collective can give you an idea of how funky and cool this stuff is. You should see it for yourself. Also: it's free!
Arthur Ave in The Bronx
Not too far from The Bronx Zoo (which is free on Wednesdays, by the way) this is an avenue chuck full of pastry shops, and old-school Delis. Off the beaten track NYC at its best.
How do you get there?
Take the B/D train to Fordham Rd. stop in the Bronx. Arthur Ave is a bit of a walk down E.188th street (about 15min). You can also take the Metro North line and get off at the Fordham stop which will get you a little closer.
Why go?
The "Little Italy" in Manhattan is full of tourists and it's over-priced. You want a slice of an authentic local NYC Little Italy? Check out Arthur Ave. Tourists don't venture into The Bronx very often so you'll be able to walk along the avenue uninhibited by the crowds. I'd suggest going to the Teitel Brothers Deli: it's old, it's great, it's off the beaten path NYC. Get a salami. As a kid, my dad would take me and my sister to Egidio's for their pastries. We'd buy a big box of assortments and eat until we were full. Yum!
For more information on pastry shops, check out this site by Thrillist.

Yet another off the beaten path Island that gets overlooked a lot by visitors. It's so close to Manhattan, yet so different it feels like you've entered another city, entirely. That is, until you take a look out at the bay and see the sweeping landscape of the city open out in front of you.
How do you get there?
Take the F train to Roosevelt Island and walk South. Or take the Roosevelt Island Tram from 2nd Avenue between 59th and 60th street.
Why go?
This park is free and offers a unique, off the beaten path NYC, perspective. Although a small park, you'll get a chance to chill out on the lawn while enjoying the breeze off the East River. There's also a really cool ruin of a small pox hospital you walk past on your way to the entrance of the park. It's super creepy looking and great for pictures. Walking around Roosevelt Island itself is peaceful: it's quiet, calm and really feels different from the rest of the city. I wouldn't recommend going there for lunch, I haven't found any places I can highly recommend unless you get lucky and find a food truck parked near the train station.
Speaking of eating… why not checkout out our post on some of our favorite local NYC spots to eat?
So there you have it! Your local guide to some of the best off the beaten path NYC spots to visit on your trip to New York City!
Need more tips to know before you go to New York? Here's a bunch of tips to help you out. 
Summary
Article Name
7 Off the Beaten Track Places to Visit in New York City
Description
I'm from New York and I've been all over this city. Over the years I've watched my hometown change and thrive, becoming a real tourist mecca.
Author
Publisher Name
Publisher Logo