A Croatia Itinerary of 14 days is a trip everyone should consider taking.
What could possibly be there to peak my interest, you ask? Beaches, mountains, old stuff, and really, really good food.
Before you Go:
Rent a Car.
Although you can spend a Croatia vacation without a car, I highly recommend you rent one. Jackson and I found an incredible deal online and got a manual 4-door sedan for our 2 week Croatia itinerary for about $180 USD (and that included that $50USD fee for "going into another country" which was Bosnia, a country you have to pass through in order to get to Dubrovnik…). If you want more information about renting a car in Croatia, you can read about that in detail here.
If you look hard enough, you can find companies that will rent you a car that you can drive one way (you won't have to drop it off where you picked it up). We got our car through ridecar.hr and they didn't charge us the one-way fee!
After two weeks of driving all over the country we spent about $130 USD on gas and avoided highway tolls (you can avoid tolls relatively easily by telling Google to plan routes around them!).
Here's our recommendation for a Croatia itinerary: 14 days based on what we did in May 2017:
Day 1: Zagreb (2 nights)
On your 2 week Croatia itinerary, start in Zagreb, Croatia's capital city.
There are plenty of things to do here on your Croatia vacation. We found that a solid day of taking in the downtown was enough. It's walkable, there are bars, restaurants and old churches to see. It's quite charming, actually. Here are some photos Jackson snapped while we were there.
I'd definitely recommend going to the Museum of Broken Relationships! This was an awesome museum and you can get tickets for about $4USD per person. It's a couple hours of reading, and such a great stop.
Want lunch? Stop in at Vjestica Bistro. This place was SO GOOD. You can read about me gushing over it here. Seriously: do yourself a favor and eat here. I almost cried tears of joy from the food.
Day 2: Travel from Zagreb to Samobor to Plitvice

30 minutes outside Zagreb is the charming medieval town of Samobor.
Jackson and I enjoyed visiting the old ruins of a 14th century castle (a bit of a climb but free and deserted when we got up there!) before trotting down to the town center for a delicious piece of samoborska kremšnita at Slasticarnica u Prolazu. This was HEAVEN, I'm drooling thinking about it. (You can read more about what I'm describing here).

Another 3.5 hour drive to Plitvice! We booked a quaint little room through AirBnB which had gorgeous views of the mountains. It was lovely watching the sunset and listening to the crickets.
Day 3: Plitvice (2 nights)
This is the park everyone will post jaw-dropping images of from their Croatia 2 week itinerary and with good reason.
The price of admission is about $18 USD per person but gets more expensive in the summer. You can get a several day package, but we only did the one day and that was plenty. (We looped the walk and then some within a few hours!). If you want more pictures and information about what we loved you can read more here (for photos) and here (for what we did).
A word of caution: this park is gorgeous, but SUPER tourist central. Be prepared to have to wait to take shots and fight your way toward a particularly beautiful area. That said, a Croatia itinerary should include a stop here because it is so worth it.
Day 4: Travel from Plitvice to Crikvenica

This is a 4-hour drive if you take the off roads, not the main toll roads. The local roads were gorgeous and took us into some seriously beautiful back country. Honestly, though: coming out of the mountains and dropping toward the sea is one of the most beautiful things I have ever seen. It's unreal. I can't talk about it enough!!
Driving on a Croatia itinerary is a beautiful thing, but you can also find plenty of bus routes to get your around the country if you would prefer not to drive on your own!
Driving in this country can be hair raising because the roads will switch back and curve and the drivers can go really fast, but it is so beautiful!!
In Crikvenica, get dinner at Konoba-Restaurant Maslina. I got the best grilled Calamari OF MY LIFE there. Thinking about it now gives me goosebumps. Here are some pictures Jackson took of Crikvenica. Make sure you try as many different dishes as you can on your Croatia itinerary 14 days.
Day 5: Crikvenica (2 nights)
After sleeping in your AirBnB or hotel on booking.com, wake up semi-early and head over to Dramalj for the beaches (that is, if you are into FKK or nude beaches). When we went, it was quiet and we had a whole beach to ourselves.
We were on our Croatia vacation during shoulder season which meant that many beaches were empty. We'd recommend coming here in late May/early June or September/early October if you want to avoid the worst of the crowds. Because we were here in shoulder season, empty beaches on our Croatia itinerary were more common!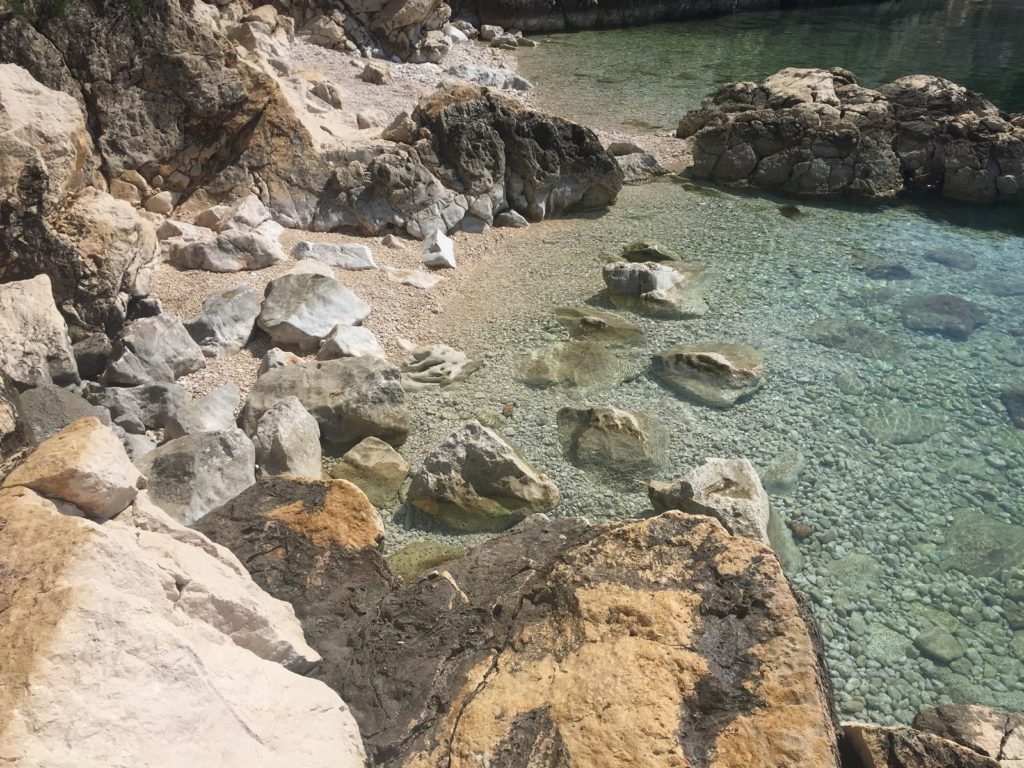 I've never seen beaches so outstandingly beautiful. Just be sure to bring some shoes to walk on the pebbles with!
Day 6: Travel from Crikvenica to Zadar

This 2.5 hour drive is packed full of spectacular views. We avoided the tolls and loved every minute (it's super easy to avoid tolls on a Croatia vacation and it really doesn't take much longer to drive!).
Why not stop in Senj on your Croatia itinerary? It's a beautiful medieval village and the brand new walkways around the old Fort are beautiful.
Day 6-8: Zadar (2 nights)
Zadar boasts some incredible roman ruins that date back to the 9th century. It's got a quaint old town to walk around and a beautiful walkway along the sea where you can watch people on their boats (Jackson took a bunch of photos here). Just do yourself a favor and don't order any ice cream. We thought the ice cream was terrible! You can read more on our reactions here.
Although the ruins are lovely, we found that Zadar's main attribute was the drive from the mountains down to the coast. It's a stunning drive, the prettiest on our Croatia itinerary 14 days. Like: one of the most dramatic drives we've ever done (and we've road tripped in New Zealand and Namibia). Otherwise, one full day in Zadar should be enough.
Day 8: Travel from Zadar to Šibenik to Split

Stopping in Šibenik for lunch on your Croatia itinerary will help break up the drive to Split. We didn't find Šibenik to be the most interesting of places, but it was pretty. What we liked about it was how untouristy it was. There were lots of small streets and stairs to climb and at the top you can see beautiful views of the sea. A Croatia vacation is not complete unless you get a chance to climb a hill to look at the sea!
Continue on to Split!

Day 8-10: Split (2 nights)
Being the 2nd largest city in Croatia has its perks. There's a lot to see and do in Split and we really liked this ancient city! It's a popular stop for a lot of people enjoying their Croatia vacation.
The cons of coming here is that it is very touristy. Like: tons of instagramming foreigners snapping shots of everything. The streets can get really crowded with other tourists on their Croatia itineraries (including bus-loads of them!).
Diocletian's Palace is a beautiful ruin to check out. It's really tall and there are costumed Roman soldiers waiting to take pictures with you at the base. That was fun to see!
We enjoyed walking along the promenade and checked out the local market that was selling all sorts of yummy-looking Croatian goodies. Jackson and I got some fried fish and ate while we people watched, it was lovely.
Be sure to check out Park Šuma Marjan while on your Croatia itinerary, it's a nice break from the bustle of the city and you can get some gorgeous views of the sea.
Day 10: Travel from Split to Brela

Here's another treat: this drive along the Dalmatian Coast on your 2 week Croatia itinerary. Even thinking about how beautiful it is makes me filled with longing to go back. Lucky you. Plus, it's only a little more than an hour from Split. Your Croatia Itinerary 14 Days just got even more delightful, friend.
Day 10-12: Brela (2 nights)
You want the best beaches in Croatia? Look no further. Brela is a tiny town on the cliffs of the Biokovo mountain range. It's stunning. Go: relax. Repeat. I think, while on a Croatia itinerary, you would do yourself a disservice if you didn't stop along the Adriatic coast and sunbathe. Spending at least a few days on a beach while on your Croatia vacation is so important!
If you want more information on driving along the Dalmatian coast while on your Croatia itinerary 14 days, check out this post.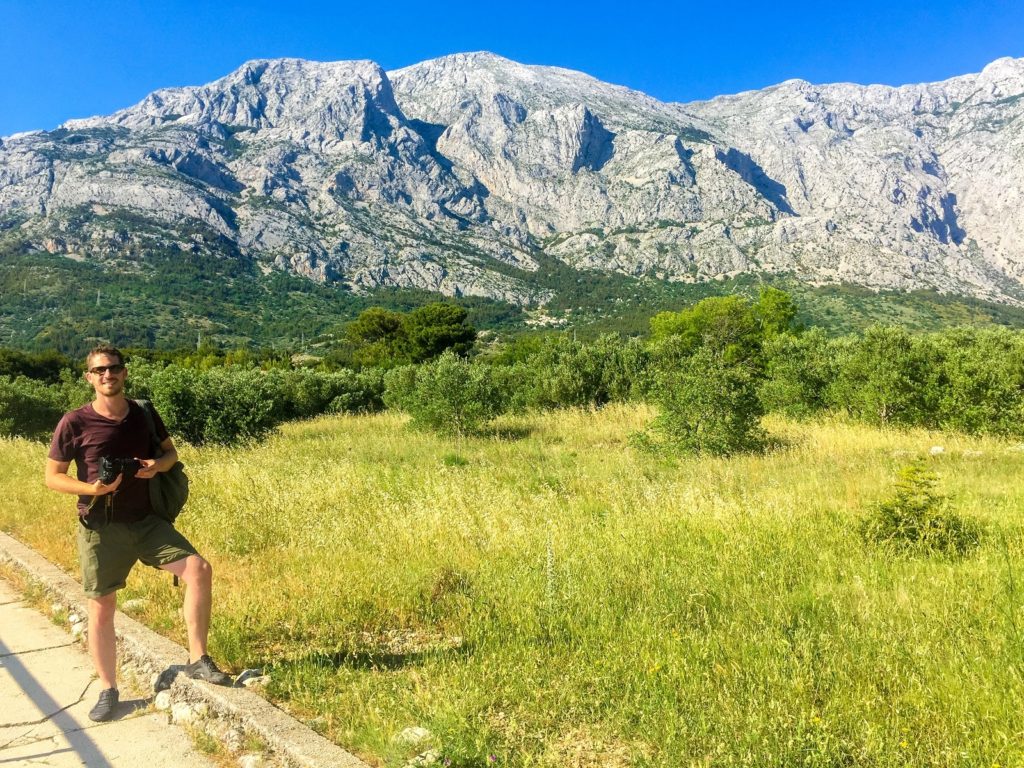 Day 12: Travel from Brela to Dubrovnik
This drive is about 2.5 hours. If you want to break it up, might I suggest taking a stop on Pelješac Peninsula to check out Ston? It's an old medieval town that boasts a really trippy-looking wall that goes up a mountain. This is a real-off-the-beaten-path place to see on a 2 week Croatia itinerary.

Day 12-14: Dubrovnik (2 nights)

Dubrovnik, like Spit, is incredibly touristy as many people make this a stop on their Croatia vacation. Game of Thrones did a lot to put this place on the map and it is now firmly on said map. It can get clogged with tourists at times, but with a little bit of sneaking, you can find some great places to be alone.
Try going to Lokrum island off the coast, if you get a chance. It's a great escape from the city and provides stellar views of the area.

Otherwise, Dubrovnik has plenty to see. It's a beautiful medieval city and the iconic orange roof tops are really beautiful, acting as a cherry on the top of a Croatia vacation.
Best Times for a Croatia Vacation:
We recommend going on your 2 week Croatia itinerary during shoulder season. I mentioned before that this would be around late May-early June and then late September-early October. At this time, the crowds are not as big, the beaches are emptier, and the weather is still good.
Coming in the summer will mean optimal beach weather on your Croatia vacation, but you'll be fighting for a place to put your blanket!
If you come in the winter, you'll likely enjoy a lot of space to do with as you please, but it's harder to go hiking and driving if the weather turns windy and wet!
The End!
You're at the end of your 2 week Croatia itinerary. Fly out of Dubrovnik.
We didn't include Istria in this Croatia itinerary, but that does not mean it is any lesser than anything else we did while on our Croatia vacation. In fact, I think of Istria as my favorite area of the country, it just can't be done in a short period of time. We didn't include it because we think it would have made the 2 week Croatia itinerary too rushed. If you want to read about what we did you can go here for the pictures and here for more information.
We love road tripping, and if you are looking for more ideas we've written about the best road trips we have ever done here.
Thanks for stopping by! Anything you think we left out of this Croatia vacation? Let us know in the comments!