Often dwarfed by it's more famous Indian neighbor, many people have no idea what Sri Lankan food is.
When I ask my friends if they've ever tried it I get a lot of shrugs or the occasional "I've had Indian food: it's like that, right?" Honestly, I think that besides sharing a lot of spices that are similar: Sri Lankan food is quite different to Indian food and I'm excited to help you find some dishes to sample when you head over to this Island nation (this food is the bomb!!).
In basic terms I would describe Sri Lankan food as if an Indian curry and Thai curry had a baby. Soft textures, coconut milk, tons of spices (but overall not too spicy) and very fragrant: this cuisine is varied and surprising. Sri Lankan food is heavily influenced by it's tropical island fruit and proximity to the ocean.
Tip#1: It's traditional to serve a meal with a lot of smaller dishes that you heap on your plate and mix together, therefore you'll likely see a lot of the dishes I will mention served together.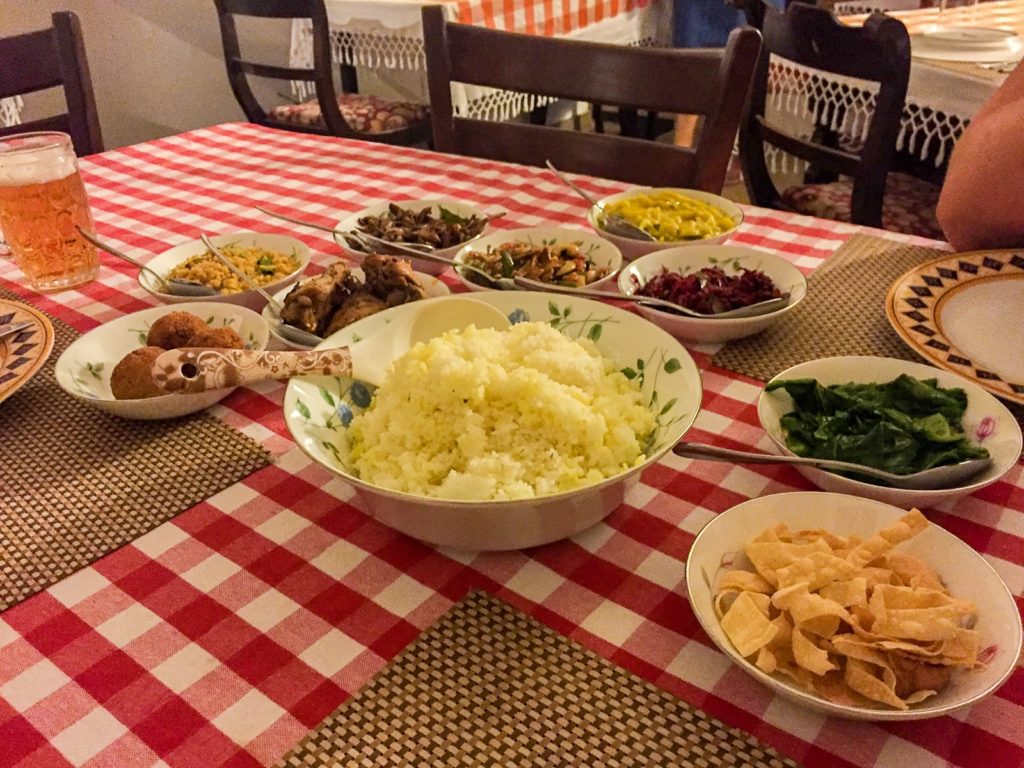 Tip #2: Eating with your hands is totally normal, but don't fear: they will often give a spoon and fork with meals. 
Pol Sambol
This is a garnish served at every dinner table. It's light and flaky and packs a strong tangy kick. They'll serve green or red sambol. It's main ingredient is shredded coconut mixed with lime juice and spices, a perfect accompaniment to a curry. If you want to see someone making it (and speaking Sinhalese as they do!) check out this youtube link.
Dhal
Also served with meals, this mild-flavored, soup-like dish is salty and flavorful. It's often served in a bowl on the side and goes well with rice and roti.
Roti
The Sri Lankan flat bread that is prolific in this country. It's a great, simple bread made to help sop up your gravy-filled meal. It can be made with coconut imparting a light, sweet flavor as well.
Stuffed Roti can be found in many different places (especially bus stops!) it is dirt cheap and is stuffed with potato or meat and veg. It's spicy and super fresh and a great snack to have on the road.
Hoppers & String Hoppers
Hoppers are very popular. They are very thin pancakes served with an egg at the bottom. They have a very light, sour flavor and are used to eat curries and sauces.
String hoppers are noodles made of gelatinous dough that are served as an alternative to rice. They don't have much flavor on their own, but when served with a curry they'll suck up the sauce beautifully.
Kothu/Kottu
A delicious street food! This is a meal that comes in all sorts of styles. Get it with eggs, cheese, meat, veg… whatever you want! It's the Sri Lankan equivalent of fried rice except this is made with noodles that are roughly chopped over a hot plate. If you go to a restaurant that serves it, you'll hear the cooks furiously chopping the ingredients up in the kitchen! It's delicious.
Deviled Sweet and Sour Fish
This dish is served on the coast. It has a ton of flavor and, like the name, offers your taste buds a sweet and sour experience laced with spicy flakes of chili. It's usually made of chopped fish, onions and sauce. Just be careful about the bones in the fresh-as-hell fish you're about to eat.
Curry
Sri Lankan Meat Curry
Goat, chicken, and fish are the most common meats you can order in Sri Lanka. These curries are not as thick as the Indian curries which tend to be more of a gravy, instead the Sri Lankan curries are made with coconut milk so the sauce is thinner and runnier. We were also told that the curries tend to have a larger variety of spices in them, making their flavors incredibly varied and full of depth. I couldn't get enough of these.
Sri Lankan Fruit Curry
Being a largely Buddhist country, there are many vegetarians and vegan friendly dishes. We were shocked to try such unusual ingredients in a curry (but found them to be delightful and a wonderful alternative to meat!). We had:
Jack fruit curry
Ambarella curry
Cashew curry
Jack fruit!? Yeah. Soft and pillowy and, just, well, fantastic. I found this website describing jack fruit in just about as enthusiastic a way as I've ever seen. You should check it out here.
Ambarella is a tropical fruit native to Sri Lanka. It's a small green fruit that looks a lot like mango and has a fibrous pit. It tastes a little like a mango, but more savory and sour. In a curry it was divine. This youtube video is a little long-winded, but as you skip through it you'll get a good sense for what this unusual fruit is like.
Cashew curry was a fantastic burst of flavor. They soak the cashews overnight so they are really soft and buttery. It's a subtle flavor that pairs well with coconut milk over some string hoppers.
Sri Lankan Curd with Kithul Treacle
In the mood for dessert? This is the Sri Lankan equivalent of yogurt with honey. Buffalo curd is popular in Sri Lanka and has a sour, tangy flavor. It's texture is similar to yogurt, but with a much stronger flavor. Treacle is a very sweet, sticky syrup, which I found it cloyingly sweet on its own. The Sri Lankans drizzle it over the top of the buffalo curd making a very light, yummy dessert. That sweet stickiness contrasts perfectly with the silk texture of the sour curd.
Milk Tea
Being Sri Lanka, you can't go and not get yourself a cup of black tea. They grow tea here. In the hill country near Ella you can tour the tea plantations and then sample a warm cup of black tea with milk. It is flavorful and delicious and perfect on a cool morning in the mountains.
Juices
We drank so many juices here. Watermelon, mango, lime, pineapple… whatever you can think of, really. They make juices everywhere here and they are damn good in the heat. Want something different? Try Faluda:
If you'd like more information about where we ate, this post includes some more. 
Any dishes you'd like to add? Post your suggestions in the comment section below!