Looking for the perfect Thailand Itinerary? How exciting! We would HIGHLY recommend this diverse, varied, exotic, welcoming country as a first step into South East Asia.
Thailand is the backpackers mecca, the creme-de-la-creme of foreign travel. Everyone should go at least once (although you'll probably go back again!). 10 days in Thailand is enough for a glimpse at some of the things that this wonderful country has to offer.
While it will give you a glimpse, 10 days in Thailand is not enough time to get to see all that you should see while in Thailand. That said, sometimes you gotta' work with what you've got. Here is a 10 days in Thailand itinerary that we've worked out based on our experiences, and other travelers' advice to hopefully bring you some suggestions for your next trip.
If you are unsure about what you want to see check out our list of questions to ask yourself before going away to help you focus your trip.
A couple of notes about Thailand:
Thailand is super safe and very friendly
Thailand is one of the most visited tourist destinations IN THE WORLD so if you want to escape all western society and go into the unknown, this is probably not the place for you (and 10 days wouldn't give you enough time for that!).
You can spend a ton of money here; it's super easy to do. Or, you can get frugal and go on a shoestring. Whatever kind of budget you have, Thailand can provide.
There are mountains, beaches, temples, nightlife, culture and food to see and try.
It's super hot here so pack light, and pack quick-drying clothes. We've seen so many huge bags being toted around and you just won't need all of that.
The Thai royal family is considered very important so if you go don't ever make jokes or talk badly about the royal family in public. Thais are really sensitive about that.
You can come here and spend 8 days on a beach. A lot of people do, however, have you really been to Thailand if all you are doing is spending the time on the beach? If it's sun and surf you want: go to the Caribbean.
Here's a sample 10 days in Thailand itinerary for those who want to dive in.
Arrive in Bangkok and then catch a plane leaving for Chiang Mai
You'll likely fly into Bangkok from wherever you are coming from. There are two airports: Suvarnabhumi and Don Mueang.
Suvarnabhumi is the super flashy, modern international airport serving all major airlines. Lucky you.
Don Mueang is the not-so-flashy, "wait-where-am-I?" airport. It will likely serve as the domestic flights/ cheaper budget airlines airport so if you are flying back and forth across the country you'll probably come in here.
Taking overnight trains is not very comfortable and takes a long time (Thailand's land mass is bigger than the state of California!). Flights to the North and South are reasonably priced and will save you a lot of time. If you had longer, I might suggest an overnight train just for the experience, but otherwise you are not missing much…
Day 1: Bangkok (BKK)–> Chiang Mai
Chiang Mai is a popular destination for tourists and it is easy to see why. There are tons of temples and sights to see in the inner city. At night there is a massive food market where you can sample all sorts of yummy Thai specialties like grilled fish or crispy fried pork.
*** This is a popular destination and because of that be prepared for a lot of tourists!
Day 2 & 3: Chiang Mai Area
There are a bunch of excursions you can go on around Chiang Mai. I did a three-day hike into the mountains around Chiang Mai and saw little villages, met some elephants, went tubing down a river, and slept under the stars. It was beautiful. Consider what you'd like to do and visit a local tourist agency (they are everywhere) to price out what you'd like to see and do.
Day 4: Chiang Mai –> Krabi (or Phuket! Also a good jump off point for beaches)
Heading down to the legendary beaches of the South is a must! These beaches are world class and you can really get a chance to relax and work on that suntan. Krabi is a good jumping off point for many of the islands:
Koh Phi Phi
Koh Lanta
Koh Pu
Koh Jung
…to name a few.
Day 5-7: Island life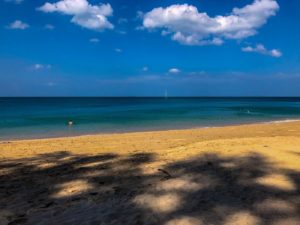 Koh Lanta is a really great island to visit as it is not full of too much nightlife and has massive sun-drenched beaches to bask on.
Koh Phi Phi is more of the party-goer island if that's what you are into!
Koh Pu and Koh Jung are quieter and smaller islands if you want to find more places to be alone.
Phuket is the end-all-be-all for tourists. It's vastly popular and has a teeming nightlife (but prices there are also inflated).
Day 8: Krabi (or Phuket) –> BKK
As you'll probably fly out of the metropolis at the end of your visit, why not save this for last? Bangkok is chock-full of great things to see and do.
Day 9-10: Bangkok
Consider visiting as many temples as you can while here! There are so many and each one is fascinating.
The Royal Palace is a really popular destination and it is fabulous, but be aware that the nearly 30 million tourists that come through Thailand each year likely stop to see this place so it is OVERRUN with people.
Eat lots of street food!
Visit Chinatown! Lots of great bars and restaurants that are super hip and trendy as well as a chance to see this crazy and exciting part of town.
We hope you've found this 10 days in Thailand itinerary useful! If you've got any questions or comments, feel free to leave us a message in the comments, or send us an email via our Contact page!
In this Thailand itinerary, we didn't include a visit to the Loei province, a really unique and under-rated area of Thailand. If you are at all interested in camping and/or hiking in Thailand you can check out this post to give you an idea.
When is the Best Time to Go on this 10 Day Thailand Itinerary?
Consider the shoulder season. This would be from April to June, September to October. During these periods the crowds are thinner and the weather isn't too bad.
The low season (June to September) is generally very hot and humid with more rain. I spent a month in Thailand in June 2013 and it was delightful. There are a lot more places that are closed due to the heavy rains, but there are far fewer tourists and you get more accommodation and tickets easily.
The high season which is generally drier and a bit cooler, is from November to March. The weather in Thailand is likely to be the best during this period, although the tourists come in droves! Expect accommodation availability to drop and be sure to plan your Thailand itinerary well in advance.
How Much Should I Budget for 10 days in Thailand?
This largely depends on what you want to pay for and how comfortable you want to be.
Generally, we budget $100 USD per day for the two of us. This is a really generous number, however, and it covers food, hotels, massages, excursions, and shopping with plenty to spare.
I know some people will budget about $50USD per day and that can cover basic accommodation, cheap dinner, and a few bus tickets.
If you are going to Thailand for 10 days, I'd recommend giving yourself some comfort by staying in the $70 USD range per person, per day. You can get a relatively nice bungalow for about $30-40 USD per night and have plenty left over to buy yourself meals throughout the day.
Check out our visit to Khao Sok National Park! It's really close to Krabi.
Looking for another 10 day itinerary? Here's one we did for Scotland.