Opting for a vacation from the vacation, Jackson and I decided to spend 5 days on Koh Lanta, an island in the Andaman Sea known for its long beaches and quieter atmosphere.
We had read online that the beach would be populated by a lot of Swedish families and that "you'd struggle to find a party to go to." This sounded just right to us!
There are a couple ferries that leave from Krabi which is a great port town to stop in on your way out to the islands. Our hotel (Sri Krabi) in Krabi was cheap and well situated, highly recommend staying there (it was right in the middle of a Weekend Night Market, which we were able to take ample advantage of!).
The ferry to Koh Lanta the next day was packed to the walls with tourists and felt really claustrophobic.
As we chugged our way through the harbor I felt sick and thoughts of drowning on a puke-colored boat seemed like a terrible way to die. The ride was 3.5 hours long (!!). If you are given the option of driving or taking the ferry: DRIVE.
All of the passengers bags were piled unceremonially on top of each other and when we pulled into port it looked like a dump truck of backpacks and luggage had been spewed out onto the dock. We were lucky enough to grab our bags and go, but others were not: one woman at the restaurant we subsequently ate lunch in realized she'd grabbed the wrong identical-looking bag to someone else– whoops. Highly recommend getting a distinguishing feature on your backpack when traveling. There are a lot of Ospreys out there…
Rather than get into the gory details of our stay in Koh Lanta, I'll give you the highlights:
Where we stayed on the Island (off of Long Beach) it WAS NOT QUIET.
Our first night was fine: a little bit of a bass in the distance, but nothing we couldn't handle. Then: Sunday night came along and the live music started. It was god-awful crapp-o-la of the highest and rankest degree. Screeching and crooning Bob Marley wannabes were singing their guts out to an ill-timed band of shipwrecked cats who needed to play for their dinner. Not only was the music bad, but it started at 10pm and went until 1:30am. And that's not all! We had the privilege of listening to the same 50 hits played Sunday, Monday, Wednesday AND Thursday nights. At one point, the music was so loud our roof started vibrating. We were pissed. Where was the "tranquil night's sleep"? The "can't find a party even if you tried"? We complained to the hotel manager who promised us that he'd call the police and then promptly took all the credit for how quiet Tuesday night was (yeah, because the live bands play Sunday & Wednesday at one spot and then Monday & Thursday at the other, Numb-Nuts).
I felt like the cranky old lady who lives above the frat party and calls the police to shut them up. These sing-a-longs WERE frat parties, in a way. By the end, the drunken red-faced tourists would scream and holler shouting for "ONE MORE! ONE MORE!" whilst Jackson and I screamed into our pillows: "NO MORE! MAKE IT STOP! IF I HAVE TO LISTEN TO 'DON'T WORRY' AGAIN I'LL PUNCH SOMEONE!"
On the upside: the beach lived up to its reputation
We went to watch the sunset for 5 nights in a row and none of the nights disappointed! Beautiful, full, red sun. Turquoise waters. Clear skies. A soft breeze. Each sunset a masterpiece of nature and we loved witnessing them.
The surf was really calm and the water was a great temperature: not too warm, not too cold. Perfect for when you feel like you're getting crispy and need a dip to cool down from the hot sun.
The sand was soft and we could find a spot to lounge in the shade of the large bushy pine-needled trees that swayed in the breeze and came alive at night with cicadas.
We went exploring
On our third day, we decided to set out to find the next beach along the coast. The walk there (over an hour) was hot and took us by the main road and some beach. It was hard going and not a particularly enjoyable hike. We were trying to find a restaurant a friend had recommended ("Three Sisters" was closed when we got there: Sorry Rosie!).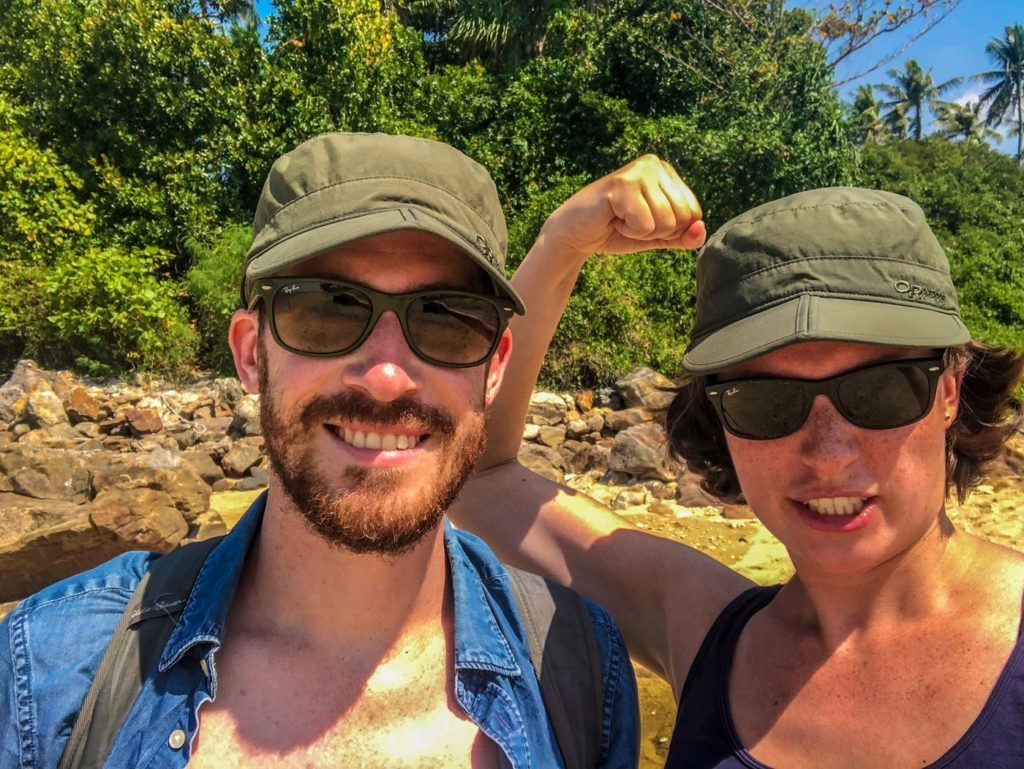 The walk back after lunch was really fun! Rather than taking the main road, we found tiny dirt tracks that wound their way into the jungle and through the beaches. At one point the dirt track ended and we were left having to scramble over boulders and rocks on the shoreline, scampering our way back to Long Beach. It was hard work (and probably really dangerous!), but super fun.
Would I recommend Koh Lanta?
Yes. But, don't make the mistake we made and stay near a bar that has live music. If you can, search the area you are looking to stay and make sure your spot doesn't have a "Tree House" or "Beer Belly" pub that you're likely to hear every Bob Marley hit being covered badly. Otherwise: Lanta was lovely. A very relaxing beach vacation.
Also: If you can, get a massage package at Dreamy Spa. We got a massage, body scrub and facial (2 hours total) for about $40USD each. It was divine! That body scrub was wonderful!