Oudtshoorn, I would hazard to say, is not known the world over for much. It's a small town located in the plains of Southern Africa, about a 2 hours drive inland from the coast. What sets this location apart is the Cango Caves: a sprawling chain of subterranean chambers that reaches back into the mountains some 1.2 k/ 1 mile back from the entrance.
Feeling cocky from the cave adventure we did in Khao Sok, Thailand, I was ready to explore some more underground catacombs. Jackson, Jen and I signed up for the "Adventure Tour" an extended tour that takes the visitor farther back into the caves to go on a special exploration of some of the smaller areas not seen by the general public.
I was feeling a little less confident when Jackson described the measurement tools at the entrance for people to measure if they are "small enough" to go through the caves (small enough, how small!?) We were also warned on the website that you need to be physically fit to do the tour and that the whole thing would take about 90 min.
Some quick info about the caves:
The drive to Cango Caves is a 30min drive from Oudtshoorn.
The tickets for the adventure tour came to 290 Rand for me and Jackson ($25USD at the time of writing this).
You can buy the tickets at the box office, but make a reservation beforehand. We asked our host at Oudtshoorn to do us the honors, which she did with gusto.
A little bit of history of the Cango Caves will tell you that prehistoric man lived in them some 80,000 years ago (dang!). It wasn't until the 1700s that they were "rediscovered" and the European settlers took an interest in exploring them. Over the course of the next 200 years explorers would excavate and discover more chambers by climbing deeper and deeper into them.
Inside:
When we entered, we were greeted by a very well-lit, easy-to-follow path.
Our guide was a lady who seemed thoroughly "over it" and admitted as much as she turned on the lights (for what must have been the 100th time that week) so that we could take more detailed pictures of the fantastic stalagtites and stalagmites. At one point she pointed to a column and told us the pillar was over 250,000 years old and then practically yawned after mentioning it.
"Is anyone claustrophobic?" She asked before we continued.
I timidly raised my hand.
She gave me a side-eyed glance that said I've seen your type and said: "We'll see…" before hustling us over what she called "the first warm-up."
The first warm up was a breathless series of staircases that rose up and down through what felt like an endless row of chambers. Our guide raced through them and I tried not to look winded while catching up. As she walked she said that the deeper we got into the caves the more humid and stuffy it would be. She explained that there was no ventilation back there and that the only fresh air coming in was from the entrance we had walked through all those many moons ago. I'll be honest: the idea of crawling through a tunnel with nothing but humid, stuffy air made me want to panic-run back to the entrance. Where was my sense of adventure like in Khao Sok?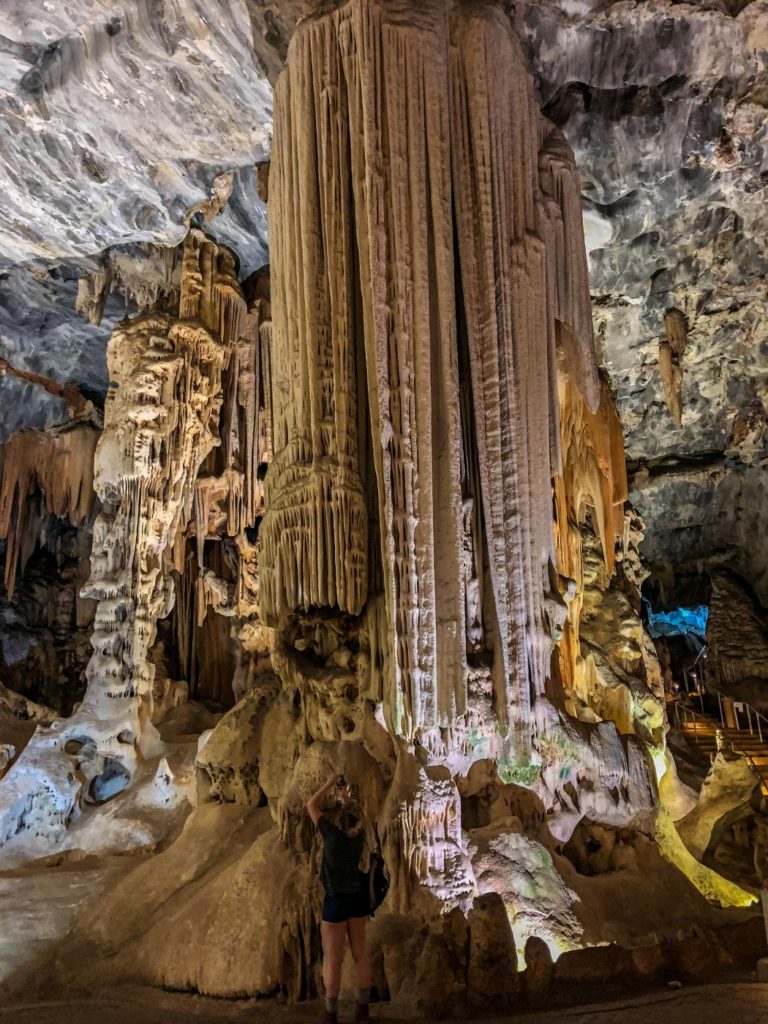 We had to walk through one chamber that had a really low ceiling so we had to walk doubled over for a while. I felt like the earth was going to crush me. Ugh, why does anxiety have to ruin a perfectly fun adventure?
We arrived at the "waiting room", a medium sized chamber that our guide told us could be a place for us to drop our bags, phones, waterbottles, and weakling members who were too yellow-bellied, chicken-shit to go into the smaller chambers. Pointing to a long metal ladder that led up to a tiny opening, the guide then said that that was the "Tunnel of Love" because it hugs you as you walk through it. Was it hot in there? I tried to take deep breathes.
"Jackson. I don't know if I can do this…" I said as one of our group of 6 announced loudly that there was no way in hell he was going up that ladder.
The guide overheard me.
"Try the Tunnel of Love, if you can't do that you can come back here and wait." She said. I looked her up and down. She wasn't very tall, but certainly had more girth than I did. If she can squeeze though the tunnel everyday with a group of stupid tourists (sometimes as many as 30 people!?!?) then I could do it.  She made no effort to convince the guy who dropped out to come. Perhaps she saw something in me?
The adventure that followed was, indeed, every much of what the adventure tour promised. I mean: this was a playground for adults. The real turning point was crawling through the "Devil's Chimney" a tiny tunnel angled at 45 degrees and only 24 inches high. It was 4 meters long (about 13 feet). To get through it, you have to crawl on your belly and haul yourself up using your arms and legs whilst slithering across the bottom.
I did it. I almost bailed but Jen and Jackson would hear none of that. Victory!
All told, the adventure tour with our group of six (3 other local South African engineers joined us) took an hour. It was so much fun and I would HIGHLY recommend this! Although the warnings are right! You should not go on this tour if you have any extra girth and if you get winded really easily. 
Quick Note: when you slither through "the Letter Box" opening, remember not to breathe too much…