We tried to do as many activities in Cape Town as we could (without driving more than 20 min.) in the 5 days we were there.
Our first hike was up Lion's Head.
This hike was billed as an "easy" hike that should take between 2-3 hours. I would not call this an easy hike. Then again, we hiked this mountain at 1:30 in the afternoon when the sun finds all shade and burns it away to hot embers. So, maybe this hike is easy in the soft temperatures of early morning? I dunno.
The hardest part of the trek is near the top when you have to use metal staples and chains bolted into the rock wall to haul yourself up. There are plenty of signs around this part that will gleefully tell you the city has no part to play in your demise should you be stupid enough to hurt yourself or die up there. Therefore: you are forewarned you take this hike at your own risk.
The top of the mountain is stunning. Hell, the walk up is stunning, too! There is a 360 degree view of the city and the ocean and you cannot take enough pictures!
All told, it took the three of us about 3 hours to go up and back. We were sunburnt, sweaty messes when we were done, but boy did we earn the FABULOUSLY delicious burgers we ate at Royale Eatery.
The next hike was a smaller "ouch my thighs hurt too much" cop-out up Table Mountain.
This short hike is called Kloof's Corner and takes the hiker up to a gorgeous panoramic view of Camps Bay and Lion's Head. It's about an hour up and back. This was a lot easier than Lion's Head, but still quite steep and very hot in the sun. Would recommend this walk if you have family members who hate hiking, are too out of shape to hike, or you're busted in the legs (us).
3rd hike, Table Mountain, was Awesome…
…and also a Butt-Kicker to the maxxx. Like: StairMaster 3,658 Steps Up and Down. It's a hike that makes you want to lie down and wimper when you're done, which is exactly what we did when we finally came down (5 hours later) and beached ourselves in Kirstenbosch Botanical Gardens. We only found the motivation to move when a little snot-nosed boy threw up next to us. Sore muscles be damned!
The views at the top are (wait for it…) stunning. Plus, there is a lot to do and see when up there.
There is a friggin' beach (but it's really chilly in the wind, so maybe bring a sweater?).
There're a bunch of gorges to climb in, too.
We did not do the cable ride because it was too windy. Oh well. Another burger at Royale Eatery should help soothe that loss (and aching butt). For Goodness' sake get thee a mint chocolate milkshake: yowza!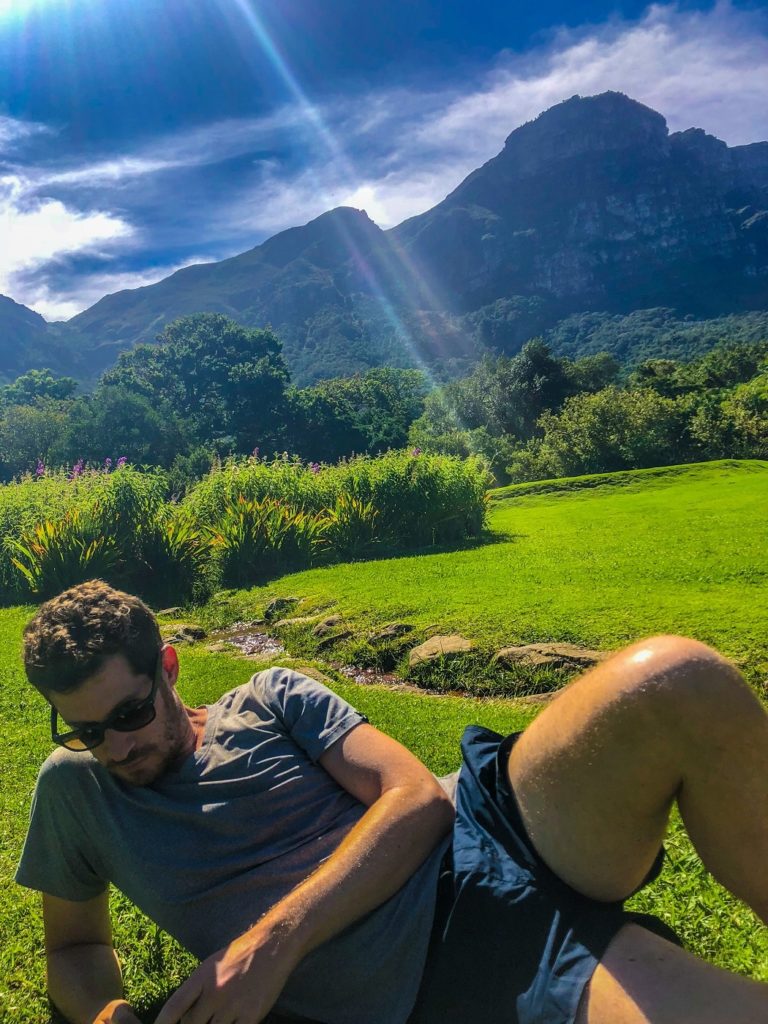 We also explored VA Waterfront.
This is where a whole lotta' tourists will go to get artesanal ice cream, expensive appetizers, and listen to some really great busking.
We passed on the expensive appetizers (how could we eat that muck when Royale Eatery's pizza called to us?! I promise I am not getting paid by these people or in any way benefiting from pushing this restaurant: it was just SO DAMN GOOD!).
The ice cream was yummy! The buskers were fabulous! Lots of great music and of so many varying styles. All African: a major plus. A great walk, overall.
Walked around Bo Kaap
This neighborhood of predominantly Malay transplants is filled with delightfully colored houses. It is also where we were staying while in "The Bowl" of downtown Cape Town.
The only thing to be aware of if you stay here is that the mosques will do their call to prayer starting at 5am. The prayers will echo all over the area and there are a lot of mosques…
Toured the Biscuit Mill
Super touristy. Super Yuppie. Super pass.
Didn't like how crowded this place got. I felt like I was in a Brooklyn Farmer's Market on a Sunday at 11am. It was pack-o loco. There were so many people we couldn't even make out the stuff for sale in some of the stalls. Ew.
Look: if you like tchotchkes then this will delight you. Otherwise the lines were so long we couldn't even smell what they were cooking, let alone look at it. We booked it out of there after about 40 min.
We Went to the Iziko South African Museum
At about $3USD per person for the entrance, you can't really go wrong. If the weather outside turns to a spitty rain (which it did while we were there) high thee to this really beautiful building to tour the numerous animal replicas. My favorite part was the photography room filled with winners and honorable mentions of some of the best wildlife photography I have seen outside of National Geographic. We spent about 2 hours there and that felt like quite enough time to get the lay of the land.
With all these activities in Cape Town, you can really enjoy the city and the surrounding area with very little driving. There is plenty more to see that we didn't have time for! That said, you can easily spend a week here if you're willing to drive out of town (which is quite easy as the traffic was not too bad!).