We were on our way to Fish River Canyon and Namibia stretched out in front of us: a never-ending lunar landscape in all directions. It was shocking because as soon as we had passed the border the entire world shifted (how is that possible?). We went from reddish sandy semi-arid climate with rolling hills to slate-gray and flat. Also: all the cars disappeared. Everyone disappeared.
We drove in wondering silence as B1 shot ahead of us into the mirage created by the heat of the sun. It looked like the sky was leaking onto the asphalt and swallowing everything on the horizon. I was reminded of the people wandering the desert looking for water and getting excited by the mirages, it really does look like pools of water in the distance.
Namibia is nothing but distance. It's distance everywhere. I'd never realized how small and digestible people can make a country feel until the people were all gone. It was the four tires underneath me that was the sole reason I was not going to lie down and die in the middle of this nothingness.
We didn't pass our first truck until 30min into the country. It blew past our 2-wheeler like a hurricane, shaking us in its wake. This was a major road! Where was everyone?
We pulled over to a rest stop to get our bearings. Opening the door the air was hot and windy, tons of gray sand being pulled across the highway by the wind and then whipping out toward the emptiness that surrounded us. In the distance we saw clouds that were probably dropping water somewhere although it seemed impossible that this part of the world ever got water. Jackson and I stood dumbfounded at the sheer size of what we were looking at.
I've never been to space, but I suddenly felt a love toward our stupid white Ford Fiesta that was fierce. This little car was our spaceship, our tether to humanity. It was our way out and our way in. It was a tiny mouse hole in a large brick wall of nature that one could look at and find any semblance of meaning and scale.
"Let's get back in!" I yelled over the wind. Jackson gave me a thumbs up.
Pulling the door closed and starting off again I panicked a little at the grand scheme we were trying to realize. Who were we to try to drive Namibia in a 2-wheeler? Were we crazy? Barreling toward Fish River Canyon the roads were well maintained: no potholes, no garbage, no traffic. I was so relieved.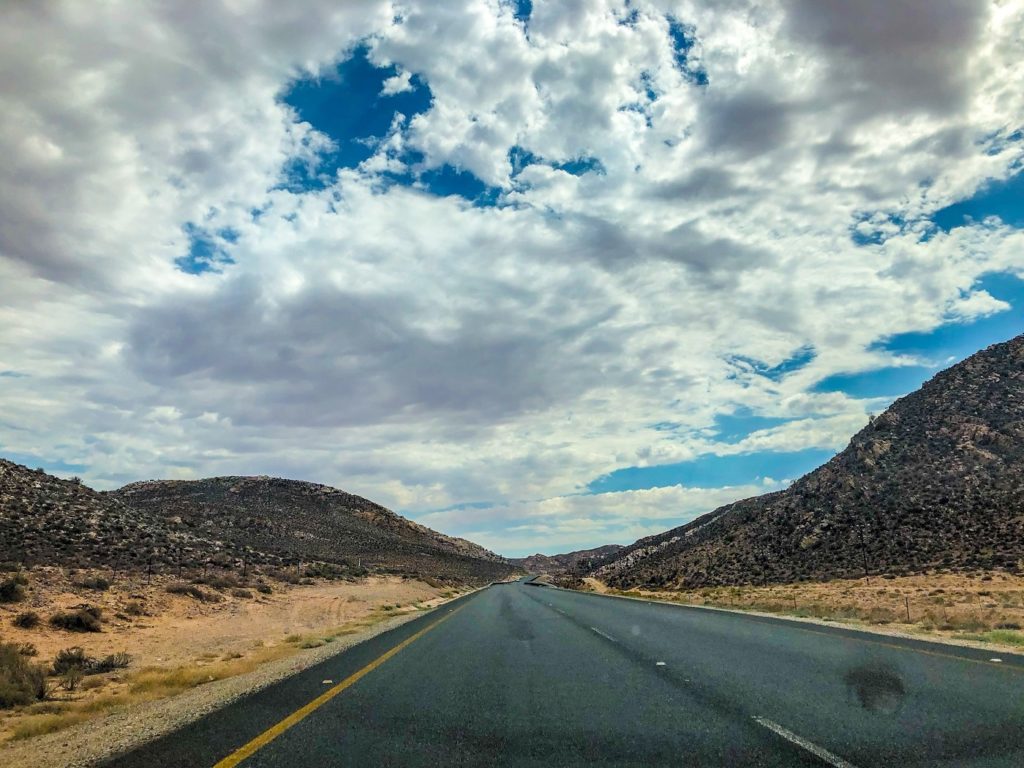 Namibia has an alphabetized road system. An 'A' road is a super fancy you'll-find-me-by-the-capital-only road. The 'B' roads exist as the main arteries of the country. They snake up and down and generally lead the drivers to bigger settlements and cities in Namibia. 'C' roads are paved/non-paved gravel roads, depending on where you are. 'D' roads are gravel and dirt roads that snake into the bush and lead to national monuments and natural wonders (we lovingly began to call them "We're Dicked" roads). And, let's not forget the 'F' roads, the "you're fucked if you are on one of these without a 4×4" roads. We haven't taken one of those yet as most of them look like a goat path turned into a road large enough to drive about 100m in before you sink your car into 3 feet of sand.
Most roads to get anywhere in Namibia are the 'C' roads.
We quickly learned even if it the map says you can drive a 'C' road in a 2×4, that doesn't mean you should…
To get to Fish River Canyon from South Africa, you'll need to turn off B1 onto C10 toward Ai-Ais. This road was much bumpier, but overall fine. We dropped from 120km/h to about 70 and tooled our way toward the second largest canyon on the planet. The landscape changed immediately: rocky, hilly and brown.
Skipping Ai-Ais in favor of getting to Hobas Campsite, we turned right onto D324 (otherwise known as C37) and hit bumpy, corrugated roads. Our speed plunged to 30km/h and we bumped and banged our way toward the campsite. We didn't see a car for an hour in either directed before several 4x4s blew past us, blanketing us in their dust (this happened a lot in our 2-wheeler).
Ever driven on highly corrugated roads? If you haven't, I'll save you the trouble: THEY ARE VERY UNCOMFORTABLE. We bounced along in our little car and jostled our way toward the campsite. It took a long time.
I'll be writing a post specifically about the camping in Namibia, and save that for later. In the meantime, here is a stunning sunset we saw from our camp:
Fish River Canyon was nice. It's no Grand Canyon, but it's very beautiful. Here are some photos Jackson took of it.
We woke up early and booked it out to the viewing platform from the campsite around 8am. The drive to the edge took us a while (about 20min) because the roads were bumpy. (I imagine a 4×4 would get there about twice as fast as we did!).
The first viewing platform is covered in info about the canyon, the ecosystem, some history of the region and weather. Somewhat interesting. The platform is nice and has places to sit and eat under shade. The view is underwhelming. Once we were there I felt wholly unimpressed. I felt guilty. It is a really nice canyon!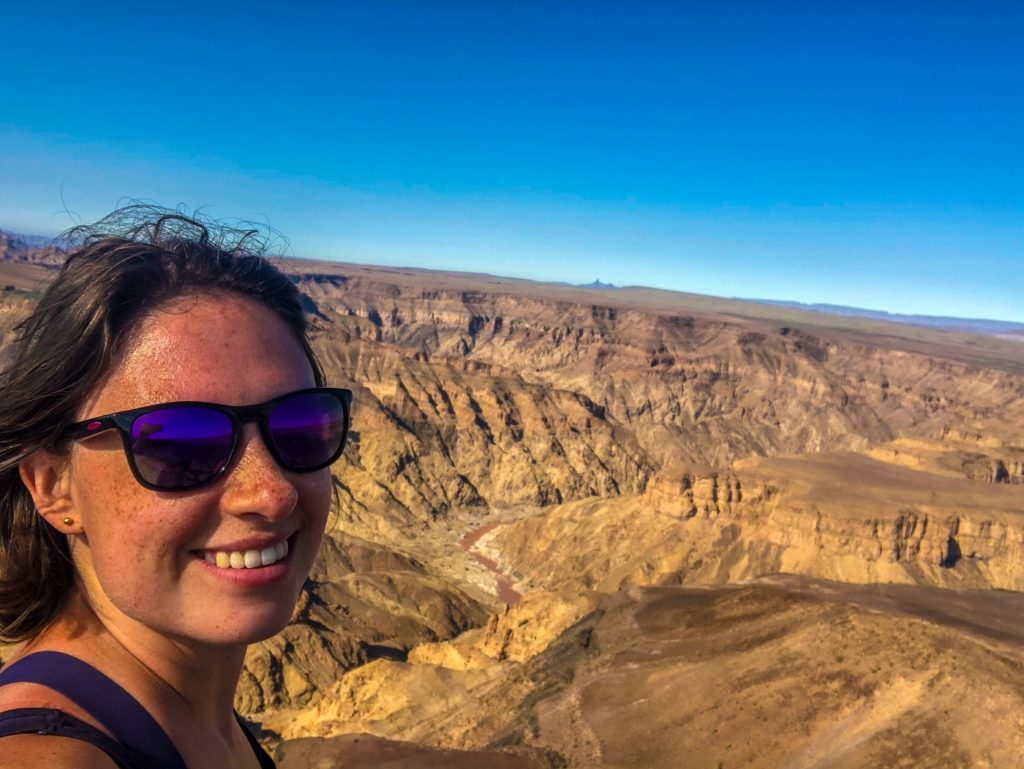 Jackson suggested we walk along the edge to another viewing platform in the distance. Seeing that it wasn't too hot by that point, I agreed.
The walk was about 30min each way and provided excellent views of the Canyon! My misgivings earlier faded away as I was able to see the canyon walls fall into the distance. This was more like it! Plus, we were the only ones doing it so we could stop and admire and go as fast as we wanted. I'd highly recommend this walk!
The other viewing platform is the entrance to the 5-day hike you can go on that follows the Fish River and puts the hiker at Ai-Ais at the end. It sounded like a really cool hike, but not one I would do in the summer. Apparently, temperatures in the basin of the canyon can get as hot as 50C during the day and drop to 0C at night! Yikes!
Camping costs came to about $30USD for two nights and 2 people. You'll need to pay for the park entrance fee which was about $25USD for two nights. Honestly, you could probably only spend one night and see the canyon the next morning before driving off because there are no real hikes you can do and there isn't much activity to participate in at the campsite other than a pool. The WiFi cost money to use, so we didn't.
Namibia was off to rip-roaring start!