What is Namibia Like? Namibia is breathtakingly beautiful, vast, and empty. It's a great off the beaten path holiday destination, the locals are friendly, it's safe, and tourists are almost non-existent in some places. Travel in Namibia is a great time. 
Here is a list of 10 things to think about before your trip to Namibia. Overall, this place is awesome if you are looking for vast, untouched desert, wilderness. If driving uninterrupted with nothing and no one to bother you is your kind of thing, you are going to right place.
It's the Perfect First Splash into Africa.
Ever dreamed about African travel but didn't know where to start? Travel in Namibia! Screw Botswana: it's expensive and teeming with tourists!
Many people think of Africa as a country (it's not) riddled with AIDS, sketchy thieves, and Malaria. This can be true of almost anywhere on the planet (hate to tell you this, but there's AIDS in The States, too!). Namibia is an example of the best of what Africa can offer: clean, safe, and beautiful.
I think a lot of people opt for the overland tours and pre-arranged itineraries "just to be safe", but that is so not necessary for Namibia! You can easily do an off the beaten track holiday on your own here. And, I think, you'll enjoy yourself more.
There are some bumpy roads and some seriously empty places (bring water and food in case you get stuck for a few hours…) but otherwise travel in Namibia is not too much worse than travel in any other "western" style country.
Namibians speak English! Woohoo! Oh, they also speak German, too! You can get directions, order food, talk about the weather and even eat delicious German cuisine.
Petty theft is not really a thing to worry about outside of the major city centers. Your biggest concerns will be based around your car: flat tires, cracked windshields, busted suspension coils, running out of gas, and getting stuck in sand are very common problems on the road.
Namibia has so much to offer the adventure seeker, the wildlife enthusiast, the star-gazer, the camper, the explorer and even the lazy.
Etosha National park boasts elephants, rhinos, cheetahs, giraffes, zebras and much more. You can go to the desert to climb sand dunes at sunrise. There are incredible dark skies to watch the stars. Rivers to swim in that are full of hippos and crocs! You can check out massive canyons and empty parks that will stretch on into the horizon. Truly, this country feels untouched, pristine, and away from everything. It's perfect.
Namibia is an Off the Beaten Track Holiday.
Recently, Mr. Trump called Namibia "Nambia" and referred to African countries as "sh*tholes." He couldn't have been farther from the truth (or more embarrassing, but that's a different story…).
Very few people know about Namibia (even the president of the USA, for that matter!) Because this is so not well-known, you will not be competing with hordes of tourists. In fact, you'll likely be the only person on that canyon ledge or driving along that gravel road in the middle of the beautiful park you'll be cruising through.
Most people will have never heard of Namibia and travel in Namibia means a chance to break free of well-trod paths and sit in a space of your own.
It Feels Like No One Lives Here.
Namibia is one of the least densely populated countries on the planet. As a result: it'll be empty road for hours. No cars. No people. No houses. Well, maybe a zebra. Travel in Namibia is all about the solitude of the nature around you. If you're looking for city life and people: you're in the wrong place.
It's Not Cheap.
I hate to tell you this, but Namibia is not for the shoe-string traveler. We did our damn best to keep our travel expenses to a minimum while traveling around for a month and it was hard. There are precious few hostels (and you'll only find them in city centers), lodges are mighty expensive, and gas will really start to add up.
If you're not willing to part with the $100-200 US dollars per night to stay in a lodge, prepare thyself for camping. You can read more about where we stayed here.
Generally, camping will cost between $20-50 dollars per night for a couple.
Renting a car will cost about $30-50 bucks a day for an SUV, about $100 for a fully loaded 4×4 camper van. Entrance fees will run you between $5-20 bucks, depending on the park.
Dinner will cost about $10-15 dollars per person in a restaurant. Travel in Namibia can be done on a budget, but not a small one. Expect to pay about $80-100 USD per day for a couple.
You'll Need to Rely on Yourself.
There is no public transportation easily accessible to tourists. Other than an overland tour, you're going to have to rent a car and do A LOT of driving. We wrote more about how to stay safe and other tips here.
Renting a car is your best option, but if you can't drive stick shift on the right side of the road (they drive the same side as the British!) you'll need to get on a tour.
Most travelers will opt for the loaded 4×4 (did I mention it was $100 bucks a day!?!). We tried to do the trip in a 2-wheeler which turned out disastrous for us, and eventually swapped up for an SUV which made the travel SO MUCH BETTER. (Here are some tips about renting a car in Namibia.)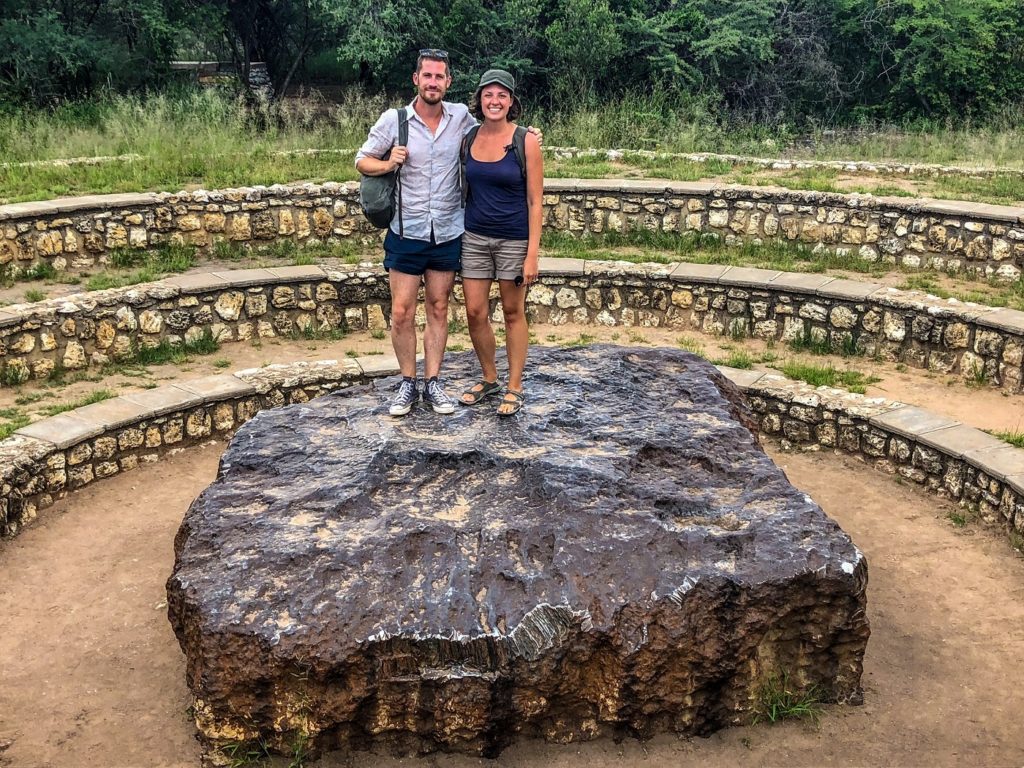 The Internet is Almost Non-Existent.
Sorry, but if you like connecting to Facebook at the end of the day you're gonna be very sad. There were precious few times we could connect to the internet or even get data on our phones.
Jackson got a Namibian SIM card which only worked in the towns and cities (that made getting stuck in sand in the desert for a few hours REALLY fun because our phones didn't work…). WiFi is slow and expensive at camps. Bring a lot of books or a kindle.
I like to think that if you're looking for a truly off the beaten track holiday, a destination that will cut you off from the internet is a good start. I liked that I couldn't get on Instagram for a while. I felt more in the moment. 
No internet? We went to the Swakopmund Museum for a little afternoon entertainment.
You Can't Trust what Google Says.
Don't rely on google to help you. It is surprisingly out of date about what roads exist, padstals (farm-to-table restaurants) you can get food in or even what towns exist on the map. We used the "MapFactor Navigator" App (free!) which was invaluable to us. You can download the map beforehand and it acts like a GPS even when you don't get signal (which is most of the time!).
You'll likely get free Namibian maps at the borders and in the cities, which can also be a big help. Travel in Namibia will leave you looking at a map a lot! Hope you still know how to read one!
Namibia's Pixelated Unless you have a Zoom Lens.
iPhone pictures will not do your trip justice. Zebras will cross the roads and get close sometimes, but usually hang out in watering holes way over *there* and your only hope of capturing that is with a zoom lens. If you're gonna come down here, come prepared!
Because this country is so quiet, it's really easy to see animals here. We loved looking at them in Etosha, especially.
Travel in Namibia is Impossible Unless you get Yourself Some Comprehensive Travel and Car Insurance.
You will get a flat tire. You will crack your windshield. You will need insurance to help you out. Just accept it and enjoy yourself.
Namibia's Full of Varying Weather.
We visited in the shoulder season of March (the rainy season). In the desert that means a whole lot of nothing because you'll have blue skies and hot hot sun no matter what time of year you're there.
In Caprivi, in the North, it meant tons of thunderstorms.
On the coast, it meant a lot of wind and mist.
In the rest of the country it was hot, dry and beautiful.
Rainy season also means a lot of green growth, plentiful watering holes and fat animals. You won't see as many animals as you would if you were to go during the dry season, but you will see lush forests, full rivers, and tons of birds.
There are a Ton of Really Cool Things to See While you Travel in Namibia
I'm not talking about just animal watching, which is really cool. I'm also talking about natural phenomenons that are unique and wonderful to this area of the world.
We really enjoyed visiting Keetmanshoop and seeing the Quiver Tree Forest, hiking around the Giant's Playground and then finding fossils.
You can also go visit the 2nd largest canyon on the planet, climb sand dunes, oggle cave paintings, and swim in croc-infested rivers (don't worry: they won't get you!).
We enjoyed wandering downtown Swakopmund and then getting the opportunity to see seal colonies that are MASSIVE.
What's Namibia Like?
In one word: Awesome.
Convinced?
I hope you are. So many people will overlook travel in Namibia simply because they've never heard of it. Botswana has got Prince Harry's approval, so it's overrun with tourists and is very expensive. I've got so many stories to share of how wonderful this country is. I hope one day you get a chance to see it for yourself. Truly, an off the beaten track holiday never looked as cool as this, in my opinion.
If you're curious about other off the beaten path holiday ideas, feel free to look at our travel in South Africa and Botswana. We loved our 2-month road trip in Southern Africa.