Keetmanshoop is unique because the quiver tree forest, crazy rock formations, and fossils around this dusty desert town really made our mouths drop. All are about a 15 min drive from each other and offers the visitor something really spectacular to see.
It's hard to put to words what a quiver tree forest looks like in person, but…
Imagine you're in a world in which dinosaurs still roam around and, I dunno, their silhouettes howl into the horizon. You're in the desert and you are surrounded by very strange looking trees that bush out from rocks all around you. You know you're on Earth, because the sky is blue, but otherwise it's strange AF. It's a land that feels untouched by humanity and far, far older than we can imagine. (That is, until the flood lights come on at dusk and suddenly the magical feeling is dampened by the orange glow). That's kind of what it feels like to wander around this place.
Those quiver trees are not actually trees. They are of the same family as the aloe (looking at their leaves they strike a very similar resemblance). They will reach maturity after 200 years and stand very still even in strong winds. Why are they called "quiver trees"? because the san people (the old inhabitants of the area) would use the branches of the trees to hold their arrows while they went hunting. So, a quiver for their arrows and therefore: quiver tree.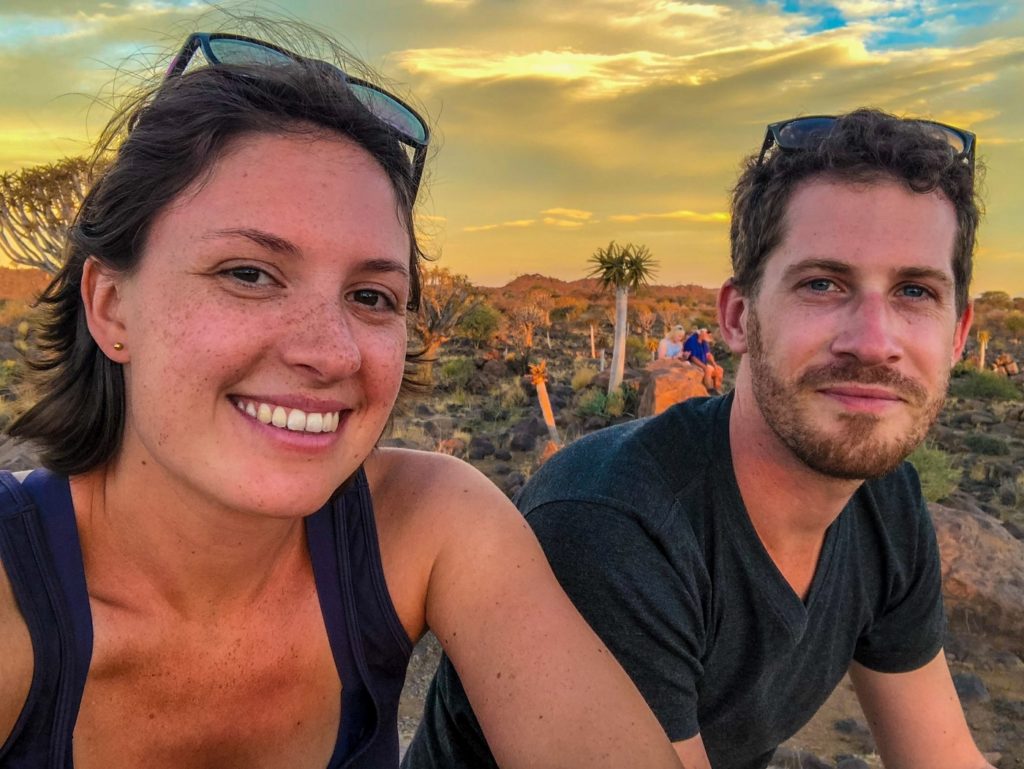 We walked into the forest at sunset and watched the sun sink through their spiky branches and liven up the sky with tremendous amounts of pink and magenta. There was a distant storm that first night and the entire sky was putting on a spectacular light show. We sat in awe until the world turned deep purple, then blue, and we had to walk back to camp.
The only thing to really ruin the moment was the occasional sound of the cars on the road.
We visited "Giant's Playground" down the road the next morning. This area boasts massive amounts of rocks that are piled high, as if a giant came through and decided to precariously pile massive rocks on top of each other. Remember when I mentioned how the quiver tree grows out of the rocks? These are the same rock, they're called dolerite and were formed 160 million years ago in that same magma non-explosion that took place in this area. The rocks get a black hue because of oxidation after years of being exposed at the surface.
This place was especially eerie because we were the only ones there and it seemed that every corner we turned looked exactly like the last corner, causing the mind to wonder if we had been there before. The path is well marked with posts and signs so you don't get lost, but even just climbing over a pile to get a look at the landscape made me nervous about getting lost. No cell coverage. No people. No road after a while.
The visit to the "Playground" only took about 40 minutes and the price of admission was included with the cost of the ticket to the quiver tree forest which was about 100 Namibian dollars per person (roughly $8USD).
We drove further down the road to see the Mesosaurus fossils.
This, I think, was one of the coolest reasons to stop at this area. Remember how I mentioned dinosaurs back there? This is the evidence of them!
Giel, an old leathery farmer with bright blue eyes that twinkled with laughter (which he did quite a lot), took us on a wonderful one-hour tour of his farm to show us the amazing finds he has.
He showed us the grave of a German soldier who was shot and killed by the locals over one hundred years ago. Then he took us to the place where seriously well-preserved Mesosaurus fossils were lying in the sand. Too cool!
He explained how his son had found the fossils about 30 years ago and that he thought it was a salamander's impression on some sand. Upon further research from the local paleontologists at the local university, they were all able to learn about the small creatures that had once flourished in the murky swampy area that used to exist millions of years ago in what is now dry desert.
I gawked at the fossils. He even let us touch them (sacrilege!). The tour was 130 Namibian dollars per person (about $10USD).
Keetmanshoop is just up the road from Fish River Canyon and is a perfect place to stop to see some awesome stuff. I'd recommend 1 night here as most of the stuff you can see can be done in a few hours.
Have you been to Keetmanshoop? What did you think!?