Keetmanshoop, Namibia is unique because the Quivertree Forest, Giant's Playground, and fossil hunting around this dusty desert town really made our mouths drop. If you are looking for things to do around Keetmanshoop you're in for a happy surprise.
Where is Keetmanshoop, Namibia?
Keetmanshoop is located in the Southern section of Namibia, at the junction of B1, B4 and C14 highways. It's a small town with a couple choices for gas stations, grocery stores, and mechanic shops (in case you need any supplies!).
Keetmanshoop is about 3.5 hours from Luderitz via B4, about 3 hours from Vioolsdrif (the South African Border) via B1, and about 2.5 hours from Fish River Canyon via C37 and C12. It's at a crossroads for the rest of Namibia.
Why Stop in Keetmanshoop?
The great thing about this area is the attractions surrounding it. If you are planning on a trip to Luderitz, it's a great place to fuel up. It's also a good stopping point if your next destination is further north.
Namibia does not have a lot of places for a self-driving road tripper to stop and get supplies, so basically anywhere that can get you what you need for the next leg of your trip is a good thing. If you need more information about driving in Namibia we wrote all the tips we learned from that.
There are plenty of things to do around Keetmanshoop, and it is for these reasons we think you should make this area a place to stop, explore, and stretch your legs.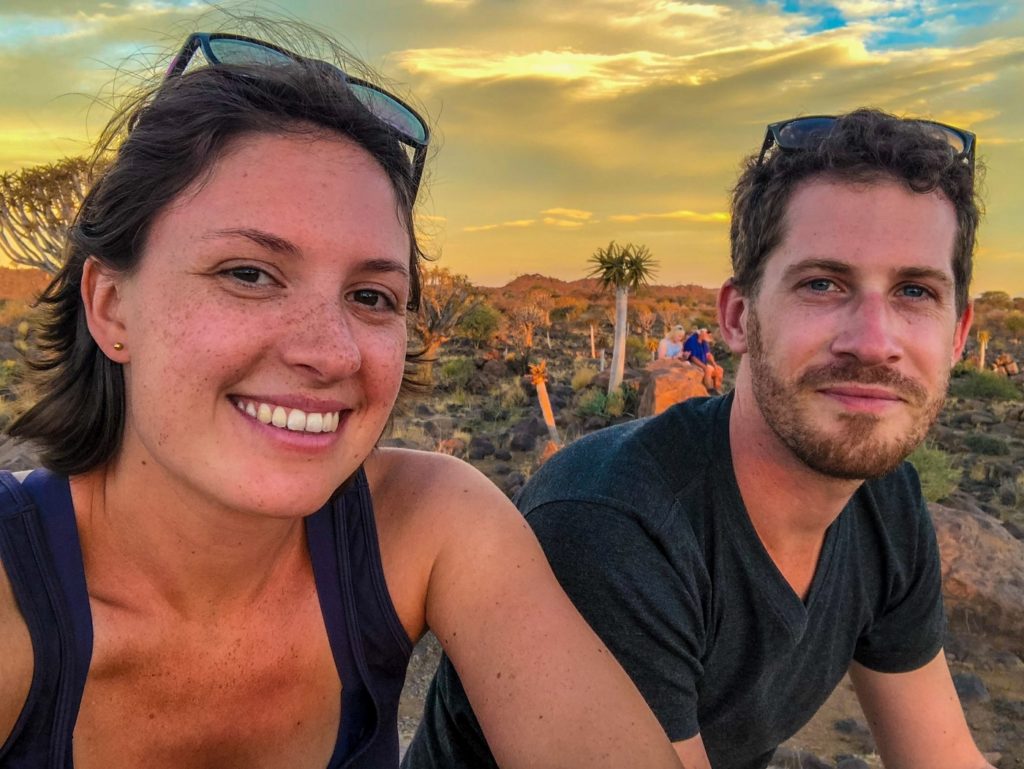 Where we Found Accommodation Near Keetmanshoop:
Quivertree Forest Rest Camp
We didn't stay in town, instead opting for the Quivertree Forest Rest Camp, accommodation near Keetmanshoop, which is about a 20-minute drive from town on C17, a dusty, corrugated road.
You can drive C17 in a 2-wheel drive car, but expect a bumpy ride (we managed to do about 2 weeks of our Namibian trip in a 2-wheeler before it broke. Wouldn't recommend that!). If you need advice on renting a car in Namibia, we've written more about there here.
We paid $480 Namibian Dollars (NAD) (about $34 USD) for the first night, for the two of us, to camp. This fee included entrance to Quivertree Forest and Giant's Playground which are both owned by the owners of the Rest Camp. For the second night, we paid $140 NAD (about $10 USD) each.
For entrance to the Quivertree Forest and Giant's Playground, expect to pay about $100 NAD per person (about $7 USD) if you are not staying at the camp.
**These prices are for 2018 and may have gone up in 2019. Be sure to check their rates on the website if you have questions about them.
Overall, Quivertree Forest Rest Camp was OK. We stayed at a couple of camping sites throughout Namibia and this was not our favorite in terms of facilities and quiet, but it was the most convenient accommodation near Keetmanshoop for the things we wanted to see.
For a list of places we stayed in Namibia, check out the 11 campsites in Namibia we stayed at.
Mesosaurus Fossil Bush Camp
We didn't stay at this camp and cannot speak to the accommodation there, however, this is further down C17 and likely to be more quiet than the Quivertree Forest Rest Camp.
We did go to get a tour of the Mesosaurus Fossil area and this camp was close to that attraction.
For rates and availability for this accommodation near Keetmanshoop, you can check out their website here.
How Long Should you do some Keetmanshoop Camping?
We stayed 1 day, 2 nights which was more than enough to see everything. Honestly, we'd recommend staying 1 night and taking most of a day to go see all the things to see around Keetmanshoop before driving on to your next destination.
Like with all places in Namibia, it's important that you book in advance (a couple days is enough) so that you are guaranteed a place to camp or sleep. This area is not a hot-spot of tourist activity, but Namibia is not chuck-full of accommodation in general and accommodation near Keetmanshoop is somewhat limited. You don't want to get caught out!
Camping is not the only option, of course. There are other alternatives that are pricier.
Things to See Around Keetmanshoop:
Visit the Quivertree Forest
It's hard to put to words what a quivertree forest looks like in person, as the pictures don't do it justice.
We walked into the forest at sunset and watched the sun sink through their spiky branches and liven up the sky with tremendous amounts of pink and magenta. There was a distant storm that first night and the entire sky was putting on a spectacular light show. We sat in awe until the world turned deep purple, then blue, and we had to walk back to camp.
The only thing to really ruin the moment was the occasional sound of the cars on the road.
This place felt like a land before time. Like we had stepped back in time by about 100 million years.
The forest is not too big, and easy to explore in a couple of hours. Be sure to wear sturdy shoes as there are a lot of loose rocks and the paths are not smooth.
We recommend going into the Quivertree Forest at either dawn or dusk as the daytime temperatures in Namibia can get really hot, making a walk through the grove really unbearable in the midday heat!
What are Quivertrees?
Quivertrees are not actually trees. They are of the same family as the aloe (looking at their leaves they strike a very similar resemblance). They will reach maturity after 200 years and stand very still even in strong winds.
Why are they called "quivertrees"? Because the san people (the old inhabitants of the area) would use the branches of the trees to hold their arrows while they went hunting. So, a quiver for their arrows and therefore: quivertree.
Visit Giant's Playground
We visited "Giant's Playground", which is down the road C17, the next morning.
This attraction boasts massive amounts of rocks that are piled high, as if a giant came through and decided to precariously pile massive boulders on top of each other.
The rocks are called Dolerite and were formed 160 million years ago in a magma buildup under the Earth's crust that never exploded. Over the millennia, the earth was eroded away and the cooled magma was exposed. The rocks get a black hue because of oxidation after years of being exposed at the surface.
Giant's Playground was especially eerie for us because we were the only ones there and it seemed that every corner we turned looked exactly like the last corner, causing the mind to wonder if we had been there before.
The path is well marked with posts and signs so you don't get lost, but even just climbing over a pile to get a look at the landscape made me nervous about getting lost. No cell coverage. No people. No road after a while.
The hike around the "Playground" only took about 40 minutes total and the price of admission was included with the cost of the ticket to the quiver tree forest which was about 100 Namibian dollars per person (roughly $7 USD).
If you plan to visit the Giant's Playground, be sure to bring sturdy shoes and plenty of water! Also, tell the owners of the Quivertree Forest Rest Camp that you are going so they know you are in there. Namibia can be a really empty place and it's important that people know where you are!
Go Find Mesosaurus Fossils
We drove further down the road (C17) to see the Mesosaurus fossils. The drive took about 30 minutes and we could do it in our 2-wheeler.
This, I think, was one of the coolest reasons to stop at this area. I love fossils and there was nothing but fossils here! It was so cool!
Giel, an old leathery farmer with bright blue eyes that twinkled with laughter (which he did quite a lot), took us on a wonderful one-hour tour of his farm to show us the amazing finds he has.
He showed us the grave of a German soldier who was shot and killed by the locals over one hundred years ago. Then he took us to the place where seriously well-preserved Mesosaurus fossils were lying in the sand. Too cool!
He explained how his son had found the fossils about 30 years ago and that he thought it was a salamander's impression on sand. Upon further research from the local paleontologists at the local university, they learned about the small creatures (Mesosaurus!) that had once flourished in a murky swampy area that used to exist millions of years ago in what is now dry desert.
I gawked at the fossils. He even let us touch them (sacrilege!). The tour was $130 Namibian dollars per person (about $10USD). We didn't make a reservation, we just drove up to the house at the Mesosaurus Bush Camp and asked about their next tour.
The tour was about 1 hour and we were the only two there so we had a whole tour to ourselves! Highly recommend going.
Best Time to go to Keetmanshoop, Namibia:
The dry season can be mid-April to late October. The wet season happens mainly from January to March. We were there in the "wet" season and really noticed nothing in the way of bad weather. There are parts of Namibia that can get very wet (like the Caprivi Strip) but down in the South, it's a whole lot of desert.
The wet season is the low season in Namibia and you are less likely to hit crowds, although you aren't likely to hit crowds period as Namibia doesn't have a large number of tourism! Keetmanshoop camping is easy, however, and you'll likely not be sharing the space with too many people.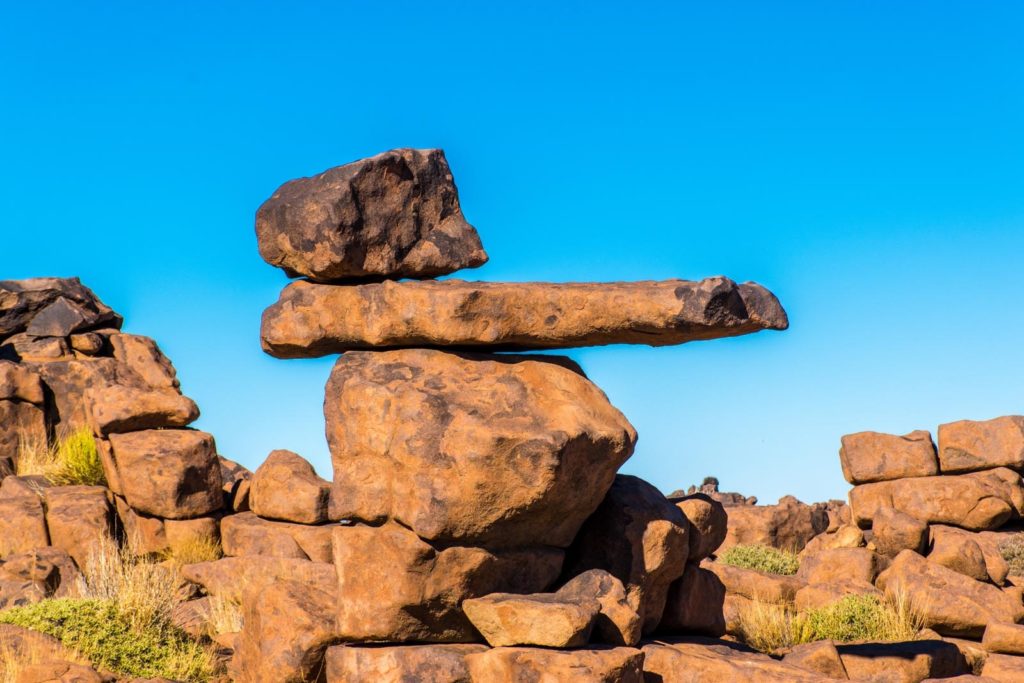 Have you been to Keetmanshoop? What did you think!?