Want to see Africa in a pure, pristine, untouched state? Get thee to Namibia, friend! Oh, but don't forget your Namibia car rental.
Namibia is a seriously empty country that is MASSIVE: this makes road tripping in Namibia unlike anywhere else in the world! We rented a 2×4, then a 4×4 (long story) and drove around Namibia for a solid 4 weeks.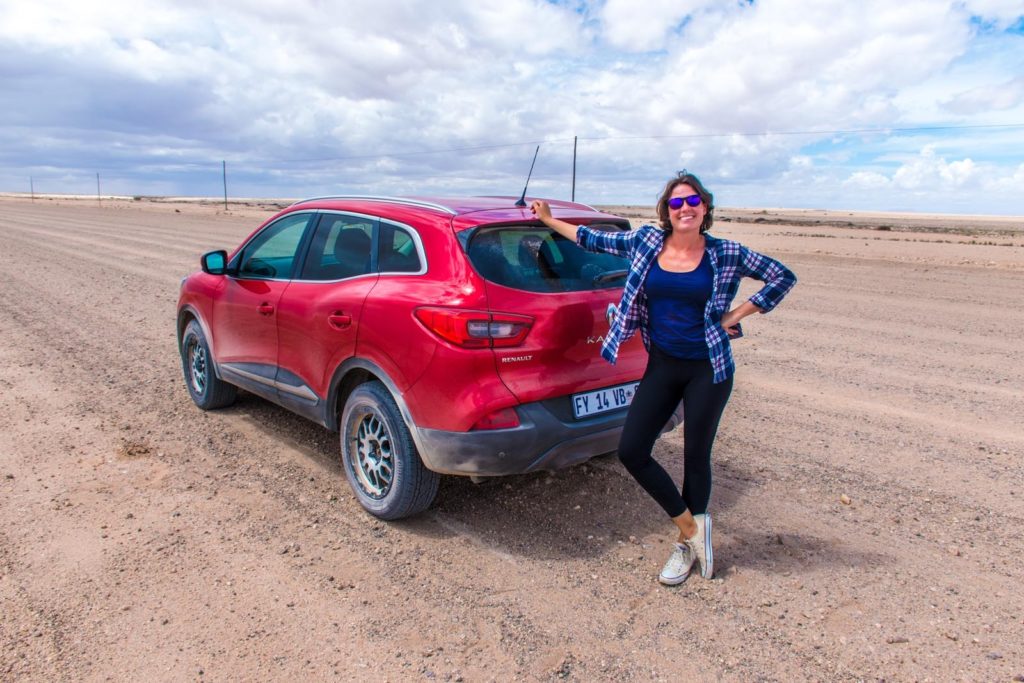 Here're our Tips for Renting a Car in Namibia:
Get a 4×4
I know I said we rented a 2×4. We managed to get away with it for the first two weeks and then the Namibian roads promptly ate our car.
Can you get around Namibia in a 2×4? The short answer is: Yes. Should you? No. 4x4s are so much more comfortable, they'll get you over the corrugated roads better, and they won't get stuck in sand as easily (like we did in our 2×4…).
Driving a 2×4 in Namibia is like trying to be a vegetarian at a meat house: you'll be able to eat a few sides, but you'll struggle to get a real meal and you'll have to be very careful about what you order. Also, everyone will stare at you and wonder what the hell you are doing there.
Namibian roads are not built for 2x4s. They're hardly passable for 4x4s! You'll likely be driving on gravel, dirt, or sand and that makes a road trip of 4 hours very long if you don't have the right car.
Pick an International Rental Company
There are many small rental companies. They'll be cheap: don't do it to yourself. Please.
We opted for a budget South African company (Tempest) that didn't have any branches in Namibia. So, when we inevitably needed a new car because our tire was busted, our windscreen cracked and our rear suspension coil ruined, we were S.O.L. Thankfully, Tempest's parent company is EuropCar which DOES have branches in Namibia and they were AWESOME. I'd highly recommend EuropCar. They even drove the new car to our AirBnB in Swakopmund to switch the cars out! What a bargain! You can also look for deals on rentalcars.com, they have a ton of options!
Automatic vs. Manual Transmissions
Sorry: If you can't drive a manual on the left-hand side of the road (the British side) you're going to be in big trouble here.
Rental companies the world over are almost exclusively manual. You can get automatics if you book really far in advance and pay much more, but your best bet is to find someone who can drive manual and go on the trip with them (Jackson can do this and I am so grateful, because I am useless in this area!).
Insurance
A must. You must get fully covered everything! Tires, windshield, body… the whole nine yards! You'll need it. I hate to say this, but Namibia will kick the crap out of your car.
We got WorldNomads travel insurance as well as insurance through rentalcars.com. That way, we were covered for everything from theft to bad luck bullsh*t (like two cracked windshields…).
Roadside Repairs
Flat tires are a real danger here. Make sure you have at least one, if not two, spare tires with you.
Gas stations and convenience stores will sell an emergency tire puncture can. This was really helpful when we got a nail in our tire in Cape Town. The tire was slowly leaking, but this canister of gas helped it a lot. You can patch a tire at the gas station for about $5-7 USD.
Petrol/Gas
Gas stations are few and far between in Namibia; make sure you top up as often as you can.
Gas stations are also prone to electricity loss, so don't rely on the fact that a town will have gas when you roll in. There were a couple power outages we came to while in Namibia where we had to search a while to find a gas station with a generator. Oy.
One of the awesome benefits of road tripping in Namibia is the gas station attendants do EVERYTHING. You can get your tires inflated, deflated, patched. They'll clean your windows! They'll pump your gas, too! Just be sure you have some change handy so you can tip them. We'd tip about N$5 (about 50 cents USD) which seemed like a good tip when we asked the locals.
Supplies
Water, yo! You'll need it! We always had 2-3 5-liter water bottles filled with water in the trunk. That way, if you get stuck in sand, you'll be well watered until help comes.
Also, make sure you have plenty of snacks for the road, too, it could be hours before you get to the next place with a restaurant or convenience store. Biltong (a regional specialty of dried, cured meat) is popular and cheap and a great snack to have in the car.
Some people got a satellite phone or a SIM card so they could make emergency calls. I don't know if this helped them or not. We got a SIM card that was USELESS outside of the villages and towns (which is about 90% of Namibia). So: get one if you want, but don't expect it to work.
Any questions? Feel free to ask away in the comments!