Fez was our first introduction to Morocco. We'd flown in to Casablanca from Johannesburg and decided that, due to a lack of time, we would catch a train and head straight for the city that was being touted as "an underrated" must-see city in Morocco. 
Fez is really a full-blown introduction to Morocco. The sights, smells, sounds and ancient Medina make Fez feel really exotic. Although the city of Fez has grown far bigger than the ancient medina at its center, we only stayed in the old-town due to lack of time.
As we were led to our home stay we ran right into a Moroccan wedding parade full of horns, drums and cheers. It was at once totally overwhelming, but also a really cool way to be welcomed to the country. There we were: walking slowly through the tiny alleyways of the Medina behind a rumble of activity. I didn't know what to do with myself! We were covered in our backpacks and travel sweat and practically had "tourist" tatooed on our foreheads, yet we were participating in someone's wedding day!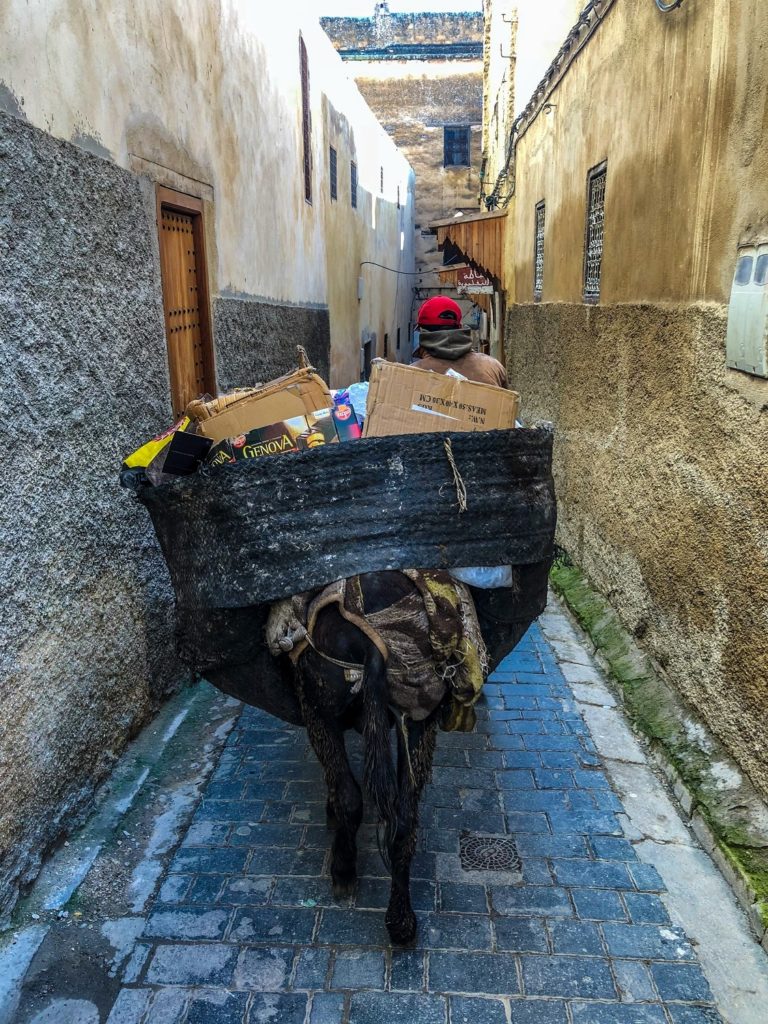 That night we opted to eat the home cooking of the Matron of "Omar House", a small lady who seemed to live in flip flops, an apron, and her hands constantly on her hips. We were seated in the tiled living room while piles of food were brought out to consume. I mean PILES of food. I was hungry, but this was pounds of couscous, steamed veggies and about a million pieces of Moroccan pita. The food was delicious and hearty and I felt like I only ate about 3 bites before feeling ready to explode.
I've noticed this a lot on our travels: when people want to feed us, they'll spare no plates! Literally bringing out everything they own in food so that we can eat until we feel sick.
I was introduced to the Moroccan mint tea for the first time and was instantly hooked. I couldn't get enough of this stuff! Like a cat with catnip, the minute I saw this sweet, minty, fresh tea I would begin to salivate: bouncing on the balls of my feet in anticipation. I don't know how they make it exactly, but it's basically fresh mint stuffed into boiling water and then heavily sugared.
This tea is deliriously good and at only $1-2USD for a glass, I couldn't say no. I did learn to ask for no sugar in the tea, instead adding the amount I was comfortable with later so that I wouldn't go into anaphylactic shock. (Moroccans like their sugar with some tea).
I am not the only person to love this tea, the Moroccans love it too. Especially the men! As we would wander we'd see cafes lining the streets with hundreds of chairs positioned so they would face out as groups of men sat and sipped on a tea and, I don't know: gossip? 'Cause it sure looked like they were doing that a lot.
I was shocked by the lack of women doing this past-time. No matter the time of day, the cafes would be hosting dozens of men talking in low voices and watching the passerby's, occasionally waving and greeting a friend who would then join them.
Men in Morocco seem like they have the world at their feet. I saw very few men doing anything but sitting around and chatting while every woman I saw was in a hurry: washing, buying, taking care of a baby, or shopping. Boys are allowed even more freedom it seems.
My biggest gripe with this town is the seemingly impossible task of being allowed to wander. Being that we look like tourists no matter what we do, it became every boy between the ages of 12-18's mission to try to "help us get to our destination" even though we didn't have one. Normally, I would chalk up the enthusiasm to help tourists as just friendly behavior… until the boys demand a tip.
Demanding a tip is incredibly rude where I come from. In Morocco it is a totally given thing. In fact, it's so bad that when we got snared in a scheme (being led by the nose for 15 min and then getting even more lost than before) and tried to pay the boy a few dirham to make him go away, he got indignant.
"This is for boys!" He yelled, gesturing to the money. "You give me more!"
Rather than get robbed I threw the equivalent of a dollar at them and quickly departed with a mumbled "Fuck you." Jackson was pissed.
"I could have reasoned with them!" He said, stomping off next to me as the boy, then joined by another, cheered behind us.
I glanced at the DSLR camera clamped firmly in Jackson's hand and wondered how long it could have taken the urchins to yank that out of his hands and run. "I'd rather lose the dollar than get robbed." I stated.
Fez felt dirty. It seemed as if the Moroccan's idea of cleanliness is to just throw a bucket of water at something. We saw this everywhere we went. As a result, the streets were filled with dirty puddles that I had to constantly jump over. Never mind the random drip of water from above… ew.
In vain, we tried to find places that the locals went. It seemed that no matter what we tried, we would be accosted by a guy trying to make a buck and tell us where to go for a small fee. It was infuriating! Whenever we travel, we try to purposefully get lost, allowing our steps to lead us to uncharted places. In the morning, after leaving our accommodation, we'll set out to find a spot with no particular time frame or schedule; stopping at whatever catches our eye. Fez, it seems, didn't like this method of wander.
I had to put my "fuck off" face on after a few attempts and felt really nasty snapping at people who kept trying to get our attention.
I did love the old architecture. The moorish tiles, the arches, the symmetry. The beauty of islamic art is so unique and so completely different from the Van Goghs and Gogins I grew up looking at at the Met in New York. I was stunned by the ancientness of what I was participating in.
Here was a civilization that has really stood up to the test of time, globalization, occupation, and the internet, yet still working and operating no differently than it probably would have hundreds of years ago, except: I'll pay by card, thanks.
One of my favorite parts of the old town was the market. We came across it on our first day in town and went back every day we were there. I couldn't believe the way they sold their food! I loved the rawness of what I saw, the unforgiving in-your-face presentation of the food. When we wandered through, I'd stop and stare as a butcher would hack away at a piece of meat, feeling like the life I know in New York City was as far away as the moon.
As we boarded the bus on the third morning on our way to Chefchaouen, I felt ready to leave. Fez is nothing if not wholly and totally overwhelming. I was equal parts horrified, fascinated, annoyed, and bewitched by this town. I don't think I've ever been to a city quite like that before. It feels as if it hasn't changed in hundreds of years and may take hundreds of years to change still. Despite the cellphone stalls, TVs playing in the background, and swaths of tourists, this city felt so Moroccan.
Fez was part of our 5-day Moroccan itinerary that we made based on the five days we spent in Morocco. We also visited Chefchaouen and Tangier.
Have you been to Morocco? What did you think?