On our road trip through Africa from February – April 2018, we spent a month doing some amazing Namibia travel. The Caprivi strip exists as a place just as wild and lush as its neighbors but without the tourists there to clutter our experience.
So, basically: you should go. 
What is the Caprivi Strip?
Caprivi is in Northern Namibia, in Southern Africa. I've written more about what the rest of Namibia is like here.
When you look at Namibia, you'll see an arm stretching out over Botswana, like someone putting their arm around their sister. This little strip is incredibly different from the rest of Namibia, it's more populated and it's not a desert! This is also the route travelers can take on their road trip through Africa to get to Victoria Falls. Although Namibia technically doesn't share a border with Zimbabwe, just across the Zambezi River you can get your way through Hwange National Park to one of the largest waterfalls on the planet. But, I digress.
Why Go?
In all honesty: we found the rivers and wildlife in Caprivi to be just as fantastic as in Botswana, but there were FAR fewer tourists. Namibia travel is, really, all about the lack of people and being able to be alone in some of Earth's most beautiful landscapes.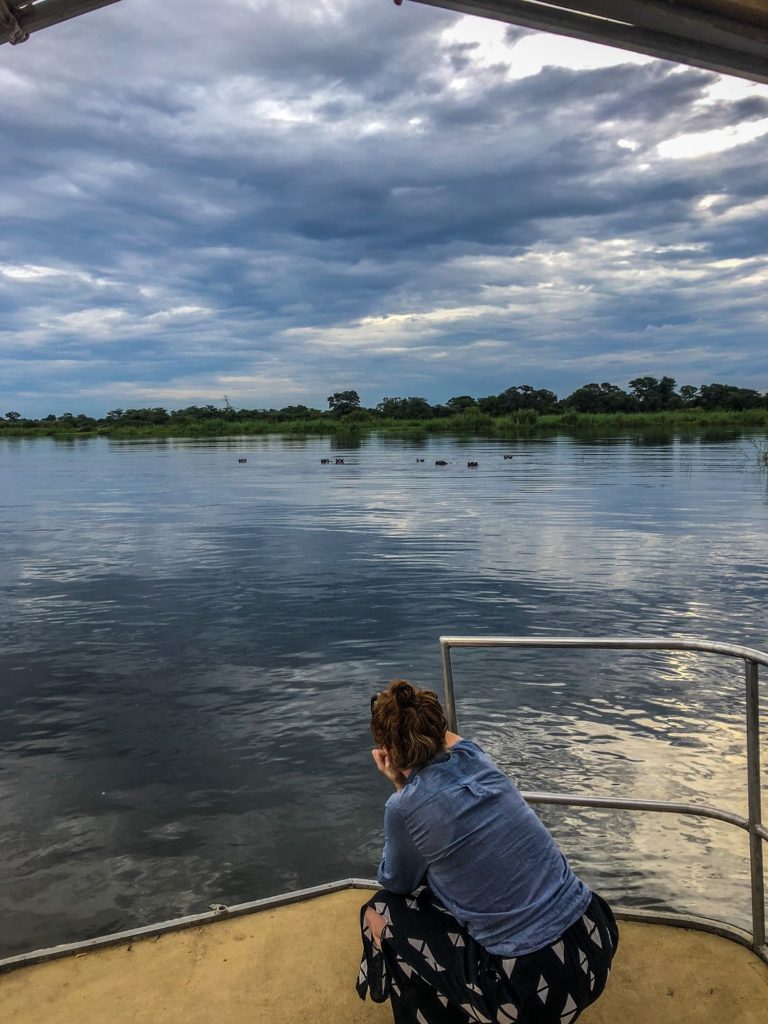 The roads were a lot better in Caprivi than in Botswana!
I cannot stress this enough. As much as we were told in Namibia that "Botswana has it's shit together, blah blah blah…" we found that Nambia travel is far more stress-free than the roads we came across in Botswana. Yeesh.
Try to imagine, for a minute, that you are in a 4×4 trying to drive down a national highway on your road trip through Africa. In Caprivi, the roads are pretty well maintained. You have to be careful about the locals, their cattle, wild dogs, and whatever else is going to amble onto the road at any moment (like, I dunno, a donkey). But, that's Africa, mostly. There's gonna be a lot of stuff on the road (you can read more about how to stay safe and avoid disaster here). Ok, you can get used to this.
In Botswana: the roads were all of the above except also pockmarked with the worst potholes I have ever seen.
It was terrifying.
Oh, and there were massive trucks barreling down the road, swerving into the oncoming lane to avoid the car-eating potholes. Then there are massive herds of elephants in Botswana who'll wander the road and ya' don't want to piss them off either. Plus, you'll get tourists stopping to stare at a random giraffe. In Botswana, driving was horrifically stressful.
Namibia travel– in comparison– is pretty chill…
Before you go, we would HIGHLY recommend renting a 4×4 and getting some good travel insurance. A lot of stuff can go wrong in this area. We've written more about tips for renting a car for a Namibia travel.
Camping
We loved the camping we did in Caprivi! Our favorite campsite on our road trip through Africa was at Ngepi Camp. It sits on the banks of the Cubango river and it was so great we decided to spend more time there than we had originally planned. You can camp right on the river's edge and listen to the hippos snort at night.
Caprivi is easy to navigate. This means you'll be able to find your way to a plethora of parks where you can go on Safari. Or, you can go on a river boat cruise (we did two) and take a look at the wildlife living among the rushes of the Zambezi or Cubango.
At Ngepi, we were able to get pretty reliable internet, drink cold drinks and eat delicious Braaied (BBQ/Grilled) meat.
Things to Know Before you Go to Caprivi:
Caprivi is in a malaria zone. This means you'll need to take malaria pills and limit your exposure to mosquitoes if you can. (Botswana is also in the malaria zone, by the way).
The Caprivi strip is lush and green and, unlike the desert that exists in much of the rest of Namibia, it can RAIN. We went in the rainy season and realized that there is a reason this time of year is called the "wet season." Yowza! We saw and experienced some EPIC thunderstorms. So: pack accordingly.
Caprivi runs through a corridor of numerous African countries. To the North it shares borders with Angola and Zambia. To the South: Botswana. And it just comes short of touching Zimbabwe. This means that this area is teeming with languages, cultures, peoples and traditions that can be found nowhere else while on a Namibia travel itinerary. It's quite exhilarating to see as a visitor.
Considerations:
The strip is long and narrow and there is only one way in and one way out. If you are not swinging into Botswana or taking a flight out of Victoria Falls, you're probably coming back the same way you came in.
I think this is one of the biggest reasons people won't drive though this area.
It is a long drive from Windhoek. Just to get to Ngepi will take you about 9 hours, and that's only the start of the strip!
There are a lot of farms and agricultural communities along the B8 highway and that means a lot of people, animals and livestock are crossing the road at any given time. Driving carefully doesn't really cover just how careful you should be when driving! Part of Namibia travel is being careful.
What Did We Do There?
So much! But, mainly we relaxed a lot because it felt so good to finally be out of the desert and in some greenery!
At Ngepi Camp we went on a river cruise.
The river cruise was offered at sunset and left from the dock at Ngepi we paid $N200 per person ($15 USD). It was about 2 hours long and we saw so many hippos! We didn't get to see any crocodiles, but the guide we were with said that he usually sees a ton of them (we just had bad luck). This is a totally unique experience in Namibia travel, most of the rest of the country is a whole lot of open desert! The fact that we got to see such amazing creatures was a real treat.
At Ngepi camp we stayed on the river and had a gorgeous view of the Cubango:
There was also a really sweet cage we could jump in so that we could get a chance to swim in the river, but not with the crocs and hippos (well, they were on the other side of the cage).
After our stay at Ngepi, we drove on and stayed at The Caprivi Houseboat Safari Lodge.
We got another impromptu river boat cruise here as well and were able to see the beautiful Zambezi river at dusk. It was mighty impressive and every bit as stunning as you could believe.
Overall, Caprivi is a destination often overlooked while doing Nambia travel. 
We loved how calm, quiet and beautiful this area of Namibia was.
How long should you spend in Caprivi?
I think this depends on what you want to do.
There are plenty of national parks in this area that are somewhat accessible from highway B8.
You can take river cruises, like we did.
We spent about 5 days in this area and found it very relaxing. Some people just drive through on their way to Victoria Falls, I think that's fine so long as you don't sacrifice this area for the sake of going to Botswana because I think this area is every bit as beautiful as Botswana was, but without the people. If you want more information on whether Chobe is a worthwhile visit, you can check out what I wrote about Etosha vs Chobe. A road trip through Africa is a once-in-a-lifetime experience and I couldn't have been happier with our stop in Caprivi. Well worth a visit.