We spent a month self driving in Namibia in March of 2018. We drove across the border with South Africa in the south, making our way to the coast at Lüderitz, inland through the desert and then back to the coast at Swakopmund. We left Namibia via Etosha, and then the Caprivi region before heading south into Botswana. Self driving in Namibia is not for the faint of heart, but we've got a few tips on how to do it as safely and comfortably as possible!
Self Driving in Namibia
What Side of the Road do you Drive on?
When you're self driving in Namibia, you'll find many similarities as with its neighbor, South Africa. Driving in Namibia, you'll drive on the left hand side of the road. If, unlike me, you're coming from a part of the world where you drive on the right hand side of the road, this will seem pretty bizarre at first. If you pick up an automatic vehicle it'll be a bit easier, as that's just one thing less you need to think about.
When we were there, we drove a manual transmission car. If you're unused to driving on the left you'll probably find it the most difficult in the situations where your natural instincts handle everything. Changing gears whilst going around a round-about or turning a corner your instinct will probably to change with the wrong hand, so you'll have to consciously remind yourself of that.
Self driving in Namibia, you'll often find yourself the only car on the road for quite some time. With that in mind it'll be helpful to make a habit of reminding yourself to stick to the left when you pull out of your parking spot; traffic is often a good reminder of where you should be, and out in the country you might not have that to rely on!
Also, get used to thinking you're about to indicate your turn and instead accidentally turning on the windscreen wipers. It'll likely happen more than once!
If you're coming from a left-hand-side-of-the-road country, driving'll be pretty straight forward. Your only issue will be if you're used to automatic transmission but find yourself in a manual…
Safety
First things first, this doesn't really apply directly to driving in Namibia, but it's very very important. Make sure you have several large containers of water with you in your vehicle at all times! The sun is unrelenting, and if the worst comes to worst and you are stranded with your vehicle somewhere for hours, you'll be glad to have it.
Things can go badly very quickly when self driving in Namibia. The main, paved, highways are generally pretty good (more on this later), but the majority of roads in Namibia are hard packed (or not so hard packed) dirt and sand. If you're unused to these kinds of surfaces, you might like to schedule a defensive driving course before you leave. That, and plan to take things a little slower than the locals…
Dirt Roads
Speaking of which, the vast majority of road accidents in Namibia come from going to fast and losing control while navigating the less than perfect road conditions. The locals are much more used to this, and as such chances are you'll experience them zipping past you at a speed which seems well and truly unreasonable.
Thankfully, when driving in Namibia, the dirt roads give plenty of warning of oncoming cars, in the form of massive dust clouds. If you see one of these approaching from ahead or behind pull well over to the side of the road, and keep your speed steady.
It also pays to make sure your headlights are on at all times. As vehicles pass you by, you'll often be engulfed in a cloud of dust, and you want to make sure you're as visible as possible to anyone coming from the opposite direction.
Night Time
Speaking of headlights, driving in Namibia at night is not advisable. Animals like to congregate near the paved roads for their residual heat, and some of these guys can be BIG! In addition to this, the dirt roads can take unexpected dips and turns, which are tricky to spot even in full daylight. Safer to just avoid this as much as possible.
Differences (and Similarities) between Namibia and South Africa
Unlike South Africa, carjacking is nowhere near as much of a problem in Namibia, though in the cities you might see car watchers. These guys are identified by their fluorescent vests. Car watchers will often direct you to an empty parking spot, or at least come over to make sure you're aware that they're there after you've parked.
If you want to make extra care that they watch your car carefully, you can give then a bit of a tip right then, but it's more common to give N$5-20 ($0.40-1.50 USD) when you come back for your car.
A word of warning about car guards: They are essentially self-employed, and anyone who can get together the cash for a vest can claim a corner. If you notice the car guard has a particularly shabby vest, and generally looks a little sketchy, move along and try somewhere else.
What Kind of Car is Best?
The question everyone always asks is: "Can I rent a 2 wheel drive car?". In short, yes. But, I would strongly advise not to.
Self driving in Namibia, you'll likely cross through some pretty rough terrain. If you do go with a 2 wheel drive car, your driving time between destinations will basically be doubled, and those extra hours will also be twice as uncomfortable as they would be if you were in an SUV or a 4×4.
You'll find most rental cars in Namibia are manual transmission, though for a higher price you can find automatics.
If you've never driven a manual transmission car before, I'd definitely advise getting some practice in before you go ahead and rent one. Understanding the actions required while driving, and executing them in the moment, on bumpy and unpredictable roads are two different stories!
Bigger is Better
All over Namibia, you'll see big 4×4 trucks with roof tents. They're everywhere! They're also pretty expensive. That said, you get what you pay for. Our trip was a little more a la carte, but those with the 4×4's were really setup for success. They come with a tent, spare tires, emergency equipment, plenty of storage, and even a fridge (for a price)!
An SUV is a slightly cheaper option for driving in Namibia, but if you do it that way, you'll need to stock up of some camping essentials (keep an eye out for our upcoming post on camping in Namibia)
Renting a Car
Natalie wrote an in depth post about renting a car in Namibia so head over that way for the specifics. Also, be aware of the usual pitfalls when renting a car (taxes, insurance, additional driver fees etc).
Like South Africa, Namibia car rentals are subject to border crossing fees. These border crossing fees apply to entry into most neighboring countries (Namibia, Botswana, Zimbabwe, etc.), and apply when travelling between these countries even if you don't return to Namibia (i.e. Botswana to South Africa).
Reentry back into Namibia doesn't incur an extra cost. It was pretty expensive for each one (around $150 USD), so bare that in mind if you're only planning a day trip into a neighboring country.
While we were in Botswana, we planned for a day trip to Victoria Falls, and ended up paying for a tour to take us from our campsite in Botswana. The tour cost us roughly $80 USD (for the two of use), which is significantly less than the cross border fee our rental car company would have charged us.
Where to Start
If you'd like to start your epically beautiful Namibian road trip in Namibia, you've only got a few choices. You can also start in Zimbabwe, but this is a little more limiting.
You do have the option of starting a huge distance away in South Africa (what we did), but this is really only possible if you've got the time. You want to be driving in Namibia, so it's best to start as close as possible!
Here are the starting points we'd recommend:
Windhoek

The capital and the main hub for flights in and out of Namibia. Hosea Kutako International Airport (WDH) has a decent selection of airlines inbound. You'll find the usual suspects when it comes to rental car companies as well.

From here, you'll be well positioned to head in a bunch of different directions. You could head immediately for Etosha, if some African wildlife tickles your fancy, or perhaps set out towards the towering dunes of Sossusvlei? If neither of those appeals, why not head south to the Quivertree forest at Keetmanshoop, and then onward to Lüderitz or Fish River Canyon? Self driving in Namibia, using Windhoek as a starting point, gives you a lot of options.

Our dirty SUV. There were loads of deep puddles in Etosha, so it got a little messy.

Swakopmund / Walvis Bay

The adventure capital of Namibia. There are fewer airline options at Walvis Bay Airport (WVB) than at Windhoek, but if you're an adrenaline junkie,you can't pick a better starting spot.

From here you can take a quad bike tour, a morning flight over the sand dunes, sand dune skiing, camel riding, catamaran trips and much much more. Road trip-wise, from here you can head back towards Windhoek and on to Etosha, south towards Sossusvlei, or north along the Skeleton Coast.

Catamaran trip in Walvis Bay.

Victoria Falls

This suggestion is a little unusual, and involves a little more consideration. The plus side of flying into Victoria Falls Airport (VFA) is that there are a few inbound options. The downside is that you're not beginning your Namibian road trip in Namibia.

Those cross border fees will rear their head, as you'll need to go through either Botswana or Zambia to get into the Caprivi strip in Namibia. This could be a worthwhile option if one of these destinations was also on your itinerary, but it really does leave you with very few options in terms of direction.

If you do go with this starting point, you'll probably want to drop your rental off in Windhoek. The Caprivi strip is a long drive, and you might not get much out of having to do it twice.
What are the Road Conditions Like?
Paved Roads
As I mentioned earlier. The paved roads in Namibia are generally pretty good. Driving in Namibia along B4 between Keetmanshoop and Lüderitz is a delight, and is very well kept.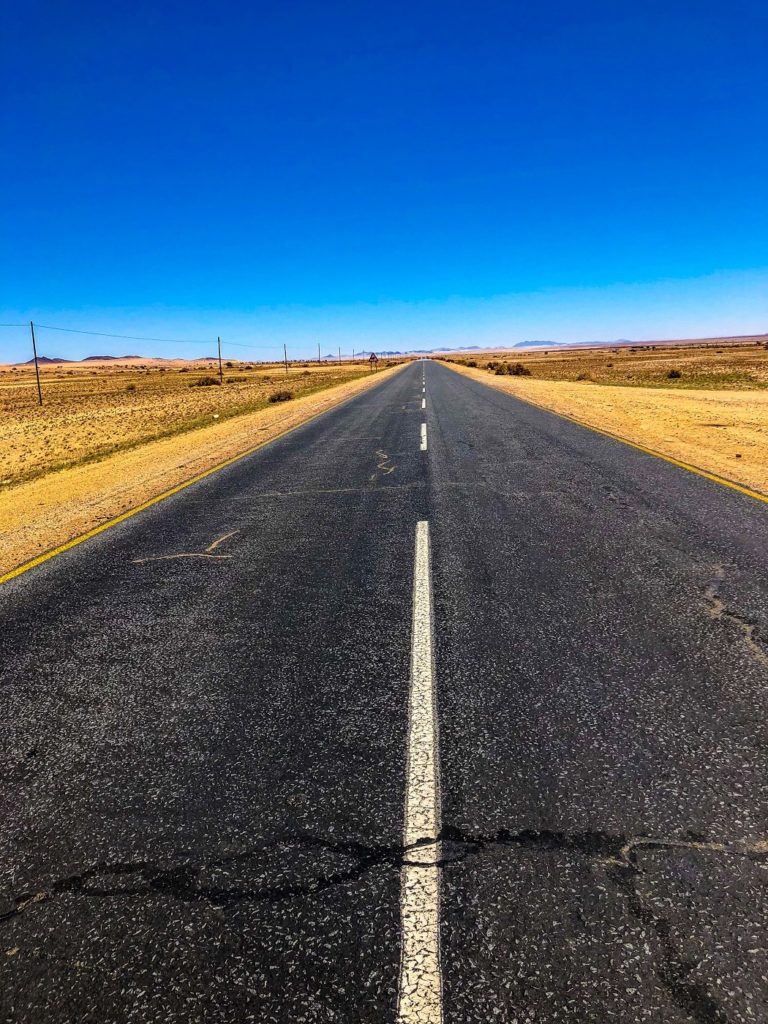 That said, B2 between Swakopmund and Windhoek, has seen better days, and can feel quite narrow and claustrophobic, with edges which are decaying slightly.
B8, which runs through the Caprivi Strip will probably give you the most hair raising experience a paved road can while driving in Namibia. This runs through some of the most populated parts of Namibia, and you can tell by the numbers of people and domesticated animals which you'll see walking all over the road. The Caprivi region is also the wettest part of the country, and the roads tell this tale. You'll come across some pretty sizable potholes and splits in the road, so keep an eye out and keep your speed down.
Dirt Roads
Most of your driving in Namibia will be on dirt roads. It's impressive the amount of work which has to have gone into caring for, and maintaining these roads. When the dirt roads in Namibia are good, they're very good and you'll be zipping along quite happily, barely even noticing you're no longer on paved road.
When they're bad, they're a corrugated nightmare. Sometimes you'll have no option but to sit through hours upon hours of bouncing over these roads, and with the driving distances in Namibia being what they are, you'll probably have a few hours more beyond that!
When driving in Namibia on corrugated dirt roads, you'll want to avoid dramatic changes in speed and/or direction. Either of these can give unpredictable results, and it's easy to lose control. At worst, your vehicle will vibrate at a frequency which makes you think it's going to rattle apart, but for the most part there is a sweet spot between going too slow and going to quickly.
As well as the corrugation, some of the roads will be heavily pockmarked, so you'll need to drop your speed right down so as not to come across any of these unexpectedly. The driving surface can also be loose at times, so, again, you'll want to avoid stopping suddenly or you might find yourself in an uncontrolled skid.
Salt Roads
This really only applies along the Skeleton Coast, and is something we've only experienced while self driving in Namibia. The hard packed salt road that leads north from Swakopmund is very smooth and flat. For the most part, you'll not notice the difference between this and a paved road.
You do need to be a bit more cautious in the mornings however. The combination of the desert meeting the ocean can create some pretty unique weather patterns, and one of these is the mist that forms in the early morning, before the heat from the sun kicks in. When this occurs, the salt road can get very slick, and you'll need to use extreme caution.
Sand
You're not particularly likely to come across deep sand while on the B or C roads (but it is possible), so unless you're really going off the beaten track this comes more into play when getting yourself to some of the campsites in the desert. These can sometimes have a covering of fine sand. If it looks deep, you'll want to let some of the air out of your tires to give yourself better surface area.
While the paved road into Lüderitz is very nice, the afternoon normally welcomes a strong wind which can blow significant amounts of fine sand onto the road. Drop your speed, and don't make any sudden moves and you'll be fine.
Car Damage
While driving in Namibia, this is almost a certainty. Other vehicles can throw up stones and rocks on the dirt roads which can give you a cracked windshield (happened to us twice). If you manage to avoid that, you run the risk of getting a flat tire at almost any point. We ran into multiple travelers in the large 4×4 trucks who had to stop and change a tire. Get vehicle insurance. You'll thank yourself later.
Prior to entering Namibia, we had a little tire trouble where one of our tires would slowly but surely deflate over time. As we were going to be heading into the wildness of Namibia, we were understandably nervous. Not to worry! We picked up a can of aerosol tire sealer/inflator to throw in the back of the car, and boy were we glad we did!
As we were leaving Fish River Canyon, our tire was not looking so hot, but after a couple of seconds, it was fully inflated and ready to go! Not only that, our ongoing issue of it deflating over time seemed to clear up after that. Win / win! At the next town, we picked up another for the peace of mind which came with it.
Petrol Station Availability
Driving distances in Namibia can be quite daunting. Not only are they huge, but they take longer than expected due to the dirt roads. Keeping that in mind, petrol stations are about as frequent as you'd expect in the middle of a desert, which is to say: not frequent.
You'll generally have a couple of options in each town, as well as a few dotted along the main B-road highways. Aside from that, you're best to fill up when you can.
At most tourist offices, you'll be able to pick up a couple of free road maps of Namibia which give you a good indication of the available routes, as well as markers to indicate where you might find petrol. Keep in mind that the petrol stations in more isolated locations don't necessarily get frequent deliveries, so it's possible for them to sell out.
Not only that, power outages can occur, especially in the rainy season. When they do, it'll often affect the whole town. If the petrol station you stop at doesn't have a generator, you're out of luck, and will need to keep looking. Fill up when you can!
You do not want to run out of petrol while driving in Namibia. The next vehicle along the road could be hours (or days!) away…
Service Stations Indeed
Like South Africa, petrol stations in Namibia are a delight. They are full service service stations as you've never seen before. The attendant will fill you up (just tell them what you want, and how much), but they won't stop there! Clean your windscreen (front and rear)? Sure thing, they'll also clean your headlights while they're at it! Need your tire pressure checked? No problem. Want to check your oil levels? They'll do that too.
The price for all this? Zero. It's customary to tip at petrol stations, and our rule of thumb was to tip a base amount of N$5 (about $0.40 USD), and then add a few extra Namibian dollars for each additional service we required. It truly was luxury.
A quick note about money: The Namibian dollar is locked to the same rate as the South African Rand, so the conversion between the two is the same (roughly N$14-15 to $1 USD). Because of this, you can use Rand interchangeably with the Namibian dollar within Namibia. Once you get back to South Africa, they will not accept your unused Namibian dollars (except at exchange offices), so this 1-1 conversion only works one way!
Getting Around
Our T-Mobile international plan did not give us coverage in Namibia, so we had to plan accordingly. We did end up getting a Namibian SIM card, but due to how remote the country is, we didn't get coverage a lot of the time, so it wasn't particularly useful to us.
Google Maps is surprisingly less than ideal in Namibia. We found google to be lacking in a lot of roads that we needed to take, and so couldn't rely on it, except in towns.
As our main navigation app, we'd downloaded the offline Namibia map for the MapFactor Navigator app.  This had much more detail, often including the private roads we encountered within camping grounds, as well as having markers for petrol stations, supermarkets, campsites, and attractions. Much much better than Google. The GPS navigation works without data as well, so you won't miss that aspect. This app made self driving in Namibia much easier.
Some Great Routes
During our month self driving in Namibia we encountered some great routes. Here are some of our favourites:
It was on this drive that we knew we were in for something special, driving in Namibia. Our itinerary dictated that we were going to need to do this route twice (there and back), so we were worried it was going to be tiresome. Oh how wrong we were.

The drive takes about 3-and-a-half hours, but every 30-45 minutes the scenery and the landscape changes dramatically! Just when you think it can't change again, it does. From African Savanna, to Sandy desert. From rocky and arid moonscapes, to dramatic sandstone and craggy hills. It did not get old. I would do it again in a heartbeat.

An example of just how empty Namibia is…

We didn't intend to take this route, but due to an almost comical combination of bad luck and poor decision making we found ourselves on it. Ignoring our drama, this was an objectively gorgeous drive! You can take it in either direction, and you'll be taken through some real wildness.

It's mountain country here, and as such you'll be taken over several small passes. This is a great route to find a campsite with amazing star viewing. As you get closer to Solitaire (or soon after leaving) you'll get to cross the Tropic of Capricorn, which is worth a photo or two!

View from our campsite in the hills.

When thinking of two countries that share a land border, it was always my thought that they'd be more or less that same. Sure you've crossed a border, but how different can they be? They still connect, right? Wrong. As our first introduction to Namibia this blew our minds. The difference was immediate. The landscape. The colors. The sky. All inexplicably different.

This was also when we first experienced how empty the roads can be. I think on average we saw one vehicle every 10 minutes or so, when we were on the B road! It dropped off even further when we left the paved road for the dirt roads…

This route really drives home how isolated, desolate, and unforgiving the landscape can be in Namibia. Self driving in Namibia, you really appreciate your vehicle. It's your one connection to the outside world, and your only way back out.
Keep an eye out for our itinerary post for Namibia, coming soon. We'll give you a bit of a guide on how you can include some of these great drives into an all encompassing itinerary.
Police/Checkpoints
Police checkpoints were mostly non-existent in our experience. As we entered the Kavango Region on our way to the Caprivi strip, we did begin to see some checkpoints, however.
These were apparently disease checkpoints, to help curb the spread of foot and mouth disease. As such, they won't really apply to you and you'll likely be waved along without much in the way of stopping.
Our Experience
Overall, self driving in Namibia was an experience we'll never forget! Namibia is a vast an varied country with so much to see. The colours here are unlike anywhere else we've been, and we never got sick of anticipating what was around the next bend. The driving distances in Namibia are outrageous, but you'll love it for the sights you have the privilege to witness.
If you love the outdoors, and having space to yourself, you'll love Namibia. Driving in Namibia gave us some of the emptiest roads we've ever come across, and you really assign unexpected levels of camaraderie towards other vehicles which you may only share the road with for a few minutes. It really puts your driving skills to the test, and you definitely know you're alive while doing it!
Driven in Namibia? Feel like we've missed something? Let us know in the comments!
Summary
Article Name
Self Driving in Namibia: How to Stay Safe, and Avoid Disaster!
Description
Self driving in Namibia is not for the faint of heart, but we've got a few tips on how to do it as safely and comfortably as possible!
Author
Publisher Name
Publisher Logo