In December 2016 we went hiking New Zealand on the Milford Track. We stayed in the Milford Track huts, had to prepare our Milford Track packing list, go road tripping to get to there, and get ready for the best hike we've ever done.
Here is a guide to help you get ready for hiking the Milford Track in one of the prettiest areas of the country. Below are tips for what to bring, what to eat and how to get there.
What is the Milford Track?
The Milford track is a 4 day/3 night hike that stretches from Te Anau Downs to the Milford Sound. It was routed as an overland track to get supplies and trade going between the two settlements. Originally, the Maori would travel through this area in search of their favorite green stone that they traded.
This trek is one of 9 great walks in New Zealand that are run through the DoC (Department of Conservation). To get tickets for the trek you'll need to log onto the DoC website and book well in advance as the walk sells out early and fast.
Hiking the Milford Track Went a bit Like This:
The Milford Track Huts are spaced out by 12-16 km (about 8-10 miles). It will take most of a day to walk the distance between the huts.
Day 1 is very short. Only a few kilometers between where the boat will drop you and the first hut.
Day 2 is a long one, with a lot of uphill near the end.
Day 3 is the butt-kicker, you'll go up and over a small mountain.
Day 4 is mostly downhill and relatively easy.
What are the Milford Track Huts Like?
There are 3 huts on the Milford Track. People will start stirring around 5am and they will start going to sleep around 8:30pm. If you like to sleep late and go to bed late you will be on the wrong trail.
Each hut has gas stoves, sinks with running water, food preparation areas, places to eat both inside and out, and bathrooms with flushing toilets. No showers, though.
Booking Tickets for the Milford Track Huts:
Jackson booked our tickets back in the Spring before we hiked in December. The cost per person, per night is really expensive: $140 NZD and that's only for a bunk in the Milford Track huts, nothing else!
If you factor the cost of only the bunks in the Milford Track huts you're going to cough up $420 NZD per person for the 4 days/3 nights hiking the Milford Track. That's not including the fees incurred from getting a bus ticket to take you to the ferry that drops you at the starting point.
Clinton Hut
The first night, after a 1.5 hour hike from the drop-off point, you'll stay at Clinton Hut.
Each hut will sleep 40 people so there are no private rooms. At the first hut, the ranger joked that if there were any snorers they should move out into the mess hall and sleep there. Seriously, sharing a hut with 40 people can be brutal.
Clinton had two large rooms that slept about 20 people each. There were bathrooms, an outdoor deck, and places to cook and eat.
Mintaro Hut
The views from Mintaro are stunning! It's an uphill walk to get there by the end of the second day, but you're surrounded by stunning mountains.
There are helicopter pads at each hut and the Mintaro Hut has a BEAUTIFUL helicopter pad that will give you some of the prettiest views!
Some brave souls went swimming at a watering hole nearby. We didn't because that water is COLD.
Mintaro had a large loft area that slept a lot of people, and then a couple smaller rooms to sleep in. Our group chose one of the smaller rooms to sleep in and were quite happy.
Dumpling Hut
This hut has a wood fire! It's a great place to warm up your cold fingers and toes.
The rooms here were divided into smaller numbers of bunks. We were in a room that slept about 6 people. There is a long wooden deck to get to this hut and the deck is really pretty (when it isn't covered in flood water!).
The hike to Dumpling hut will take you over McKinnon Pass and that's a stunning view (if the weather is good). When we went we had terrible weather, but the hike was still really cool.
Budgeting Expenses for Hiking the Milford Track:
Aside from the fees for the Milford Track huts, there will be the cost of whatever it is you pack for your Milford Track packing list.
New Zealand is not known for being a budget destination and this will be reflected in the costs of food, lodging, and petrol (gas).
The beauty of being on the trail once you are hiking New Zealand is there won't be an opportunity for you to spend more money, so once you're all stocked up you won't spend any more cash until you're done with the trail.
Petrol:
At the time of writing this:
Petrol (gas) in New Zealand costs about $2.30 NZD per liter.
Diesel costs about $1.65 NZD per liter.
So, if you are driving a camper van or a bigger vehicle, you're probably going to pay anywhere between $30-$50 NZD per day in fuel costs.
For my American readers: it's about 4 Liters to the gallon. This means a gallon of gas (petrol) will run you $9.20 NZD ($6.07 USD). Diesel is much cheaper. I'd recommend getting a vehicle that drives on Diesel if you get a chance. You'll only pay $6.60 NZD per gallon ($4.35 USD).
Fees for Getting to the Milford Track:
Taking the Bus:
You might need to take a bus from Te Anau to Te Anau Downs in order to catch the ferry to the beginning of the Milford Track.
The ticket for the ferry and the bus will cost $110 NZD per person ($72 USD). The bus leaves at various times throughout the day, although the Ferry only has two departure times to the starting point of the Milford Track. For more information about timetables you can check out TrackNet's site.
The DoC also has information available about transportation to the Milford Track if you need more assistance. We called their assistance hotline directly to make most of the transportation bookings. We found this was the easiest way.
Once finished with your Milford Track route, you can take a ferry that will take you from Sand Fly Point to Milford Sound. At Milford Sound, you can catch a bus to take you back to Te Anau.
This second bus will require another fee of $49 NZD ($32 USD) per person. The bus leaves at various times throughout the day as well. We booked our tickets through the DoC website when we made our reservation for hiking New Zealand.
All told, you'll need to budget $159 NZD ($105 USD per person) for transportation to and from the Milford Track.
Parking:
Alternatively, you can park your car at Te Anau Downs in their parking lot for the 4 days you'll be gone. This would save you the $110 NZD for the bus from Te Anau. We opted not to do that because Jackson's family was a little apprehensive about leaving the car in an open (and mostly deserted) area for that long.
We parked the car in a parking lot in Te Anau to have more peace of mind while we were on the hike. If you are in a camper van, you might want to consider that. The cost per day was $12 NZD. For 4 days that comes to $48 NZD ($32 USD). The bus will drop you off at the parking lot as well (sweet!). We parked at Safer Parking Lot.
Food for your Milford Track Packing List:
When purchasing our food, we aimed for the most convenient and lightest ingredients we could carry. We also considered the calories that these items could deliver because we knew we'd be burning through thousands of calories a day (like you do when hiking New Zealand!) and would need to keep our energy levels up.
The items we purchased were all ready to eat by just adding hot water. We'd pour our breakfast into little baggies that could get dumped into a bowl, mixed with the hot water and then ready to go. Same with dinner.
Breakfast:
All listed below was poured into baggies for convenience.
Quick oats
Dried Fruit
Nuts
Dehydrated Milk
Lunch:
4 Apples
A block of Parmesan cheese (which we cut into chunks to eat each day)
Smoked sausages
4 Peanut and Chocolate Slabs
Multi-grain Crackers
Dinner:
All kept in sandwich bags for convenience and to keep the ingredients dry!
3 packages of tuna fish
3 half-cup bags of couscous (with olive oil and butter poured into the dry couscous).
Dried Peas
Snacks and Other Stuff:
Snacks while hiking New Zealand are really important. We'd be hiking for hours and it was vitally important to be eating high protein foods that would keep our energy up.
Scroggin (Trail Mix) this is available in many grocery stores in New Zealand and you can get it by the bag full. It consists of dried fruit, nuts, coconut, and chocolate.
A 2 Liter bladder of wine. Although this was heavy, it was nice to have a glass or two of wine at the end of a long day. We also made a lot of friends while hiking and were able to spread good cheer by passing around the bladder.
Instant Coffee
Protein Bars
Carrots
Sandwich Bags: Essential! They'll help keep your dry stuff dry which is a real premium when in the always-super-wet Fiordlands National Park.
Beef Jerky
Nuts
Milford Track Packing List:
The Fiordlands National Park is one of the wettest areas in New Zealand. This means that in the summer months (high season) it will rain up to 18 days a month.
With all that rain in mind, it's important to bring waterproof gear, but expect everything to get wet anyway.
Thankfully, there are no natural predators that can kill you while hiking New Zealand so you don't need any kind of bear whistle or know how to wrangle a crocodile.
That said, your biggest foe is hypothermia. It can get cold, even in the height of summer.
Milford Packing List Essentials:
The Backpack
You'll need a good, heavy-duty backpack to start. I wouldn't go for smaller packs here because the food and sleeping bag you'll need to bring will take up quite a lot of space. I wouldn't recommend anything smaller than 50L. Please: put your sleeping bad in your backpack, not tied to the outside!
I hiked with my Osprey 50L and it was a good amount of space for me. If I were to do it all again, I might go bigger, to be honest.
Jackson took his sister's tramping bag which was 65L. This was a really great size and he had plenty of room for everything – including that sweet bladder of wine!
The Sleeping Bag
There are standard bunk beds at the Milford Track huts, but the huts will not provide pillows or sleeping bags. Each bed has a thin mattress to sleep on so it's not necessary to bring any additional padding.
A good, warm sleeping bag would be a great idea. If you can find one that will pack down small, even better. We used down-stuffed bags from Kathmandu that did the trick nicely.
I also bring a silk sleeping bag liner with me whenever I am camping. The liner will provide additional warmth and you won't need to wash your bag as often because the liner will absorb the worst of the sweaty grossness at night. A silk liner is really light, packs down small, and is such a life-saver.
Warm Under Garments
Jackson and I wore a merino wool shirt under our clothes and that was a great layer to keep us warm, absorb the sweat, and dried quickly when taken off.
Darn Tough socks are a god-send for anyone who is a hiker. These monsters were tough as nails, withstood some brutal conditions, dried quickly, didn't get too smelly, and are fantastic additions to the clothing list when hiking New Zealand.
Icebreaker underwear. I love these undies so much. Wool is a fabulous material to hike in and, like I said above, it will dry quickly, absorb sweat, and won't get too stinky. This is a great addition to your Milford Track packing list.
A Water-Proof Jacket
Total essential. Like I mentioned earlier, you should expect to get wet anyway, but the water-proof jacket will go a long way to help make the hike a bit more comfortable.
Jackson and I were both wearing Eddie Bauer Jackets which did the trick relatively well (I still felt pretty wet, but I don't know what could have been different, I mean – it pissed rain all day).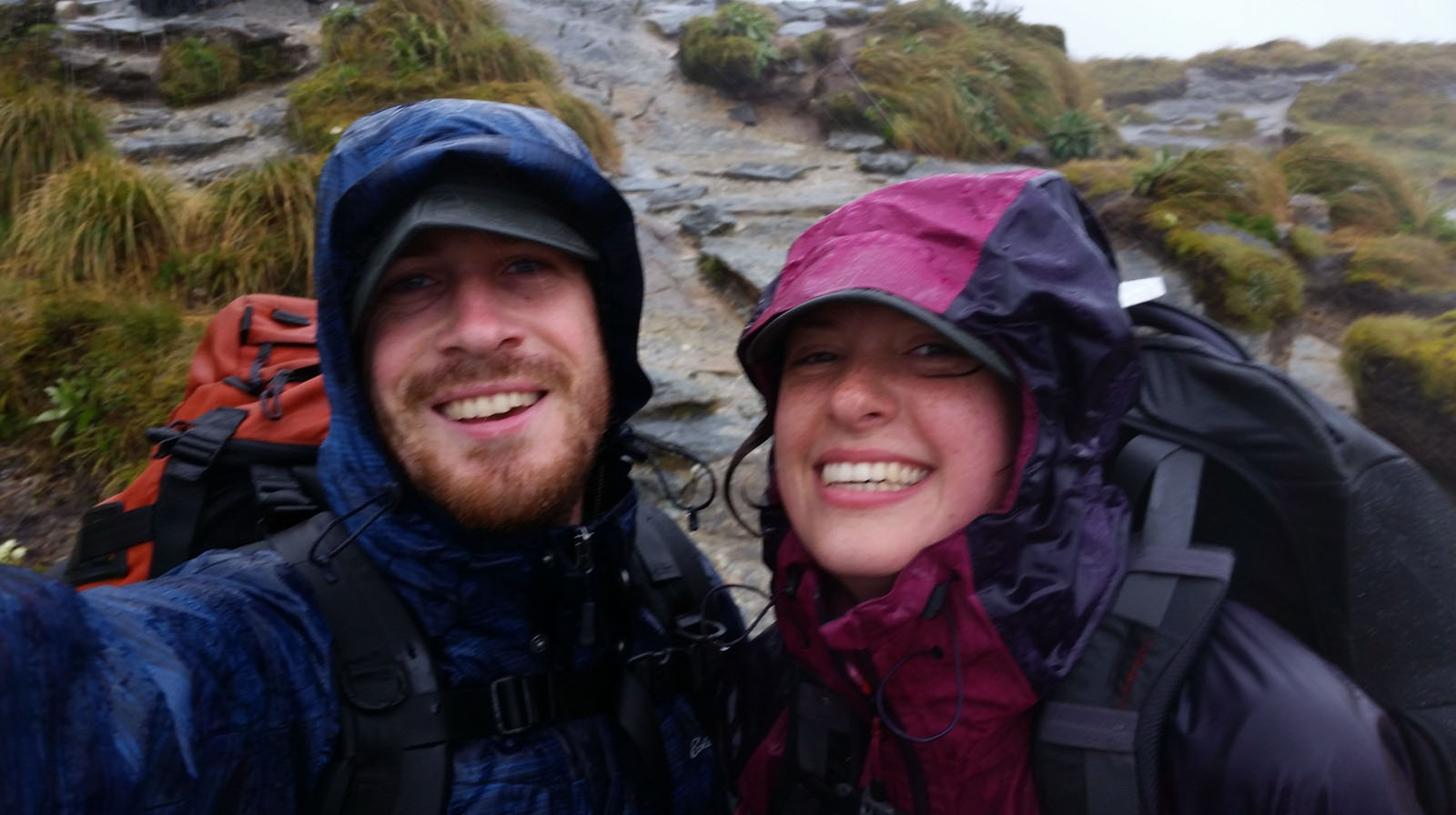 Layers
I'm talking sweaters, pull-overs, long-sleeves, t-shirts, whatever it is you can throw on and pull off to manage your heat.
While hiking the Milford Track, if the sun came out, it could get quite warm. This was when pulling a layer or two off is imperative.
On the flip side, when you crest that mountain and start making your way down, you'll likely get cold and need all the layers you can spare.
I'd recommend natural fibers, here. You want items that will dry quickly, won't get heavy if wet, and can fold down small when packed away. I can't recommend wool enough. Wool will still keep you warm, even if it gets wet.
If you can afford it, I'd recommend silk items, too. Silk acts as a great natural layer that packs down really small and dries quickly.
I'd bring a couple of pairs of everything. You'll likely want to change into something warm and dry when you get to the Milford Track huts and it is so sad when you run out of warm, clean, dry clothing at the end of the third day and have to pull on something soggy for your final leg of the hike (like I had to!).
Hiking Boots
Jackson and I didn't wear the traditional hiking boot and I wish I had.
We had opted for lighter shoes that wouldn't get too heavy in our suitcase, but in reality should have gone for the real heavy-duty, ankle-supporting boots.
Since the hike, I've gotten myself a pair of Solomon Boots and am so happy with them. We hiked in Tsitsikamma Park earlier in 2018 and they were a dream to hike in. I'd do the walk between those Milford Track huts in a heartbeat if I was wearing those sweet boots.
My girlfriend, Jen, who hiked with us, wore a pair of Anu boots and swore by them.
Food
I won't go into detail with this, since I talked about what we brought earlier, but this needs to be included in your Milford Track packing list. (See above).
Plastic Bags
Essential! Have I mentioned it rains, like, a lot? Get a bunch of plastic garbage bags or if you want to go fancy, you can do that, too!
Make sure you double wrap your sleeping bag and food. You DO NOT want your sleeping bag to get wet.
Adding little sandwich bags to your Milford Track packing list for your food is a great way to keep everything organized. I found that by reaching into my backpack and pulling out a baggie of food I was able to get my hands on calories quick and easy. Plus, baggies will help you carry out any garbage you create while hiking New Zealand.
Toiletries
A toothbrush and toothpaste are very necessary.
Bringing some toilet paper might be a good idea in case you come across a long drop that has run out (it happened). The Milford Track huts will be well stocked with toilets and toilet paper so you don't need it when at the huts.
Don't bother bringing shampoo, there are no showers. Sorry.
Having a good lip balm is a smart idea.
Sunscreen is essential! You'll fry to a crisp in that sun if you don't have it!
Bug repellent is another good idea. The sand flies are really annoying. You don't come across mosquitoes on the Milford Track, but the sand flies will come at you like white on rice.
A First-aid kit is a must. You never know when you might need a band-aid, an aspirin, or ice pack.
A Hat
Really good idea! Helps keep the sun off your face and the rain out of your eyes. It's a good investment and if you get one that packs down small: even better.
Cooking Utensils
A non-breakable cup, a fork, a spoon, a water bottle, and a knife!
You'll also need utensils to cook on. This means it's a good idea to bring a small camping pot and pan.
Non-Essentials, but a Good Idea:
You'll likely have a lot of down time at the Milford Track huts. Having a good book to read is a great way to pass the time.
A Camera
The Milford Track is stunning and hiking New Zealand is world-class hiking, so: bring something to try to capture what you're about to see. It's really, really beautiful out there.
Walking Sticks
Although not an essential for your Milford Track packing list (we didn't bring any) walking sticks would probably make your walk a lot easier. These tools are a great way to gauge how deep a stream or puddle is and give you added stability and balance.
We saw some people with walking sticks and others without. If we were to hike the Milford Track again, I'd probably bring a pair.
When is the Best Time to go Hike the Milford Track?
The track is open year-round, but the high and off-season are completely different experiences.
During the off-season (April – September) the track is bare-bones. There will not be any gas stoves in the Milford Track huts and you're expected to hike the track on your own using your own devices (including toilet paper and bringing water because there is no running water at the huts!). There won't be any rangers to give you advice, or direct you.
Hiking the Milford Track in the winter is a lot cheaper, but only very experienced hikers are allowed on the trail. This is also high season for avalanches and this trail can change in a heartbeat due to changing weather patterns.
During the high season (October – March) the trail won't be covered in snow and won't be under avalanche threat. The Milford Track huts will be equipped with gas stoves, simple amenities like toilet paper, and a forest ranger. The trail only allows 40 people to hike on it a day so it should never get too crowded!
I've Never Gone Hiking in New Zealand, Can I Do This?
I'd say hiking the Milford Track is a moderate-level hike. What I mean by that is: if you are capable of long walks and some fairly long days carrying a heavy backpack then you can do this hike.
The hardest part of the trail is Day 3 when you have to crest a small mountain. That's a strenuous day of ups and downs, but other than that the trail is not too difficult.
Hiking New Zealand is Amazing.
I can't recommend hiking the Milford Track enough! This trail is one of the best hikes I have ever done and I think about the experience a lot. Although staying at the Milford Track huts will be expensive, you'll get a chance to see some raw, natural beauty the likes of which I've never anywhere else.