Road tripping in the South Island of New Zealand is one of the prettiest trips you can take. If you want to do a New Zealand South Island itinerary in 14 days you'll get a chance to see mountains, glaciers, forests, lakes, and go hiking. It's a fabulous vacation.
Jackson is a kiwi and grew up in Christchurch before moving to New York City in 2009 (where he met me!). After we started dating in 2013, I went down south with him to meet his family and did a self drive New Zealand for the first time.
We spent 10 days on our first New Zealand road trip and saw quite a lot of the Catlins, Lake Tekapo, the glaciers on the West coast and Oamaru.
In 2016 we went back for another take at the best road trip itinerary for New Zealand's South Island with some friends in tow, which was all part of a bigger 6-month round the world itinerary. We hiked the Milford Track and saw more of the Catlins, Te Anau, and Queenstown.
This country is larger than it looks and attempting a New Zealand South Island itinerary in 14 days won't cover the entirety of the South Island, unfortunately. When Jackson and I were making this itinerary we wanted to include Picton Ferry and Abel Tasman National Park, but there is too much to cover in 14 days.
So, the north of the South Island has been cut out.
That said, if you want to see more of the Marlborough region and sample wines, eat mussels in Havelock, and hike in Abel Tasman, you can! We just thought the Catlins were prettier, and made it the best way to travel the South Island.
Here's How to Spend your New Zealand South Island Itinerary in 14 Days:
Day 1-3: 2 Nights in Christchurch
Landing in Christchurch is a good place to start. Alternatively, you can fly into Queenstown and be further South, but Christchurch is a bigger city, will have more incoming flights, and is a buzz of activity.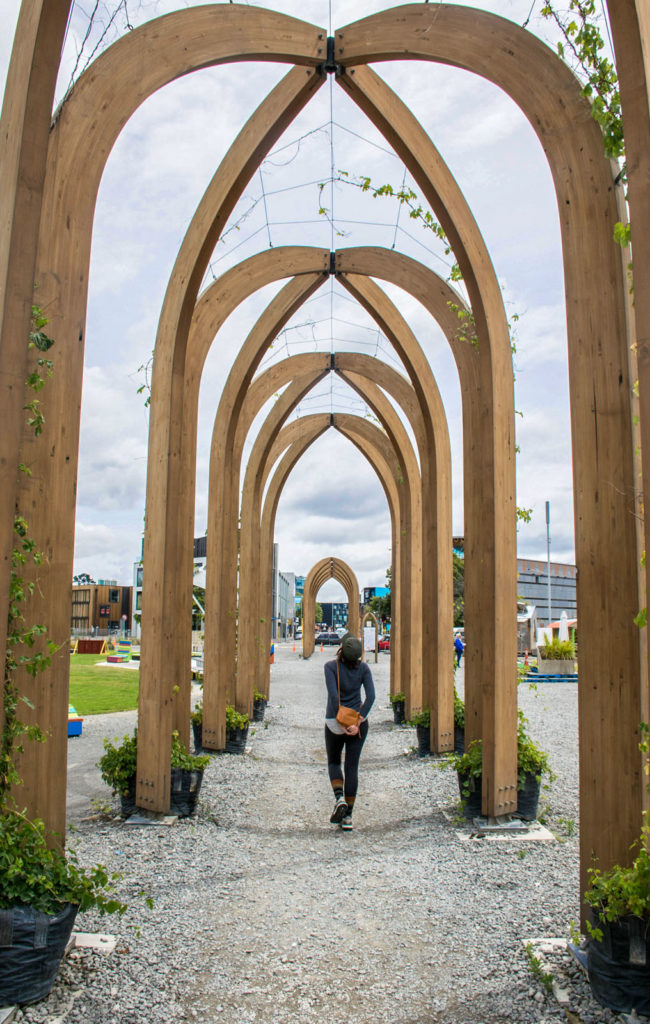 Since the 2011 earthquakes that ravaged the city, Christchurch has made epic leaps and bounds toward coming back into its own. It's the largest city on any South Island itinerary and offers travelers coming from abroad a chance to chill out spend some more time planning their New Zealand trip, get over the worst of their jet lag, and explore some great places before continuing on a South Island road trip.
Day 3-4: Drive to the West Coast via Arthur's Pass
Driving West, out of Christchurch, take Arthur's Pass through some spectacular Lord-of-the-Rings-style landscapes that will leave you breathless (I mean literally breathless because you will be so high up!). The altitude up there will plunge the temperatures and bring you past the icy, snow capped Southern Alps.
The drive to Hokitika is about 3 hours 15 min, which means if you leave Christchurch after breakfast, you'll have plenty of time to start your road trip without rushing to the next place. I think that's the beauty of a self drive New Zealand adventure: NZ is just not that big and getting around is quick!
In the afternoon or evening of your arrival (best done at night!), go check out the glow worm dell, a phenomenon of glow-in-the-dark worms that look really weird! It's a good photo op (and a good place to go with a family, if you've got kids with you!).
The next morning of Day 4, go do the Hokitika treetop walk. We had a lot of fun walking around the trees and got really lucky with the weather, landing a really stunning day to snap pictures and explore. (Tickets for adults are $32NZD/ $22USD).
Day 4-5: Drive Down the West Coast and See Some Glaciers
If you decide you want to see a glacier when planning your South Island itinerary, you'll have two great options: Fox glacier and Franz Josef glacier. We went to see both in one day when we came down and did our first New Zealand South Island road trip in 2013.
Given the time limit of a 14 day itinerary, you might want to include just one of these. With that in mind, we found that Fox glacier was far superior.
We liked Fox because there were fewer helicopters flying overhead while we hiked to get to the glacier. The views were stunning, but there is a small hike involved as the car park is a walk from where the glacier stops (thanks, climate change!). It's really sad seeing how much the glacier has shrunk over the decades.
We recommend going to stay in Jackson Bay, which is a 4 hour drive from Hokitika. Stopping at Fox glacier is a good way to break up the drive as its about halfway to Jackson Bay.
Stay at Jackson Bay overnight and make sure you get dinner at The Cray Pot, said to be one of the best fish and chips shops in New Zealand (score!). I'd definitely make getting fish and chips at least once while road tripping in the South Island because NZ can make a mean fish and chip meal.
Day 5: Backtrack up to Haast Pass go to Queenstown; We Recommend Taking Arrow Junction
Drive through the Mountains again, this time through the Haast Pass toward Queenstown. To go from Jackson Bay to Queenstown is about a 4 hour drive on your New Zealand road trip.
The Haast Pass is a really beautiful drive and coming into Queenstown via the Arrow Junction is a treat because that road is super windy-twisty, but gives you stunning views of the area.
Day 5-7: 2 Nights in Queenstown
We've found that the best itinerary for New Zealand's South Island includes 2 nights in Queenstown, to take advantage of the adventure activities you can do during the day. Queenstown is one of the biggest adventure sports capitals in the world and is no stranger to extreme activities like skydiving, bungee jumping, or whitewater rafting. There are so many things to do in the South Island, but if adventure is what you're seeking, Queenstown is where you want to be.
Queenstown itself has a lot to do in the downtown area. Plenty of shopping, leisure activities, places to eat and relax: the area is stunning and we found simply sitting on the side of the lake and taking in the gorgeous mountains to be entirely relaxing.
Day 7-9: 2 Nights in Te Anau with a Day Trip to Milford Sound
After breakfast in Queenstown on Day 7, you're be halfway through your 14 day itinerary, so it's time to head to Te Anau which is about a 2-hour drive from Queenstown. Te Anau is a great jumping off point for a lot of the Southern part of a New Zealand South Island road trip.
You should take a day trip on Day 8 to see Milford Sound because it is one of the more stunning places I have ever seen. The drive there is unbelievable as well, you cross through some snow capped peaks that are simply stunning.
There are a couple of Great Hikes you can do while on a New Zealand road trip. One of them, the Keplar Track, is accessible by foot if you want to do just a day walk. You don't have to reserve any cabins and you can take a lovely walk like we did in 2013.
Day 9-10: Go to the Catlins Region from Te Anau
The Catlins are a region in the South of the South Island. I think it's an integral part of any 14 day itinerary of the South Island of New Zealand because it's Just. So. Pretty.
Plus! When you are down there on your New Zealand road trip, everything is pretty close so you can really get around easily and see a lot.
If you are there, I'd recommend stopping at the Cathedral Caves. If there is nothing else you do while there, this is the most important stop. It's a 4-hour drive from Te Anau to the Newhaven Holiday Park via the Cathedral Caves and you can make a great day out of your drive, stopping along the way to see the Caves.
We've stayed at the Newhaven Holiday Park a couple times and loved the peace and quiet there. The rates are reasonable, and there is a lovely path that leads to a beach you can take a stroll on. When we've been we've seen a TON of sea lions sunning there. Just be sure to pick up any wine or provisions you might want before you go there because it's really remote and everything closes early.
Day 10-11: Nugget Point and Cannibal Bay
We'd recommend waking up early the next day to go check out Nugget Point and Cannibal Bay. Nugget point is beautiful and is frequently recommended on lists of "things to do" in the Catlins (and the South Island).
Cannibal Bay is not too far from the Holiday Park and is a really quiet beach that has a lovely drive to get there. It takes about 1 hour to go from the Holiday Park to Cannibal Bay via Nugget Point.
There are a couple other highlights in the Catlins, but not all are created equal! Purakaunui Falls is not worth the trip (kinda lame) and Slope Point, the southernmost point in New Zealand, is really windy and not particularly eventful! Nugget Point is prettier.
Sleep in Dunedin (about 1.5 hours from Nugget Point) You can score an Airbnb in Dunedin that's pretty and cheap.
Day 11-12: Wake up in Dunedin and go to Tekapo via Oamaru
Day 11, wake up in Dunedin and head North, toward Tekapo. On your way, stop at Oamaru for lunch. The stretch from Dunedin to Tekapo is about 3.5 hours via Oamaru.
Oamaru is a cool little coastal town. There's a steampunk museum that's wacky and all the sculptures outside the museum are really cool. Plus, the architecture of the town is mostly limestone and it's really pretty to walk around and enjoy the lovely buildings.
If you're looking for something delicious to eat while in Oamaru, go to the Whitestone Cheese Company, that cheese is FANTASTIC. We ate it with a fresh loaf of bread on a pier and watched kids play in a park. It was great.
Drive on to Tekapo after lunch.
Stop at Omarama hot springs on the way to Tekapo for a quick soak. We loved coming here and spending a few hours stewing in a hot bath. Super relaxing! We went with some friends and split the cost of a soak.
Sleep in Tekapo for 1 night. (Make sure you bring some food with you to prepare if you are camping on your self drive New Zealand trip, otherwise there are restaurants there you can eat at, but they are expensive!).
Day 12: Wake up in Tekapo and Go Hiking
Early in the morning, go hiking up to the top of Mount John to see spectacular views of the area. The hike isn't too long, about 45 minutes to an hour to the top and the views will reward you mightily.
Finish your hike and drive to Christchurch, about 2 hours away.
Day 12-14: Stay in Christchurch and go on a day trip to Lyttelton
You've got some wiggle room again. If you want to add any extra days at a stop on your New Zealand South Island road trip, you can. That said, if you are in Christchurch on day 12 of your South Island 14 day itinerary, you'll have enough time to do a day trip to Lyttelton.
Lyttelton is a quaint town with cafes, art and history. It's not a long drive at all, about 30 minutes from downtown Christchurch, and you can hike around the hills surrounding the town. Last time we were here, we hiked up the Port Hills for a look at the valley that Christchurch sits in and it was very beautiful. If you don't feel like hiking, there is the Christchurch gondola that will take you to the top.
Things to Know Before you Go on your New Zealand South Island Road Trip
Regarding Great Walks
If you are planning one of the Great Walks, it is vital that you book your passes well in advance. These Great Hikes are AMAZING, but they sell out quickly and are very popular.
Recently, the New Zealand government upped the price for the hikes and it's now a lot more expensive for foreigners than it used to be. That's helping to drive the demand for passes down, but don't count on beds being available for the days you might want to hike unless you book well in advance. You can read more about booking here.
Queenstown
Queenstown is very popular. It's one of the biggest destinations for adventure seekers on the planet and this town is crawling with tourists as a result. If you are not into crowds, look for places to stay outside of Queenstown while on your New Zealand road trip. We can recommend Wanaka as an alternative.
If you decide to stay in Queenstown, that's fine! There is so much to do.
Glaciers
The glaciers have suffered greatly from climate change and global warming. They are not nearly as robust as they used to be. When we went on our first New Zealand South Island road trip we stopped at Franz Josef and Fox glaciers. It was easy to do both in one day.
The glaciers have retreated so much! It's so sad. We preferred Fox because Franz Josef had helicopters buzzing back and forth every other minute and it was damn loud and annoying. That's why we are only including a stop at Fox on this 14 day itinerary of the South Island.
Visas
If you are from the US you will be a part of the visa waver program at the airport so you don't need to have a visa prior to arrival. Not all countries are this lucky, however, and you should check with your government to see if you can get into New Zealand without a visa.
Weather and Best Time to Go on your South Island Road Trip
New Zealand's weather is temperate and won't get too cold in the winter (although it will hit freezing the farther south you go!). The best time of year for your trip around New Zealand's South Island would be January to February (summer), however this is the high season and likely tourists are far more plentiful.
Whenever we've done our own self drive in New Zealand, we've road tripped around in December. This is also high season, but because the South Island is so quiet, it really never got crowded.
The weather in New Zealand will change rapidly no matter the season. It could be raining one minute and sunny the next. You can bet, however, that there will be wind almost everyday.
The sun in New Zealand is really strong, and sunburns are serious. Make sure you bring plenty of sun screen of you go!