Orient Bay Beach is world famous when it comes to nude beaches, and even after the damage of Hurricane Irma, Orient Bay remains the first choice for many visitors to Sint Maarten seeking a full body tan. In addition to Orient Bay, we've got a few other suggestions on where in St Martin you can keep your clothing optional!
This page may contain affiliate links. This means that if you buy/book anything we recommend through A Pair of Travel Pants, we receive a small commision, at no extra cost to you! It's a small way of helping us fund our travels. Thank you for your support!
We first experienced a nude beach in Australia, but really came to love the unique charms they offer while in Croatia. If you're planning a trip out that way, be sure to check out the list of our favorites from that trip!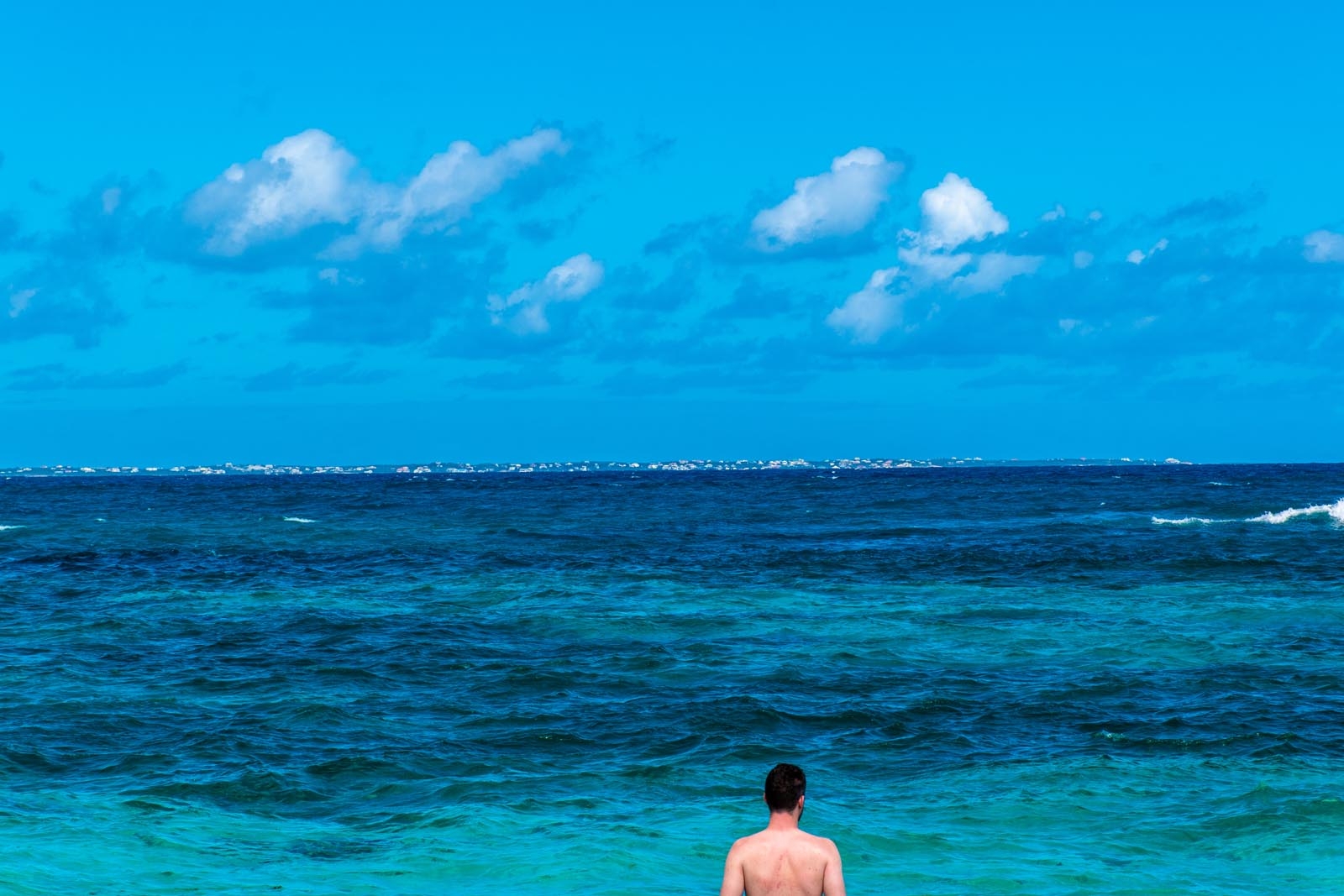 St Martin vs Sint Maarten
St Martin (or Sint Maarten, depending on which side you're on), is a beautiful Caribbean island with fabulously warm temperatures all year round. The driest weather usually occurs between December and April, and as such this is the busiest time for tourism on the island.
St Martin / Sint Maarten Island is actually two countries: St Martin is French, and Sint Maarten is Dutch. Despite this, there are no issues moving between the two sides. There are some laws that differ (casinos are allowed on the Dutch side, but not the French), but by and large you'll not notice the difference.
The main airport on the island, Princess Juliana International Airport (SXM), is in the Southwest corner of the island, more or less right where the French and Dutch sides meet. The area immediately surrounding the airport is quite built up, and in general the Dutch side of the island is more crowded and touristy.
Our Visit
We visited in late January and early February, and found it very peaceful!
Orient Bay is one of the most well known beaches on the island, and, therefore, also one of the busiest. Despite the popularity, we found plenty of room for ourselves.
We stayed up in the Northeast on the French side, up near Pinel Island, and found it to be super laid back and chill. Very French, if you will!
Nudity on St Martin
If you're looking to sneak in a bit of a skinny dip, and get that full body tan going, St Martin is an excellent destination!
In general, topless nudity is considered a-ok anywhere on the French side of the island. On top of this, while Orient Bay Beach is the only official clothing optional beach on St Martin, if you keep to yourself or venture to some lesser known beaches, you'll likely not be bothered.
The rule of thumb we encountered was this: if it's a week day and the beach is pretty empty, it's probably ok to get naked (and you'll likely see a few others bathing in the buff).
On the weekend, your best bet is to stick to Orient Bay Beach. Use your judgment, and you'll be fine. We were mostly able to follow by example during our trip, and only went for it if we saw others sunbathing naked.
First time? Feeling nervous? Don't! Just check out our 11 tips for how to behave on a nudist beach before you strip off and you'll be as right as rain.
St Martin Nude Beaches
Pinel Island
Pinel Island is a fun little excursion just on its own! You can easily make a day trip of it, as it's so close to the main island, and is super quick to get there. We've written a post which gives a few details on how to get there and what to do once you're there.
The ferry to Pinel Island will drop you right by the only two restaurants on the island, and the majority of visitors won't venture much further than this. If you're looking to get nude, you'll want to head off to the opposite side of the tiny island. This is at most about a 5-minutes walk (as I said, the island is tiny).
Once you reach the other side, you'll be met with a beautiful – almost deserted – beach. Chances are you won't be the first here, and you'll likely see a few other clothing optional seekers sunning themselves.
To play it safe, your best bet is to wander down to either end of the beach. While we were there, there were several small groups or couples taking advantage of the emptiness to take a skinny dip, and sunbathe naked, and nobody who came to check out the beach seemed at all bothered.
Getting There
The ferry to Pinel Island runs every 30 minutes, so you've got plenty of opportunity to hop a boat. As an alternative for the more active, you can also rent a kayak and paddle your way there!
Petites Cayes
The route to this beach requires a bit of a hike, and starts in an unlikely location: the local rubbish dump! It's also the most remote of the beaches we visited, so make sure you take plenty of water and food, as it'll take you about 45 minutes each way.
We didn't think it would be possible to find that elusive, perfect, but deserted, beach on one of the most popular islands in the Caribbean, but here it was!
Given how remote this beach was, we had it to ourselves for several hours, sunbathing naked, enjoying the odd refreshing dip in the water. We were here on a weekday, so we can't say how popular this beach is on the weekends, but I wouldn't be surprised if it remains sparsely populated even on the weekends.
Getting There
Drive out through Cul-de-sac towards the Grande Cayes Reserve, and you'll eventually get to the entrance to the rubbish dump. From here you can park on the side of the road and set off.
From the sign with the nature reserve information, head around the end of the bay to your left. There's not much of a path, so you'll just be heading along the beach for the most part. As you get around to the edge of the bay, you'll start to see some criss-crossing paths that lead up into the hills.
It's a steep start, but once you're up the path and on the top of the rise, the path will be much more obvious, as it cuts through the vegetation across the hills.
Continue along the path (keeping an eye out for some of the spiky cacti dotted along the way), and you'll eventually get to a split. On the left, the path will continue along the edge of the hills, while the path on the right will descend down to a rocky beach. We followed the upper path, and eventually had to take a much steeper path back to the beach, so if you want our advice: take the low road.
We took the lower path on the way back, and it was much easier.
From here, you can continue along the beach. It will be quite rocky for a while, and eventually start to become less and less so. As the beach becomes sandy, you'll come across a crescent beach. You may be tempted to stop here (as it will likely be pretty deserted), but keep going! As you come to the end of this first crescent, you'll come to a second, smaller, more sheltered beach.
On initial reflection, we assessed this to be perhaps the most perfect beach we'd ever seen: white Caribbean sand, beautiful turquoise water, sheltering hills surrounding it. And on top of all that, EMPTY.
Happy Bay Beach
Happy in name, and happy in nature. This beach was chill A.F.
While we were there, the right hand side of the beach seemed to be more commonly used as clothing optional, and had a good smattering of naked people already enjoying the sun. That said, plenty of people were making use of the entire length of the beach for giving themselves a complete sunning while going for a stroll.
There's a shack right on the beach which, rumor has it, will sometimes serve food and drinks. We didn't see any activity while we were there, but it's possible we just chose the wrong day!
Some advice: The wind can get pretty strong at Happy Bay beach, and when it does you might feel like you're getting an abrasive salt rub at a Russian spa. If you're not into that, set up right on the edge of the beach where the surf meets the sand! The waves create a natural rise in the beach, and because the sand below it is wet, the wind has nothing to throw at you!
Getting There
The easiest route to get to Happy Bay Beach, is via an old abandoned resort complex.
On the main road between Grand Case and Marigot, keep an eye out for a little side street; Rue Happy Bay. There's a restaurant on the corner, called Cool Heure Café to let you know where to turn off.
We ended up visiting the beach, getting hungry, heading back to Cool Heure Café for lunch (cash only at the time we visited, but excellent food!), then back again for another stint at the beach!
Soon after turning down Rue Happy Bay, you'll get to the gate which leads to an abandoned resort complex. To the right of this is a small dirt patch which can be used as a parking lot. After parking, you'll slip through a hole in the wall next to the gate to get into the resort area. There are signs telling you not to do this, but nobody pays any attention.
Follow the paved road past the resort villas, until you reach a dirt road, then keep walking down that. After a couple of minutes, you'll reach an open field, and the beach just beyond that (along with a large "Be Happy" sign)!
Orient Beach
Due to the damage caused by hurricane Irma, the nudist resort Club Orient is no longer in operation. Despite this, there is still plenty of action down on the nude end of Orient Bay Beach. This is the spot to go if you want all the relaxation, without any of the effort.
There's a little shack of a restaurant which serves food and drinks, and plenty of beach chairs and umbrellas available for hire.
Orient Beach was easily the most crowded of the nude beaches we visited on St Martin, but it was also the most easily accessible. The added benefit here is that as the island's only official clothing optional beach, Orient Bay Beach is a great spot to use as a default.
As mentioned above, the general rule of thumb that we worked under was that going naked on the non-official nude beaches is all well and good for the less popular weekdays. The rest of the time, if you just want to relax and enjoy the water in the buff, Orient Beach is the place to do it.
Getting There
After entering the Orient Bay Village area, through the gates off the main road, make your way down to the main drag. Here you'll find a bunch of restaurants, some stores, and plenty of parking.
Once you reach the parking area, keep driving through it, alongside the beach. At some point you'll see the Kontiki Beach restaurant. If you see this you're going in the right direction!
Keep driving past Kontiki Beach, and you'll finally get to another expansive parking area. This is the boundary to the old Club Orient, and marks the end of the regular beach, and the beginning of the clothing optional beach.
Walk towards the beach from here until you see a wall of rocks. Past there, you'll have arrived at the nudist beach!
Cupecoy Beach
We only mention Cupecoy beach based on what we've read online. Cupecoy beach is over on the Dutch side of the island, near the SXM airport.
As we didn't visit this beach, we can't really give advice on the legitimacy of whether it is clothing optional or not, nor directions on how to get there. If this is truly a nude beach, it probably makes it the only nude beach on the Dutch side! From what we understand, Cupecoy has undergone a lot of erosion over the years, so it may not be the beach it once was.
If you end up making a trip to this beach, let us know what you find out!
Update: Thanks to a reader, Gary, we have confirmation that Cupecoy is a nude beach option!
Gary: "Have been to Cupecoy beach many times in St. Marten. It is always clothing optional. Dan rents chairs and sells food and drinks. Just grab a chair and umbrella. He will collect when he makes his rounds. Very nice beach, be careful of the waves."
Things to note about nude beaches
We rented a car while we were in St Martin / Sint Maarten; this made finding personal beaches much easier.
As a courtesy to others: don't take pictures of anyone. Also, people tend to not care about what you look like naked, and the same is expected of you so the best thing you can do is chill and not stare.
We were in Saint Martin in January/February, which is normally peak season, however: the beaches were not nearly as crowded as they probably used to get before the hurricane. This island still has a long way to go to recover.
If you are ever curious about learning more about nudist beach etiquette, you can read our 11 tips for how to behave on a nudist beach here. 
Bonus Hint: From John – "For those that take boating trips to Tintamarre, you will also find many nudists there as well and there is not a more beautiful sandy beach than that one", sounds like a great deal to us!