We just got back from a Scottish road trip which took us from islands to cities, coastlines to mountains, and had a lot of stops along the way to see ruins and churches. We loved our Scotland itinerary and spending 10 days in Scotland felt like a good dose of the country while still leaving us wanting more.
We decided to rent a car and plot our Scotland road trip itinerary while in the country because we were not sure how much time we would have to see everything we wanted to see. Scotland is deceptively large, even though it might look small in comparison to California. There is so. much. to. see.
Originally, we flew in to Manchester to begin with and spent a few days driving around the English countryside on what was actually a 14-day trip in the UK, but for the sake of the Scotland itinerary seekers, I'm not going to include our road trip in England, and mainly focus on a Scotland road trip itinerary you can do in 10 days.
We love driving, hence: road trips we have taken around the world to get an idea of the scope of our travels. A 10 day road trip around Scotland has always been at the top of the bucket list for us so this really was a dream come true!
Why we Chose Scotland
This country is in our blood, literally, as Jackson has direct ancestors that immigrated to New Zealand generations ago. He'd always wanted to go back to the motherland and see the land of his ancestors!
I have ancestors from Scotland as well, as my father reminded me when I first published this post. My ancestors came from the Loch Lommond and the Trossachs National Park, so when we went camping there we were actually staying on some of my ancestors' lands!
I went on a UK road trip when I was 15 with my dad and it was my first time outside the USA. Since then, I've traveled quite a bit, but was curious to return to the country that was the first destination.
Any Scotland itinerary worth its salt will take you to castles, ruins, beautiful vistas, and a city or two. We wanted that when planning our trip after our visit to St. Martin.
Camping in Scotland is a popular thing to do and our interest was peaked, especially after camping for a solid month in Africa we felt ready to take on a completely different area and climate to camp (plus we were hoping to save some money by doing that as well!).
Where we Went on Our 10 day Scotland Itinerary
When choosing where to go, it's important to remember how much time you are willing to spend driving, stopping to check out something that's going to be super cool, and pit-stopping for the inevitable food and bathroom breaks. We were shocked by what google called a 3-hour drive turning into a full-day affair. Scotland road tripping will do that.
At first, our plans were lofty: we'd go wayyyy up into the highlands, getting all the way to Thurso or John O'Groats! That, however, was a real pipe-dream and on a 10 day Scotland road trip nearly impossible to do if we were going to have time to do anything!
Instead, we opted for a big loop: Glasgow to Isle of Skye, Isle of Skye to Inverness, then back down to Edinburgh with plenty of stops along the way.
Here's how we did it…
Our Scotland Road Trip Itinerary:
Day 1: Fly into Glasgow or Edinburgh and get your stuff sorted.
Jet lag (especially from the US) can be BRUTAL in the UK. We were floored by it for the first few days we were in Scotland. Giving yourself a day or two to acclimate to the new time zone is a good idea. If you are coming from Europe: lucky you! Get started early, then, and go see more cool stuff!
When in Glasgow, we stopped at a couple of outdoor stores to pick up necessary camping gear for Isle of Skye and the highlands. We're not saying you should do this too, but it's all we were really capable of other than drinking delicious beer and checking out some of the cool local life in the city.
Day 2-3: Drive up to Loch Lommond and the Trossachs National Park
We really enjoyed camping inside Loch Lommond and the Trossachs National Park, the campsite we stayed at, Loch Chon, was really great. It had nice mats set up for tents and the views from the campsite we were at was stunning! We paid 21 pounds ($26 USD) for the two of us for one night: not bad, considering the cost of some of the AirBnB's and BnB's in the area!
The rest of the park was stunning! Fantastic lakes that were still and smooth as glass. There were old manors that looked straight out of a postcard.
As we drove around the park we could see snow capped peaks and quiet, beautiful places to sit and contemplate just how lovely Scotland is. Highly recommend a stop here. If you can spend more than a day, do so!
Day 3-4: Oban
When we booked this trip, one of the biggest incentives for us was a chance to sample some scotches. We LOVE scotch and this was a chance of a lifetime to try some really unique vintages on our Scotland itinerary.
Oban didn't disappoint. We stayed at an AirBnB and walked into town to go on a distillery tour. We were lucky enough to have some of the best weather, well, ever, so we took advantage of the day by walking around a lot.
The distillery tour was great: not too pricey, it was 12 pounds ($15 USD) per adult and that included a chance to sample 2 different scotches as well as receive a complementary scotch glass: sweet! You can book a tour here. The tour was about an hour long.
Sitting at the top of Oban is McCaig's tower, a really beautiful piece built at the turn of the 20th Century as a place dedicated to the remembrance of the McCaig family. This was commissioned to give local stone masons jobs over the winter (or so Wikipedia claims!).
McCaig's tower is free to see, although it is a bit of a hike from the downtown. The views at the top are stunning on a clear day: highly recommend a visit!
Day 4-5: Oban to Mallaig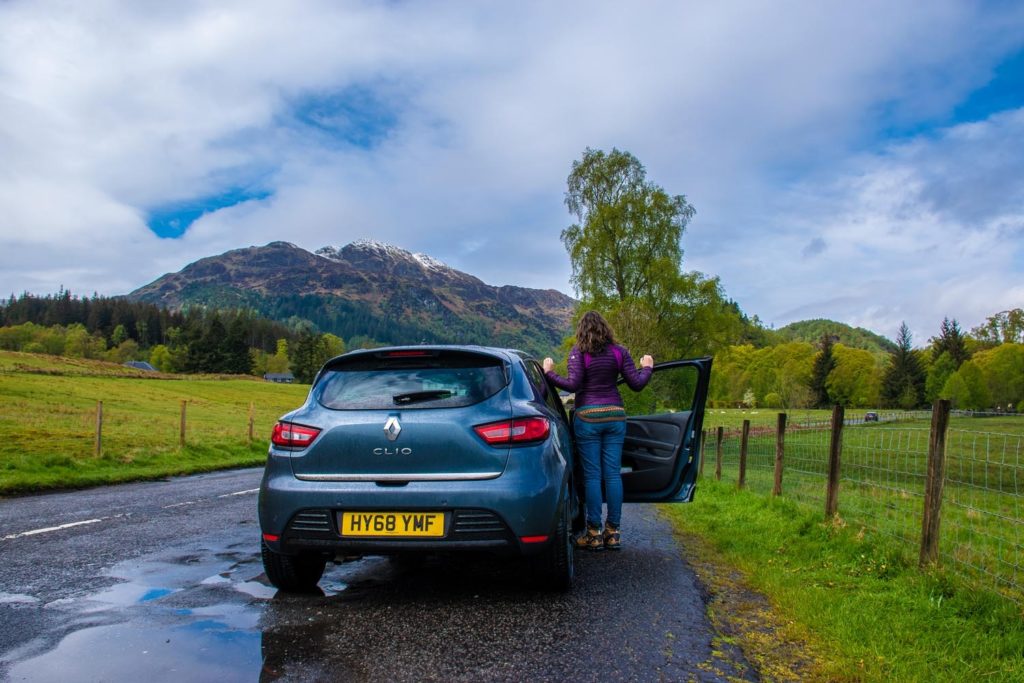 The drive between these two destinations is fantastic.
On the way out of Oban, we stopped to see the ruins at Dunstaffnage Castle. Entrance was 6 pounds per person.
Dunstaffnage Castle was so cool! We got to climb all over the thing, take in the views from the top, explore the old ruins of what used to be a thriving community and visit the old church that sits a few paces away. Really enjoyed the visit! Highly recommend for anyone interested in Scottish history and ruins.
We drove past Ben Nevis, the tallest peak in the UK (although at the time we were there it was shrouded in mist – womp womp). We briefly stopped to sample the whisky at the Ben Nevis distillery and were not too impressed with the flavors there, but it was cool to sample another scotch.
Mallaig is a port town that serves as a launching point for many different ferries to different islands off the coast of Scotland. We knew that on this Scottish road trip we wouldn't be doing the trip justice if we didn't ride on a ferry at least once. The ferry took us from the mainland to Skye.
We found an AirBnB in Mallaig that was a good price and walked into town for dinner at the Steam Inn (at the recommendation of our host!). The Steam Inn had some REALLY good food: highly recommend if you want to eat local seafood that is fresh and delicious.
Tickets for the ferry to Isle of Skye are not too pricey, although do be sure to buy your passage at least the day before your ferry ride in case the boat gets sold out. We were on our 10 day Scotland road trip during shoulder season which meant that the crowds were not too bad, but in summer it can get really crowded, apparently.
Day 5-7: Isle of Skye
Imagine yourself looking at a perfectly green landscape rolling into the distance from the top of a mountain you've just climbed, the wind's in your hair, the tinkle of sheep bells in the distance, the smell of the sea in your nose, the feeling of the sun on your face – you're about to drive through the epic scenery to a quaint-as-hell town: this is Isle of Skye.
This is an incredibly popular destination for a reason. Isle of Skye is a glorious place, especially in the summer when tourist numbers spike and – apparently – it's utter mayhem for parking, eating, and finding accommodation.
We went in May, which is shoulder season on the island, and it was easily the most crowded place we saw while on our 10 day Scotland road trip.
That said: it was totally worth the visit.
We'd recommend 3 days AT LEAST on Isle of Skye. There is so much to see and it's not not very far away from the next thing to go see.
We camped while there, which was cold, but still rather romantic. We ate at the oldest bakery on the island, we hiked, we drove, we visited small towns and distilleries. It was a fantastic excursion. I highly recommend the trip.
Day 7-8: Inverness
Somehow, we managed to score absolutely perfect weather. I wish I could tell you that you'll drive through the Scottish highlands on your Scotland road trip and witness crisp blue skies, bright sun, and warmth. Unfortunately, climate change is totally unpredictable and while it worked in our favor while we were there, Scotland is not known for its sunny skies.
That said: even if it were drizzling, Inverness would be a great stop.
The drive from Skye to Inverness is lovely. We stopped at Eilean Donan Castle for a quick look around. Honestly, it was not the best stop and wouldn't recommend. The views of the bay are far prettier – save yourself the $20 USD and keep driving.
We drove along the famous Loch Ness which was crawling with tourists.
Inverness was quaint, pretty, walkable, filled with delicious places to eat, and very pretty parks. We didn't think there would be much to do there after a day or two, but if we had had more time, we could have made it a base and explored the region around it more. 10 days in Scotland is just not enough time to do everything, unfortunately.
Day 8-9: Stirling
We chose Stirling because we didn't want to have to book it all the way back to Edinburgh in one day. Stirling seemed like a good place to catch up on more medieval history of Scotland, a 10 days in Scotland would not be complete without a few chances to soak up medieval architecture and culture.
Stirling was one of our favorite stops. We were completely blindsided by how awesome it was.
Go see Stirling Castle. It is so friggin' awesome. It's well-maintained, authentic, has lots of great information about the people who lived there (Mary Queen of Scots is one!) and gets you a chance to look out over the area and take great pictures.
Stirling Castle was a much better visit than Edinburgh Castle, in our opinion. There were not too many people there and we could wander and read in relative quiet while taking in the lovely tapestries, carvings, paintings, clothing and grounds. Just: go.
Price is 16 pounds ($20 USD) per adult.
Outside of Stirling is the massive Kelpies Statues. These are huge horse heads that stick out of the landscape and you drive past. A Scotland itinerary should have a stop here: they are just too cool! We paid about $5 USD each to park and go see them.
Day 9-10: Edinburgh
Finish your Scotland 10 day itinerary in Edinburgh. There is a lot to see in this busy city and everyone and their Aunt Gladys knows that. The place is packed with tour groups.
We did a ghost tour which was… fine. We went to the Castle which was WAY too crowded to be enjoyed. We ate pretty good food. I can see the appeal, but preferred the relative peace and quiet of Stirling and Inverness to the busyness of Edinburgh.
When is the Best Time for this Scotland Itinerary?
We'd recommend a Scottish road trip in the Spring: April to May.
We were there in May which was fantastic. The midges hadn't come out yet, the weather was chilly, but could warm up, and it wasn't rainy at all. It did get cold at night, though, which made camping quite cold if you don't have the right equipment.
In the Spring, temperatures range from 2C (35F) at night to about 15C (60F)  in the day.
The summer months of June, July and August will have warmer weather for sure. This will make activities like camping and hiking more comfortable, but you'll also be sharing the fresh summer breeze with clouds of midges and crowds of tourists.
September and October the weather will cool down, and the crowds will, too. The midges are still out, however.
The winter months mean a lot more cloudy, rainy days (especially on Isle of Skye!). This makes outdoor activities more uncomfortable, and driving in the mountains can mean snow and dangerous conditions. That said, this is the low season and you will find better prices and availability for pretty much everything.
How Much Should I Budget for a 10 Day Road Trip in Scotland?
I wish I could tell you this is a cheap trip.
It's not.
At the time of writing this, the pound is the lowest it has been against the US dollar in a long time. This means that travel in Scotland is cheaper than it would have been, say, 5 years ago. That doesn't mean it's cheap. If you want a cheap vacation, consider 10 days in Thailand.
Accommodation:
We stayed in a combination of Airbnb's and campsites. Budgeting about $80 USD per night is a good idea if you want to go a little more budget-friendly.
Camping is a lot cheaper, but you'll need to bring your equipment (rentals are not very cheap). You can freedom camp in Scotland, if you'd like, and that's free. Staying in a campsite will cost about $10-$12 USD per person, per night.
On average, the cost of an Airbnb was around $80 USD per night for the two of us for one room in a house.
Camping was about $20-25 USD per night for the two of us.
If you'd like to splash out a bit more, BnB's and hotels are plentiful. They looked lovely. The cost for one night ran anywhere from $150 USD per night to hundreds of dollars.
Food:
I don't know what your budget is for this. We decided to eat in restaurants along the way. On average, we spent about $75 USD for the two of us for breakfast, lunch and dinner per day.
You can go much cheaper than this, of course. Groceries are not too bad and you can stock up and cook for yourself easily. I'd say you can get away with budgeting about $30 USD for two people per day on groceries.
Entertainment:
Cultural Landmarks
I'm counting cultural landmarks in this category because you'd be a fool not to stop and check out the numerous ruins, castles, churches and battlefields that are dotted all over Scotland. A road trip in Scotland is not a true visit if you don't see the old stuff.
The most expensive castles (like Ediburgh Castle) was $25 USD per person. Other points of interest ran between $10-20 USD per person for a ticket.
If you can budget $100 per person for the week, that should get you in to quite a lot of cool stuff.
That said, there are a number of free stops. We saw plenty of old abbeys, churches and ruins that cost nothing, so if you're really budgeting you don't have to spend $100 per week.
Distillery visits
We only went on one full tour in Oban. This cost about $15 USD per person. Honestly, the sense we got is if you've seen one distillery tour, you've seen them all. But, if you want to go on more tours, be my guest. Be sure to make a reservation before you show up to ensure you have a spot on the tour.
The rest of the visits to the distilleries (we saw 5) were just visiting the show rooms and sampling the Scotches. We paid about $10 USD to sample, $70 USD to buy a bottle.
Petrol and Car Rental for your Scotland Road Trip:
Renting a car can cost quite a bit. We rented a car in Manchester and got whacked with a last-minute charge for insurance. That was an additional $700 USD for the two weeks we would be driving (ouch!). Do be sure to check the fine print of the rental company you are going with.
We spent about $1,000 USD for two weeks. For 10 days in Scotland, that could be cheaper by a couple hundred.
Petrol (or gas) is relatively expensive. We were paying about 1.28 pound per liter. There about about 4 liters to the gallon. So, in American terms that means we were forking over 5.12 pounds per gallon or $6.50/gallon.
So What Should you Expect to Pay for 10 Days in Scotland?
Budgeting $5,000 USD for two people is a good estimate. This will give you money for your flights, eating out, petrol, car rental, accommodation that's relatively comfortable, and chances to see and buy cool stuff.